The kitchen is one of the busiest rooms in the house, which means it will experience a lot of heavy foot traffic. It's also prone to moisture, spills, stains, and mould, so for these reasons, it's important to choose floor tiles that are easy to maintain and stay cleaner for longer. We all lead busy lives, so sometimes we might not have the time or the energy to clean the kitchen floor as often as we should. Fear not, there are certain types of tiles that can effectively hide dirt and imperfections until you have time to wash the floor!
In this guide, we will recommend the best tiles you can choose to ensure your kitchen floor stays clean while enhancing the visual appeal of your space.
Choose porcelain
Porcelain tiles are best for the floor because they are dense, very hardwearing, durable, and scratch-resistant. This ensures a cleaner-looking floor as the more scratches and chips your tiles have, the dirtier they look.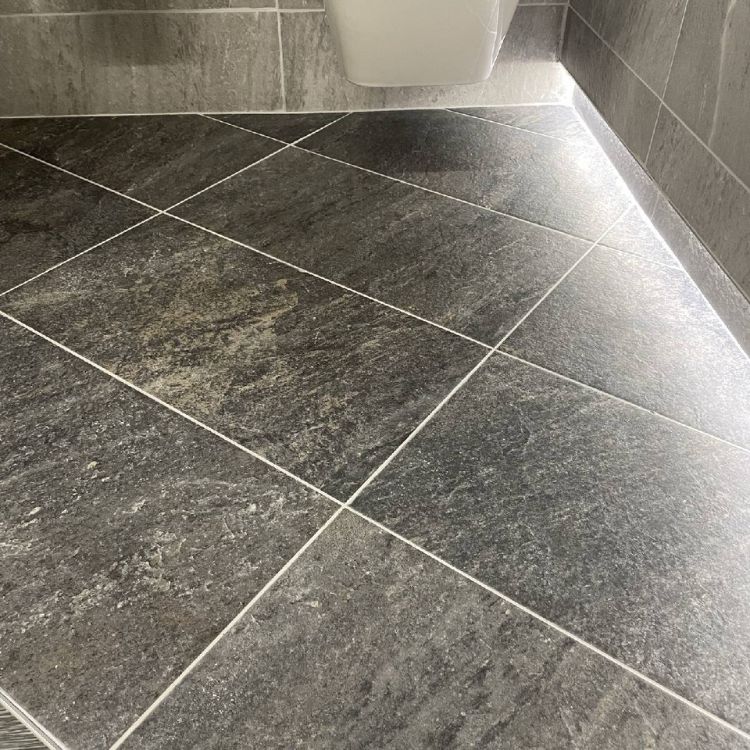 Porcelain absorbs less water, so they are resistant to stains and are less likely to get mouldy. They are also much easier to clean. To learn how to keep your porcelain tiles looking sparkling new, check out our blog on How to Clean Tiles and Grout.
Our porcelain tiles come in a variety of colours, styles, and sizes, which makes it easy to find a tile that both looks fabulous and stays clean!
Gorgeous glaze
If a material absorbs water, there is a greater chance of mould building up and stains setting in. Tiles with a glaze help prevent the absorption of water and stains and make the tile much easier to keep clean. We stock a range of beautiful glazed tiles that will completely transform the look of your kitchen! They come in a variety of colours and patterns, so you are sure to find one that you'll love.
Nice 'n' smooth
Textured tiles tend to trap dirt, which isn't ideal for a kitchen floor where spills and heavy foot traffic are an everyday occurrence. The smoother the tile surface, the longer it stays clean, so go for one that's as smooth and as even as possible.
If you want to see the surface of our tiles up close, pop in to one of our showrooms. Our friendly and knowledgeable team will show you the tiles we have on display and help you make the right choice for your home. If you are shopping online, you can Contact Us with any questions from the comfort of your couch.
Go big!
Grout is more porous than tile, which means it absorbs moisture and stains more easily. This can make your grout look grimy and mouldy, which is never a good look. For that reason, we recommend large format tiles for your kitchen floor. Large tiles require fewer grout lines, so your floor will look as good as new for longer.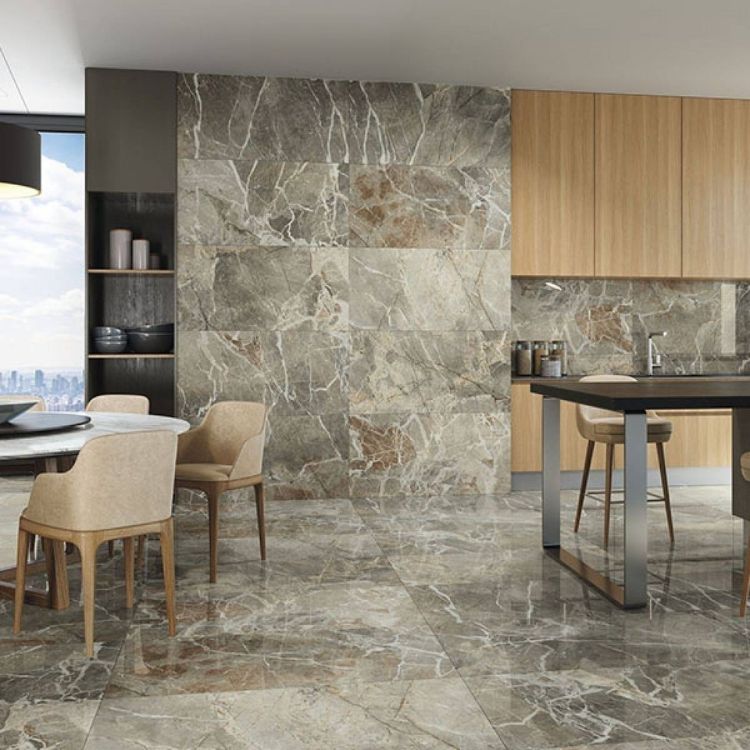 Our large format tiles will make your kitchen look sleek, sophisticated, and more spacious. We offer a choice of styles, finishes, and colours, from patterned to plain, so you are sure to find what you're looking for. Whether your space is traditional or modern, minimalist or decorative, we have a tile for you.
We also have rectified tiles in this range. These have a minimal grout joint, so it makes the floor look like one large, tiled area. This is a luxurious look which will keep your floor looking super clean!
Dark tiles
Dark tiles can hide dirt, dust, water spots, and hair and can also hide imperfections in the floor. For this reason, black floor tiles work really well in a contemporary kitchen.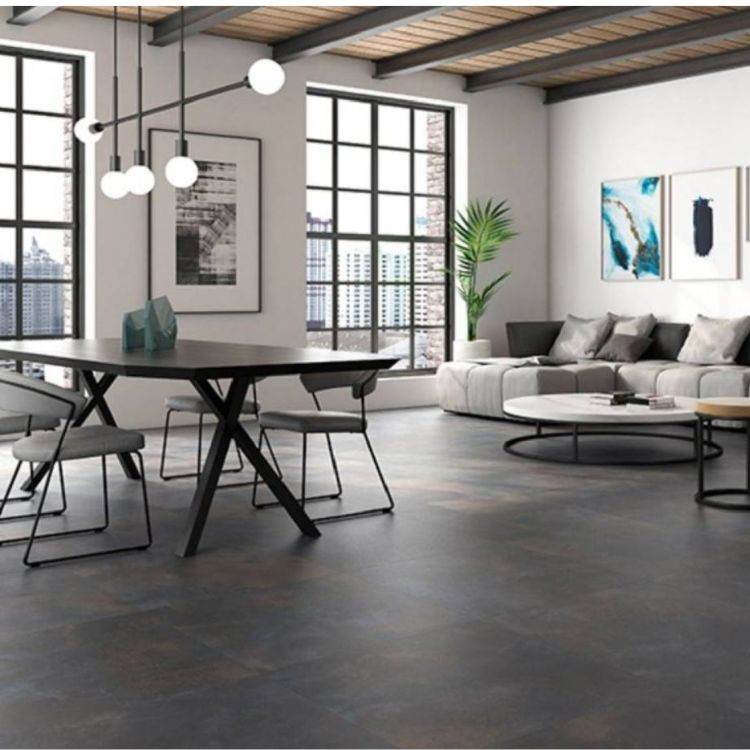 The Esagono Nero is one of our bestselling tiles and it's not hard to see why. This bold hexagonal tile will stand out in a modern and contemporary kitchen They have an easy-to-clean, quick-wipe surface and are constructed from durable, glazed porcelain - perfect for a floor that stays clean.
The Diesel Oxide matt tile has a satin finish and replicates natural stone. However, they are much easier to keep clean than their authentic counterpart. This is because they are made from hard-wearing porcelain, and have a wipe-clean, rectified surface. They are also less porous than natural stone, which tends to absorb more moisture.
Brown tiles
Like black tiles, brown will hide hair, water spots and dirt to make your floor look cleaner. When it comes to brown tiles for your kitchen, look no further than our wood effect tiles. Unlike natural wood, they will not absorb moisture and stains and are better at withstanding daily wear and tear. They will also add warmth and luxury to your kitchen at a more affordable price, which is always a huge plus.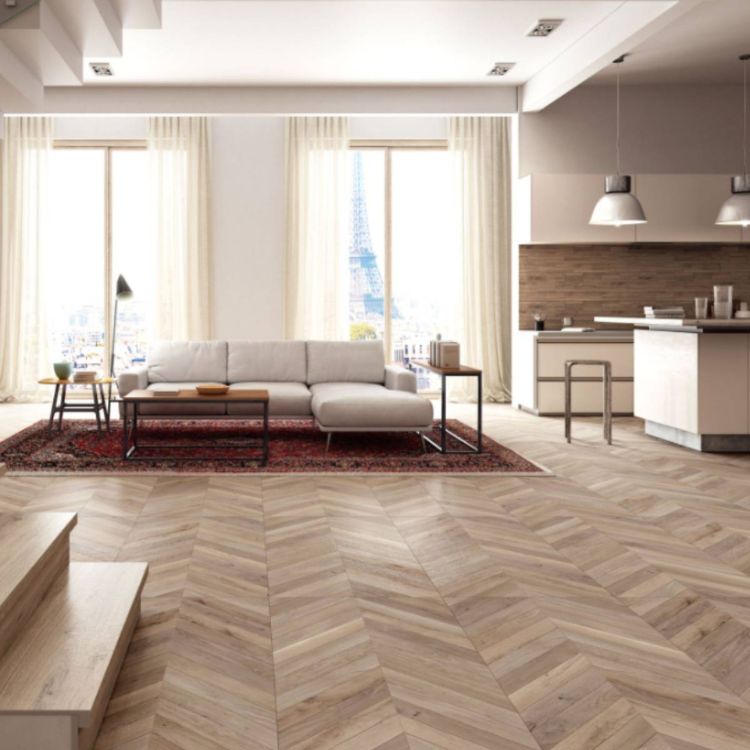 Pattern tiles
Do you prefer a bolder look? Pattern tiles are just as effective at hiding dirt and imperfections because of the markings on their design. This is a great help if you are feeling unmotivated to clean!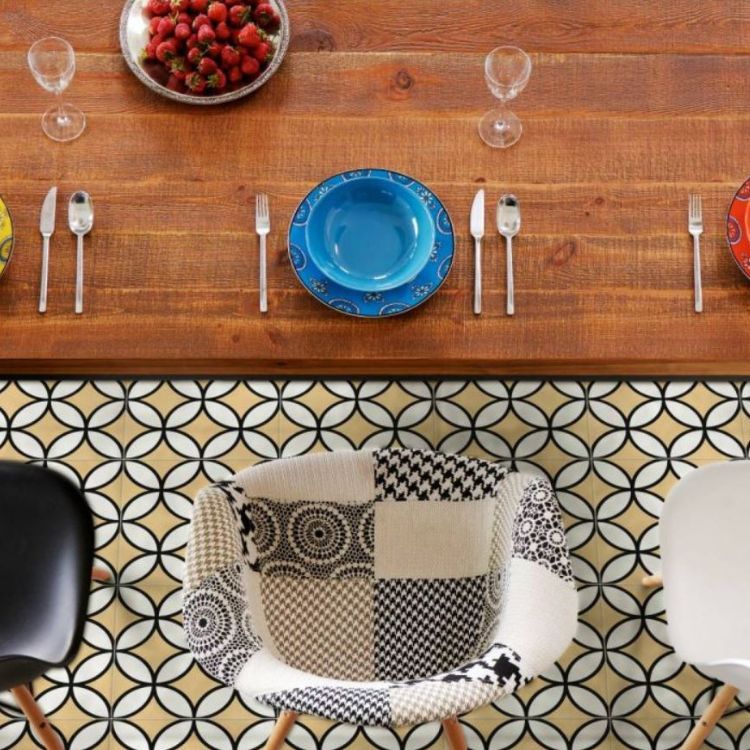 A pattern tile will bring the wow factor to your kitchen. The right pattern will add brightness and interest while making your floor the central design feature of the room. To ensure your floor doesn't attract dirt, choose a pattern tile with a smooth surface instead of a textured one.
Available in mustard or pink, the Olden Tile has an intricate design that combines retro with contemporary. They are specially designed for the floor, so they have a glazed surface and are made from high-quality porcelain. This means they are easy to clean and resistant to all kinds of dirt.
Marble effect
Marble will really up the fancy factor in any home. However, real marble is a porous material, which means it can be prone to staining. Marble effect tiles mean you can get the look of the real thing while keeping your floor stain-free! Marble effect is also a great way to add layers of texture to a white kitchen while making the room feel opulent, warm, and spacious.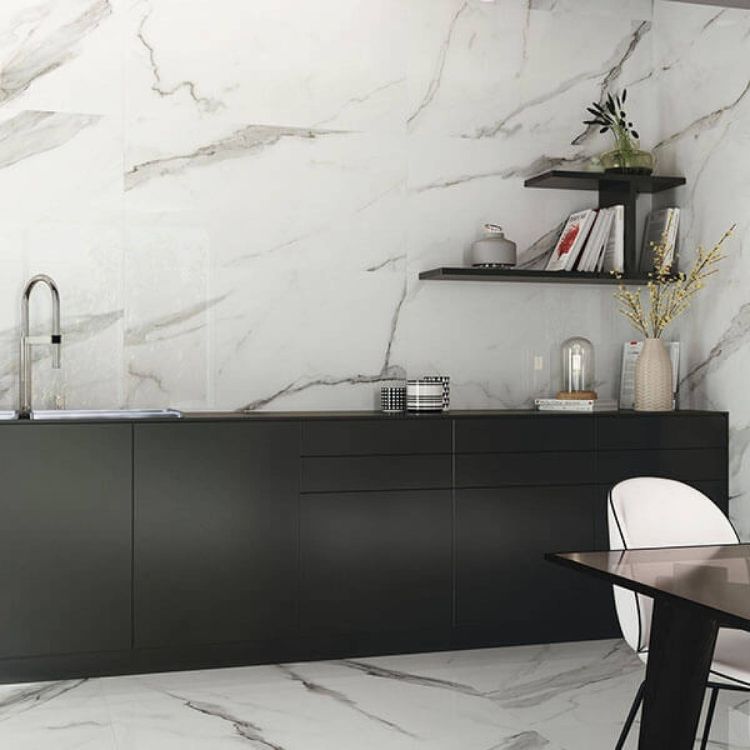 Choose a marble effect floor tile with a gloss surface to prevent dirt from sticking, so any spills and marks can be easily wiped away. If you don't want thick grout lines, we also have rectified marble tiles for an even cleaner, more high-end look.
Porcelain is the best material for a clean kitchen floor as it is durable and resistant to stains and moisture. However, the size, surface, colour, and style of your tiles will also affect how clean your floors look. Ready to choose your favourite tile? Visit one of our showrooms, or order online for delivery all over the UK & Ireland.
If you have queries about any of your tiles, don't hesitate to speak to our team. They will be happy to help!