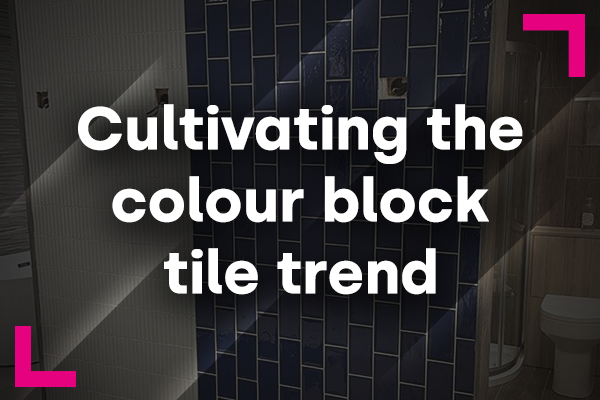 Cultivating the colour block tile trend
One of 2023's bathroom trends is the art of colour blocking so, if you're interested in finding out what it's all about, we're here to share some tips on how you can achieve this distinctive look in your own bathroom.
Unlike colour drenching, where you effectively drench the room in a single shade, using it on all the walls and even sometimes incorporating the furniture within this same tone, colour blocking is more contained. In this instance, your preferred colour is instead used as a means of creating contrast in the room – and having some fun with this along the way.
Indeed, by combining strongly opposing colours – and using bold patterns like geometrics for even more impact and interest – colour blocking is a trend you can't fail to miss if you come across it in a room.
Adding intense colour to your bathroom
There are various ways of incorporating colour blocking into your bathroom, one of these being the creation of a feature wall. This is a quick and easy way to get onto the colour blocking trend, as you simply choose a dramatic tile and then use it on one wall within the room.
Whether you want to go bold with the colour, design – or both – there are lots of options when it comes to creating a statement.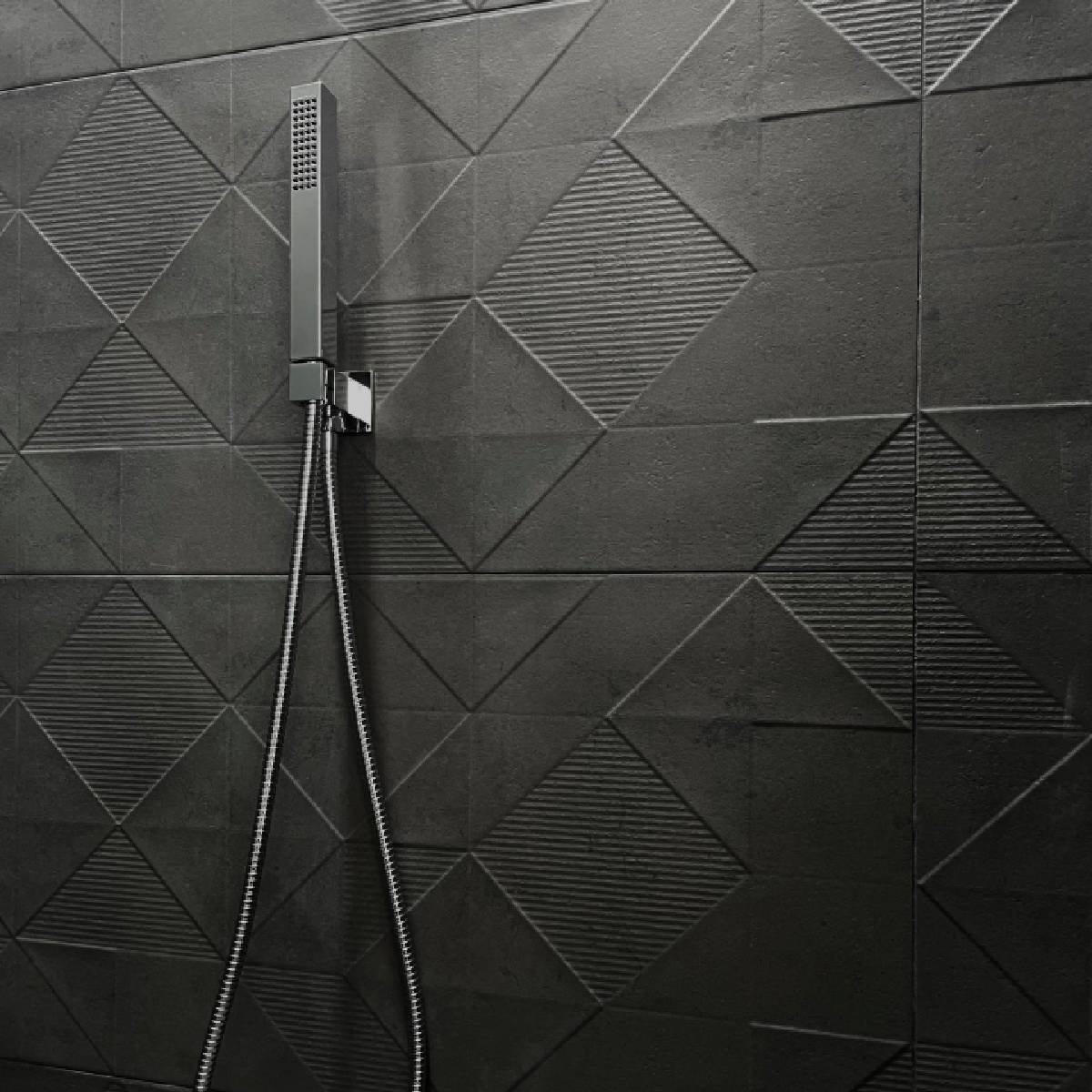 Add a striking dark feature wall in your bathroom with the Oragami Décor Graphie Rectified Matt Tile in Grey Porcelain.
Dark tones continue to be popular this year, so opting for a moody shade which gives off 'Gothcore' vibes (a contrast to the Cottagecore trend and inspired by gothic design), is one way of creating a dramatic feature wall. With this in mind, something like the Oragami Décor Graphite Rectified Matt Tile in Grey Porcelain is therefore ideal. This contemporary tile will add drama to your bathroom with its noir tone, while the matt finish and textured geometric design adds depth and character.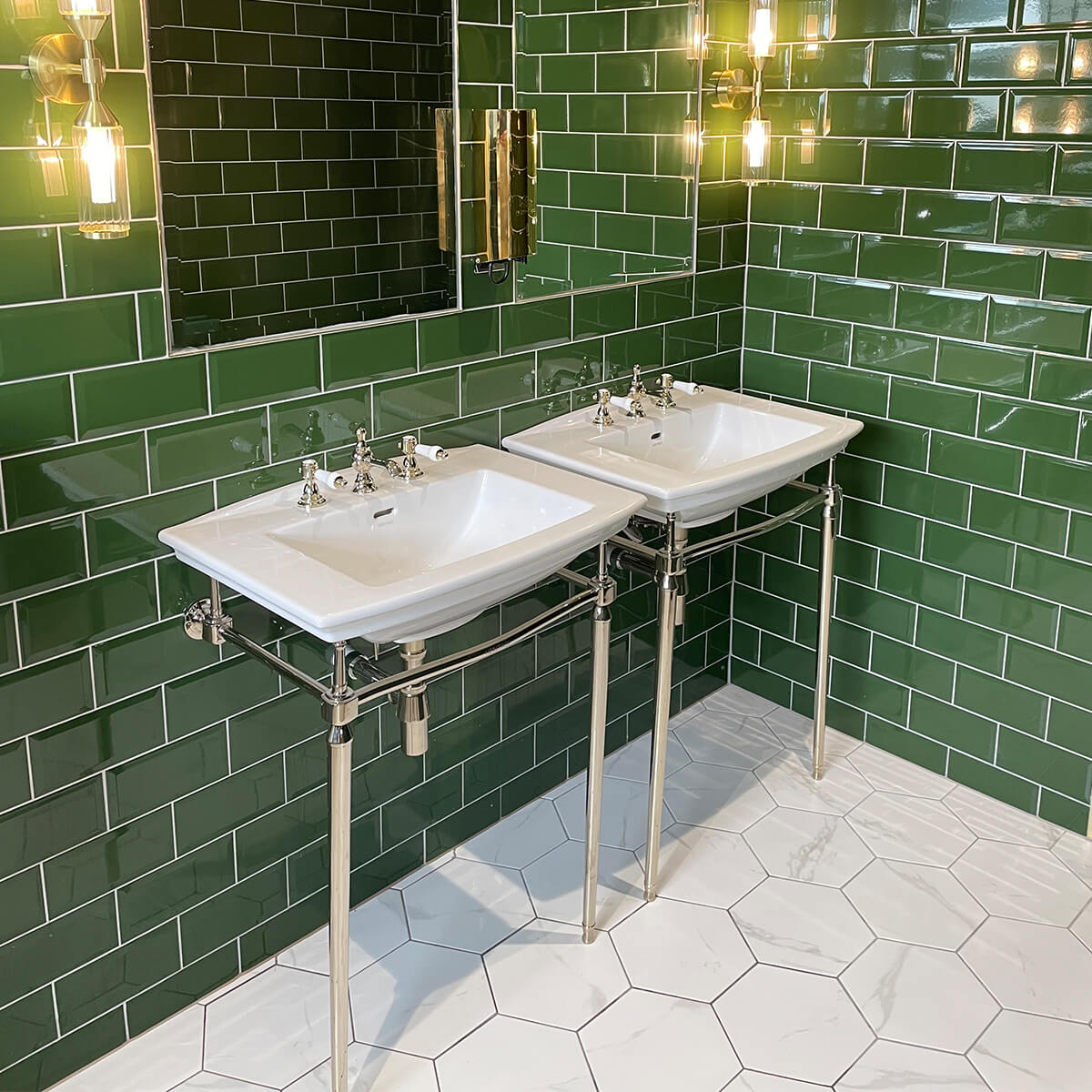 The bold look of the Metro Verde Bottle-green Biselado Brillo Green Ceramic Tile will create an eye-catching feature area.
If you'd prefer something brighter, however, then green is another tone which is currently in vogue and can be used to create a splash in your bathroom, perhaps as a feature wall behind your vanity area.
The Metro Verde Bottle Green Biselado Brillo Green Ceramic Tile has an attractive high-gloss finish which, combined with the enduringly popular rectangular metro design and its clean lines, creates a striking look.
A versatile product, metro tiles can also be laid vertically as well as horizontally – or you can arrange them in a chevron style, if you want to add extra an dimension to your wall. Whichever way you decide to use them, there's no denying these tiles will add character and style to your home.
Tiling for feature furniture
While a feature wall in itself is a great idea, you might also want to consider colour blocking by highlighting a particular item in your bathroom. Bathscaping and showerscaping – where you specifically curate the area around your bath or shower to create an extra-special space – is another way in which you can subsequently use colour blocking.
For instance, the Cool Blue Brick Effect Wall Tile is a stunning gloss tile with a mosaic-like aesthetic which can be used to create a beautiful backdrop to a freestanding bath, as pictured below. The deep blue tone of the tiles offsets the white bath perfectly, providing a contrasting tone which evokes the calming blue of the ocean and gives off a cool, contemporary vibe.
The colour also varies slightly across the tiles which, together with the gloss finish, gives the appearance of rippling water. This is therefore a great choice of tile if you want to create an interesting feature area around your bath and add visual interest, which is further garnered via the small square, brick-effect of the tiles.
The Cool Blue Brick-effect Wall Tile can be used to create visual interest around your bath.
If you're more of a shower person, then you can also add impact in your shower enclosure by using bold tiles here as well. The LLerena Terra Stone-effect Tile in Cream Ceramic, for example, can create a characterful feature wall, bringing in the natural tones of the outdoors with its stone-inspired look and more neutral colour palette.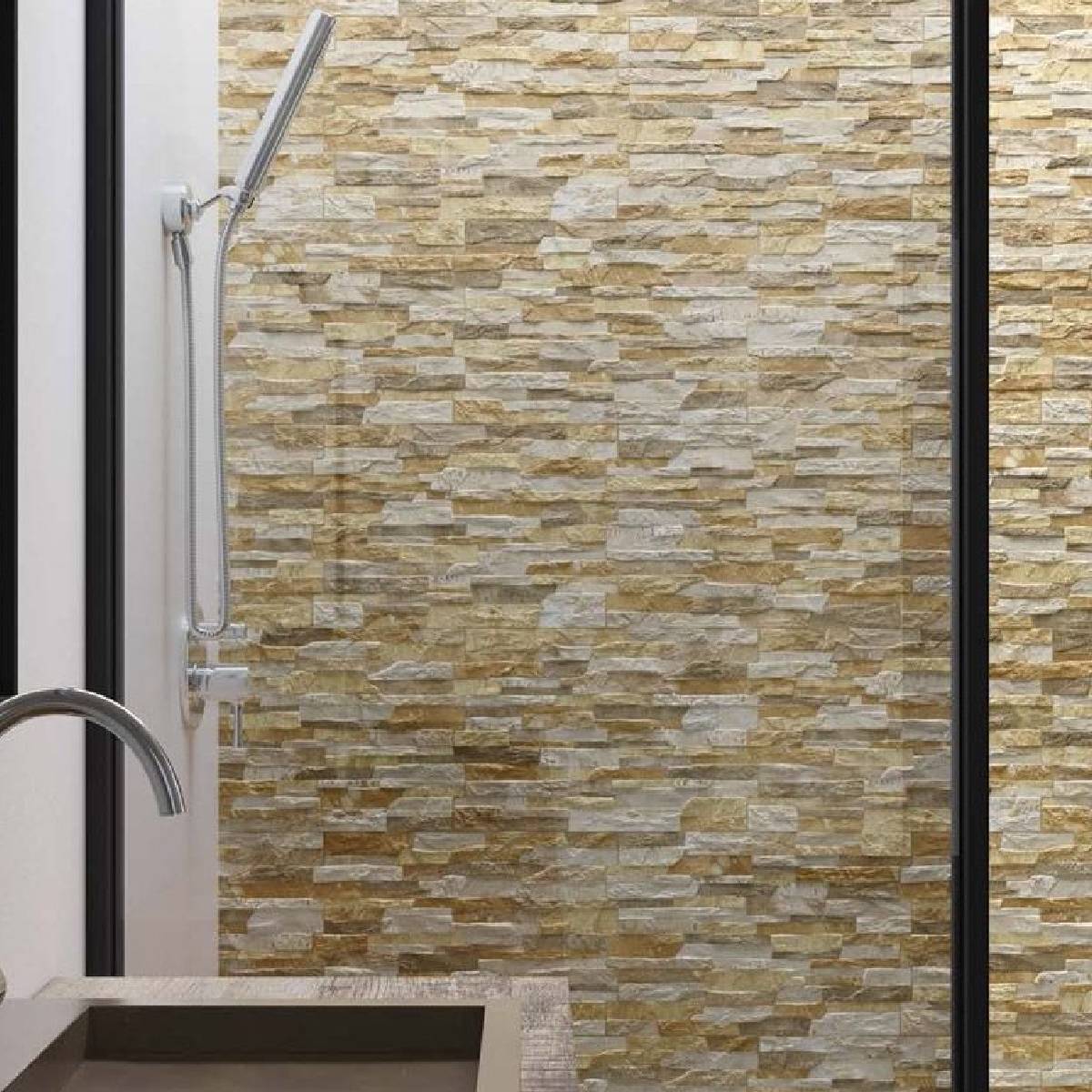 The bold look of the Metro Verde Bottle-green Biselado Brillo Green Ceramic Tile will create an eye-catching feature area.
Mixing warm honey tones with cream and coffee-coloured shades, the slim rectangular shape of the Llerena Terra design, combined with the uneven finish, gives this tile a distinctive organic appearance which will add texture and depth.
Half-tiled aesthetic
Another way of incorporating the colour block trend into your bathroom is by decorating half of your wall with one type of tile and the other half in a contrasting tone. This gives a slight twist to the half-tile trend of tiling just one half of a wall and painting the other. Metro tiles are often used for this particular style, as their rectified rectangular design is ideal when it comes to creating a striking uniform look.
The Gallery Navy Shiny Blue White Body Wall Tile is an example of how this can be done to great effect by pairing two contrasting colours of the same tile to deliver a bold half-tiled look. The gloss finish of the tiles gives them a high-end appearance, while the blue and white variations are laid with matching grout to give a cohesive aesthetic.
The colour blocking here creates a clear juxtaposition of the two tones, the lower navy tiles adding depth while the white upper tiles add a lightness and open up the room, making it feel more spacious. The result is a striking half-and-half look which immediately draws the eye. You could also go down the route of tiling the lower half of the walls and then painting or papering the top if you don't want to buy two different types of tiles.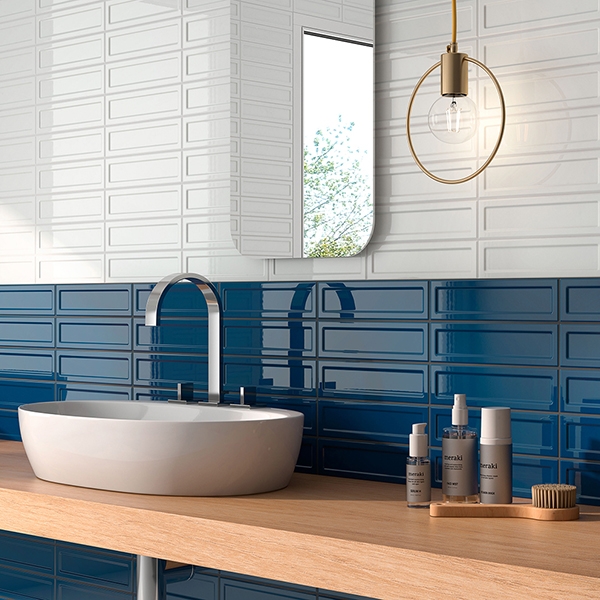 The Gallery Navy Shiny Blue White Body Wall Tile can be used to create a striking half-tiled colour block effect in your bathroom.
Whichever way you want to use colour blocking, there are lots of options when it comes to creating visual interest in your bathroom. Patterned tiles are another great way to do this, while smaller mosaic tiles can also work really well for feature walls or panels, creating texture and depth with their smaller size. These can often come in interesting shapes, such as hexagons or penny designs, so you could incorporate various elements into your design to achieve a striking look.
At Bathshack and Tileshack, we have an extensive range of high-quality tiles to suit every taste. So, if you want to try colour blocking or simply want to see what we've got, why not look online, or visit us in-store to see our tiles firsthand?
For more tips on colour blocking with tiles why not visit your local Bathshack showroom and have a chat with one of our team. Alternatively, email us at info@bathshack.com or call (028) 9077 0188.