Pairing bathroom tiles and fixtures
When you're designing a bathroom, creating a space which embodies your preferred style means considering each individual element and how these will work together to achieve the overall look you want.
With this in mind, the first thing to do is to be clear about what style of space you would like – for example, is contemporary or traditional more to your taste? Once you know the overarching theme of the room, you can then whittle this down further, identifying the specific style of 'modern' that you prefer – or the type of traditional look which most appeals to you.
After this, you can begin selecting your furniture and tiles, which can either complement each other in terms of tone and design or create contrast to give a more textured aesthetic.
If you need some inspiration for pairing tiles and fixtures, we've included some ideas below which we think work well together, combining various styles to achieve a cohesive look.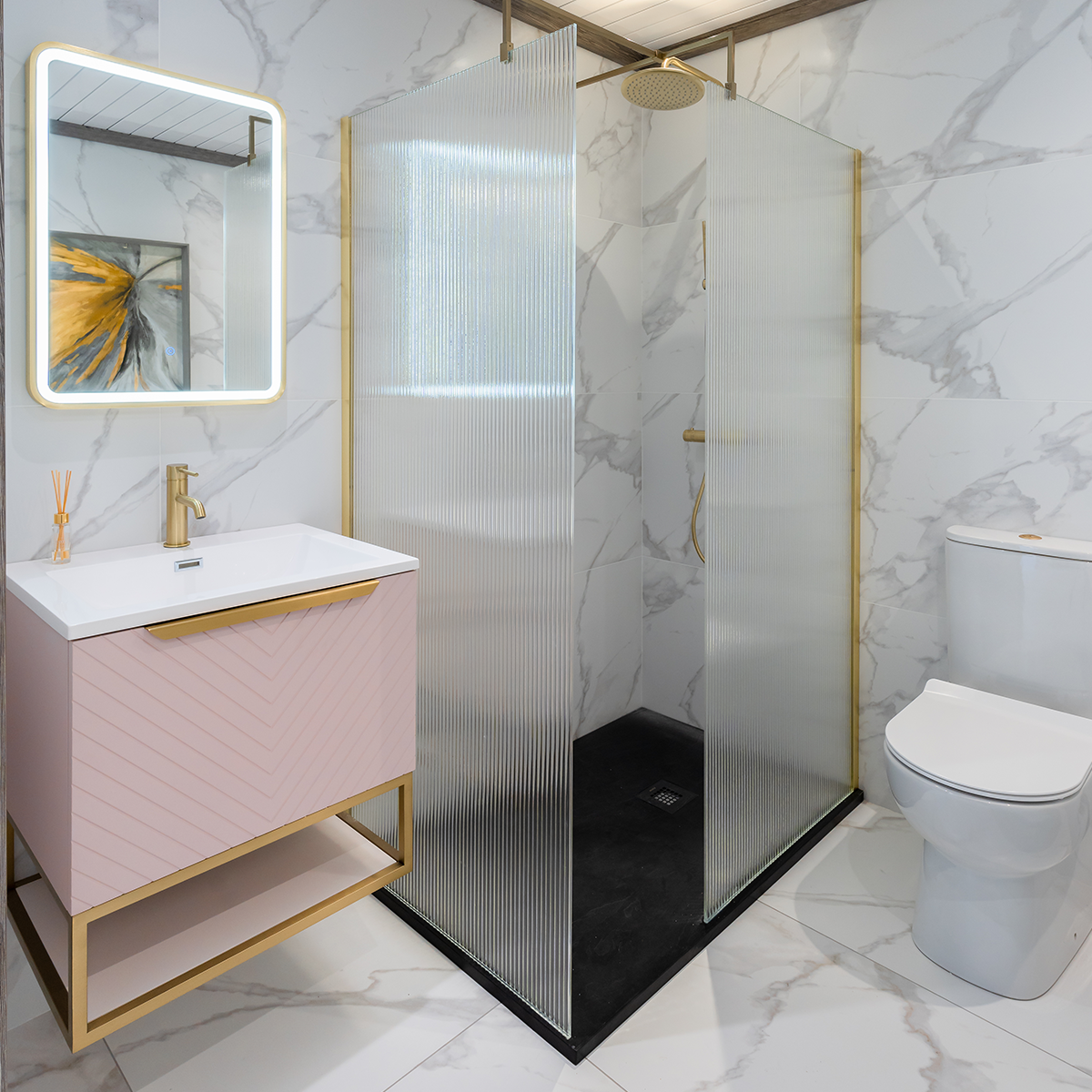 The warm tones of brushed brass in bathroom fixtures work well with pale marble-effect tiling.
Pairing pink and gold
Brushed brass is a very versatile material and popular with many homeowners, as it can bring warmth and an elegant style to your interiors, working well with a range of colour palettes and décor. You can subsequently get creative in what you pair it with, creating a cool, contemporary vibe or going for more of a classic look.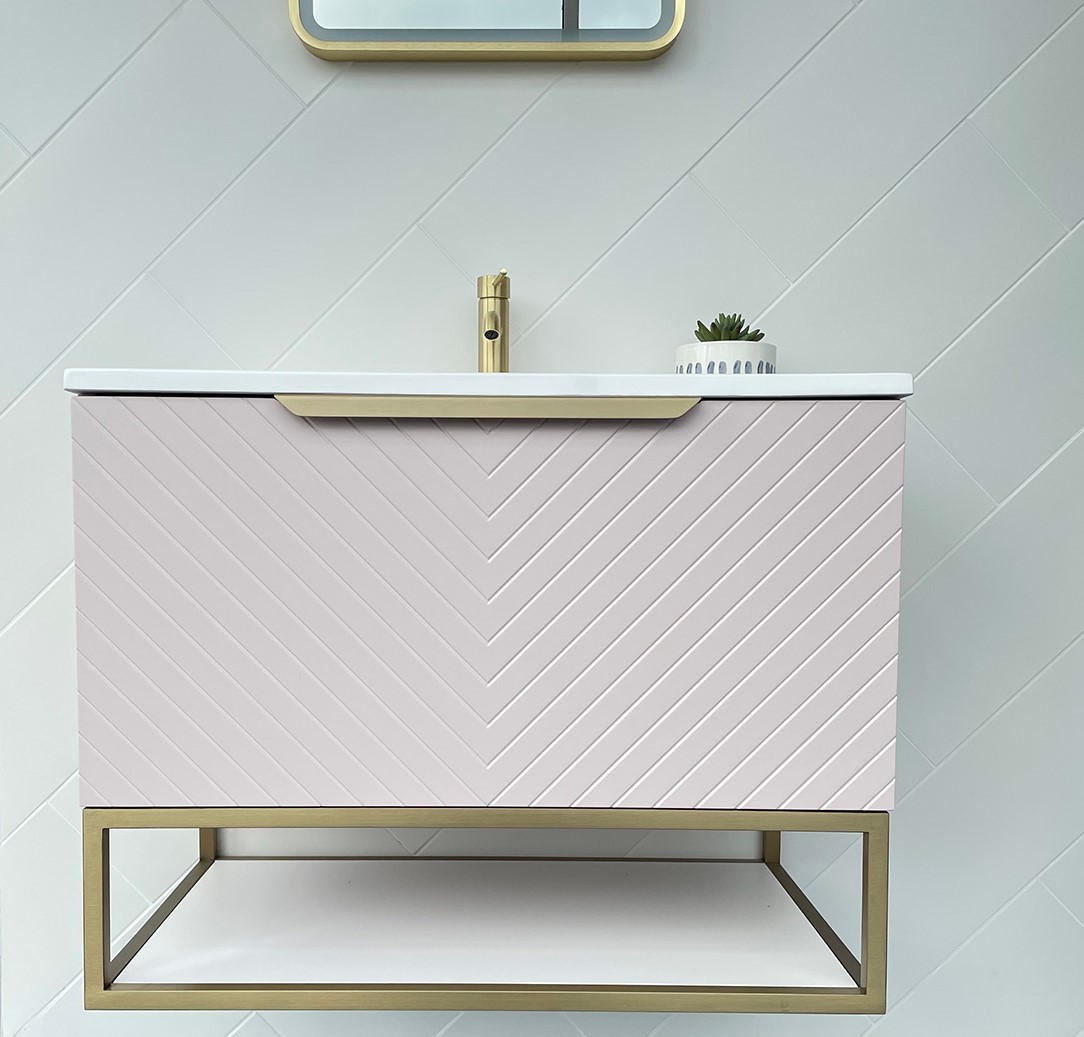 The Chevron Wall-mounted Vanity Unit and Basin with Brushed Brass Frame in Pink MDF.
The overall look of the bathroom is further tied together by accessorising with additional brass features like the Hudson Reed LED Mirror in brushed brass frame and the Objekt Ceramica Dual Flush Button in Matt Brass for the toilet.
The tiles, meanwhile – the Patmos Pulido Porcelain Wall & Floor Tile in White Porcelain – contrast gently with the golden hues of the brass, highlighting that warmer tone with their paler design. The marble-effect pattern running across the tiles also adds subtle detailing which brings depth and added visual appeal to the room, while preventing the tiles from appearing too plain amidst the surrounding décor.
The end result is subsequently a contemporary design which nevertheless takes some inspiration from the past, with the nod to Art Deco and the more traditional brass look – updated with the brushed finish. The rectified edges of the tiles also give these clean lines which, again, feeds into the Art Deco aesthetic, while the gloss finish contrasts with the brushed brass and adds further texture and interest to the room.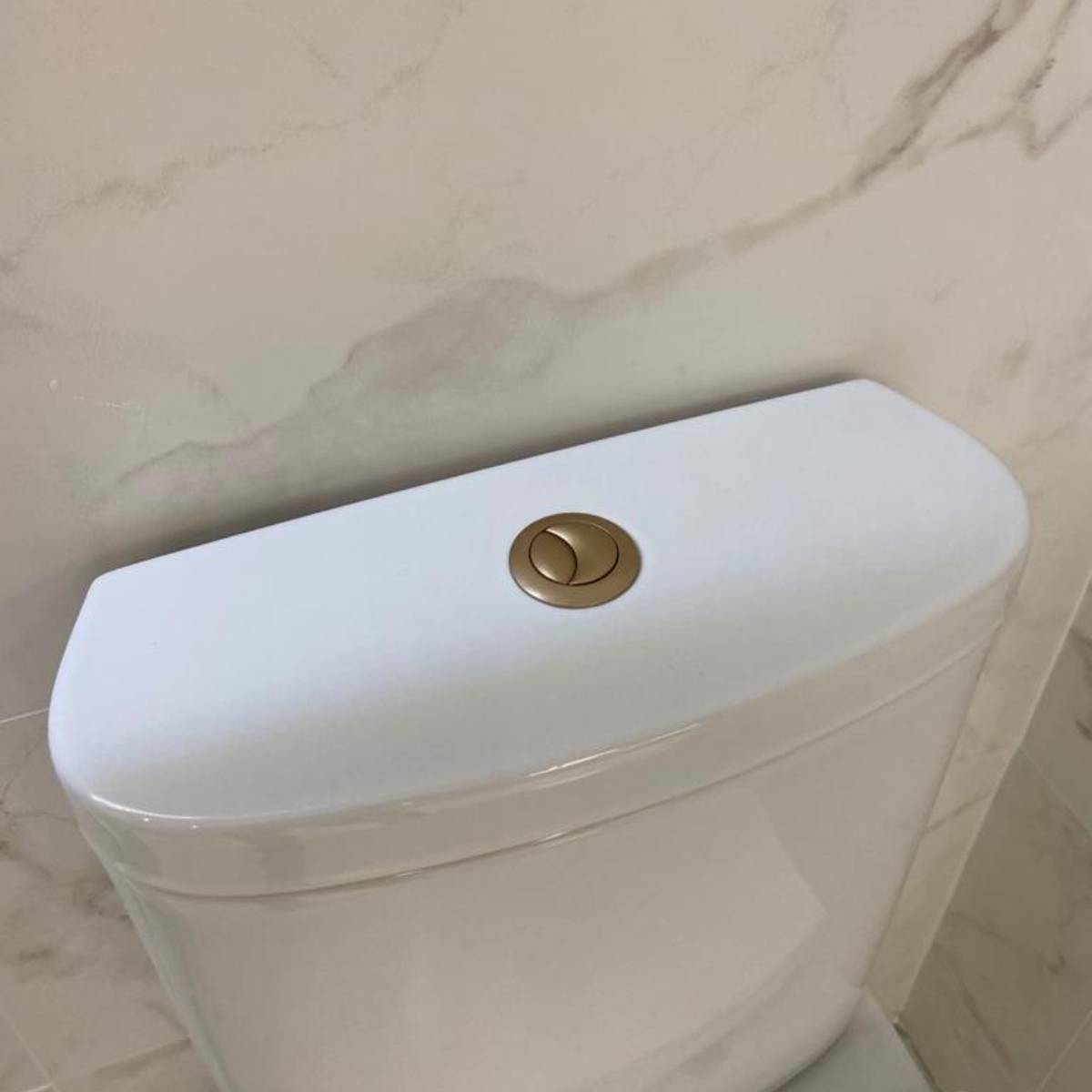 Add a pop of colour to your bathroom with the Objekt Ceramica Dual Flush Button in Matt Brass.
Bringing blue and brass together
Moving on to something in a different style, bolder patterned tiles like the Atlantida Blue Polished Rectified Tile are a great way to introduce a pop of colour to your bathroom and create a striking feature wall. You can, of course, tile all the walls in the same tile, but with bolder designs, these sometimes work better when used in a lesser quantity on a single wall – perhaps as a backdrop to a bath or vanity unit.
The pattern of the tiles can subsequently inspire the colour palette for the fixtures you use within the bathroom, depending on which tone you want to highlight from the design.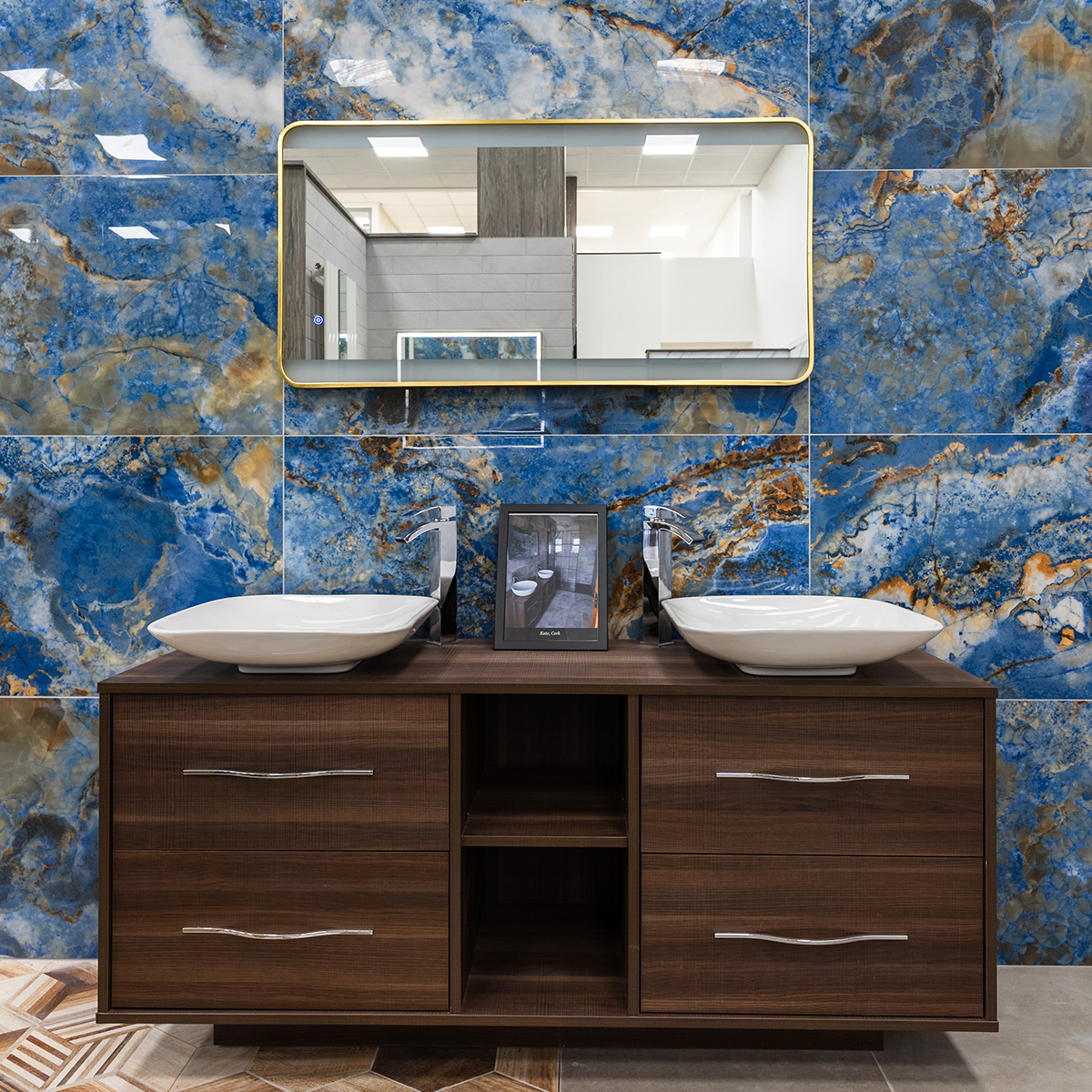 The Atlantida Blue Porcelain Polished Rectified Tile.
For example, in the image pictured here, the bright blue of the Atlantida Blue tiles has marble-effect detailing which combines a variety of tones, with copper-coloured veining mixed in with white and varying shades of blue. As a result, they've been paired with a rich brown wall-hung vanity unit which draws out the warm copper tones of the tiles and complements their design by adding a different aesthetic to the space. The wood-effect of this Josef Martin Remo Wall-hung Vanity Unit and Worktop in Dalton Oak Wood-effect brings in a more natural, rustic look which contrasts with the tiles and adds texture with the different material of the unit.
Creating texture in a room is all about layering a variety of textiles, using a combination of materials and finishes to add visual interest and give depth to the space.
The large format size of the tiles here will make any space appear bigger, while their rectified edges give them those striking clean lines, further complemented by the sleek, gloss finish. The vanity unit is also wider and complements the larger tile size, with the overall look further balanced out with the addition of a landscape mirror with brushed brass frame hung above the unit.
This is the Brushed Brass Frame Mirror with Colour Change feature, which comes complete with LED lighting and an inbuilt heated demister pad for added convenience.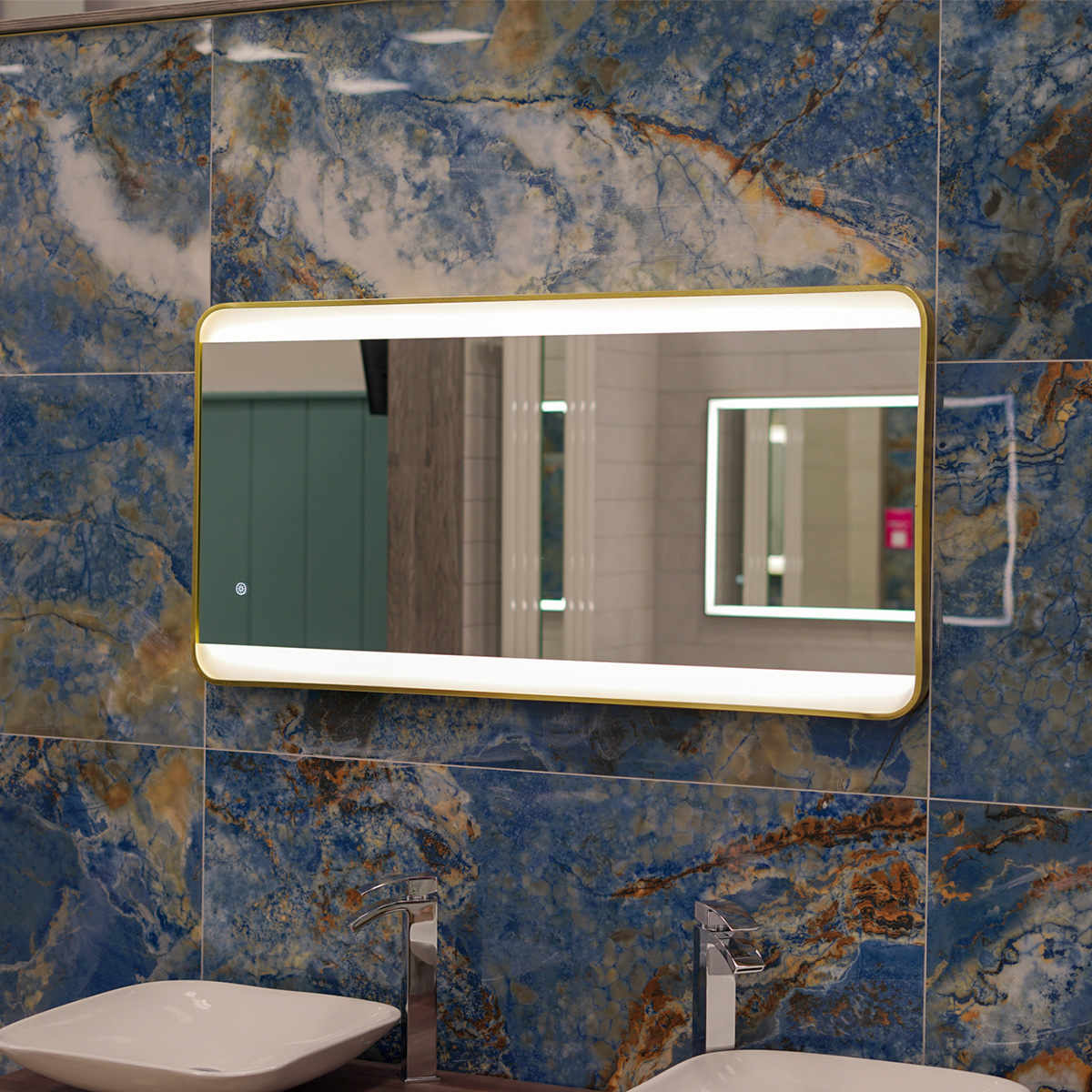 The Brushed Brass Frame Mirror with Colour Change feature in warm and cold white.
Again, the mirror will help to make the bathroom appear more spacious – and light – while the brass once again highlights the warm copper-gold tones within the tile design. As a result, everything works together to create a cohesive look, the contrasting finishes and styles adding texture and that all-important visual appeal.
For the flooring, two options are shown here for comparison, as a wood-effect tile could work well with the colour scheme for a warm, rustic look, while a paler tile will highlight the white of the wall tiles. Don't be afraid to use a pattern on the floor – depending on how bold you want to go in your bathroom, mixing patterns can create a quirky contemporary vibe which will add instant character to your interior. You can then opt for something more muted on the walls.
White bathroom-ware in the toilets and basins will also prevent your interior from becoming too busy and will create points of calm within a more colourful interior.
No matter what style of bathroom you want to create, there are myriad ways to pair tiles and fixtures – and you can really get creative, thanks to the wide variety of designs available. From large format and smaller mosaic tiling, to patterned, bright and bold, there's something to suit every taste.
Meanwhile, with painted baths and vanity units, as well as the traditional white bathroom-ware – alongside brushed brass, matt black and chrome taps and accessories – you can transform your bathroom in a multitude of ways.
For more tips and advice on matching bathroom toles and fixtures visit your local showroom and have a chat with one of our team. Alternatively, you can email us at info@bathshack.com or call (028) 9077 0188.