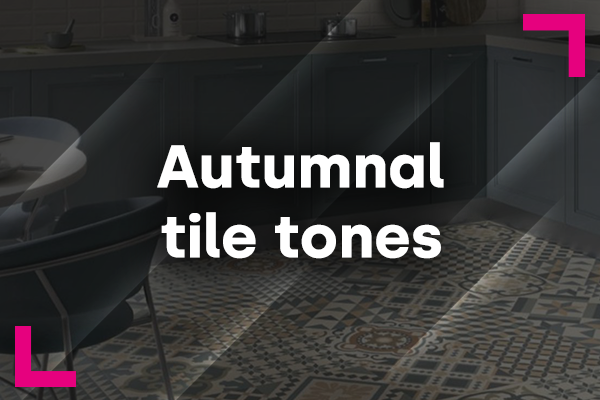 Autumnal tile tones
With autumn almost upon us, there's a lot of inspiration to be taken from this brisker season, as the evenings draw in and the new season brings us a colour palette rich in russet tones and earthy shades.
Indeed, nature is a key influence when it comes to decorating our homes, with the organic shapes and colours of the natural world ideal for creating a calm, inviting space. Many people are also still seeking to recreate a spa-like experience in their bathrooms, so drawing on inspiration from nature to do this is ideal.
With that in mind, if you're updating your tiles this autumn then think stone and wood-effect, warming honey-coloured or gold tones and designs such as onyx and marble to bring some of the outdoors indoors and create a relaxing vibe. Grey tiling also helps to give a spa-like ambience, while mixing different finishes will create texture and help to achieve a softer look.
Here are some of our recommendations for autumnal tile tones that will transform your bathroom this season, making it somewhere you can't wait to spend time in.
Nature-inspired tones and textures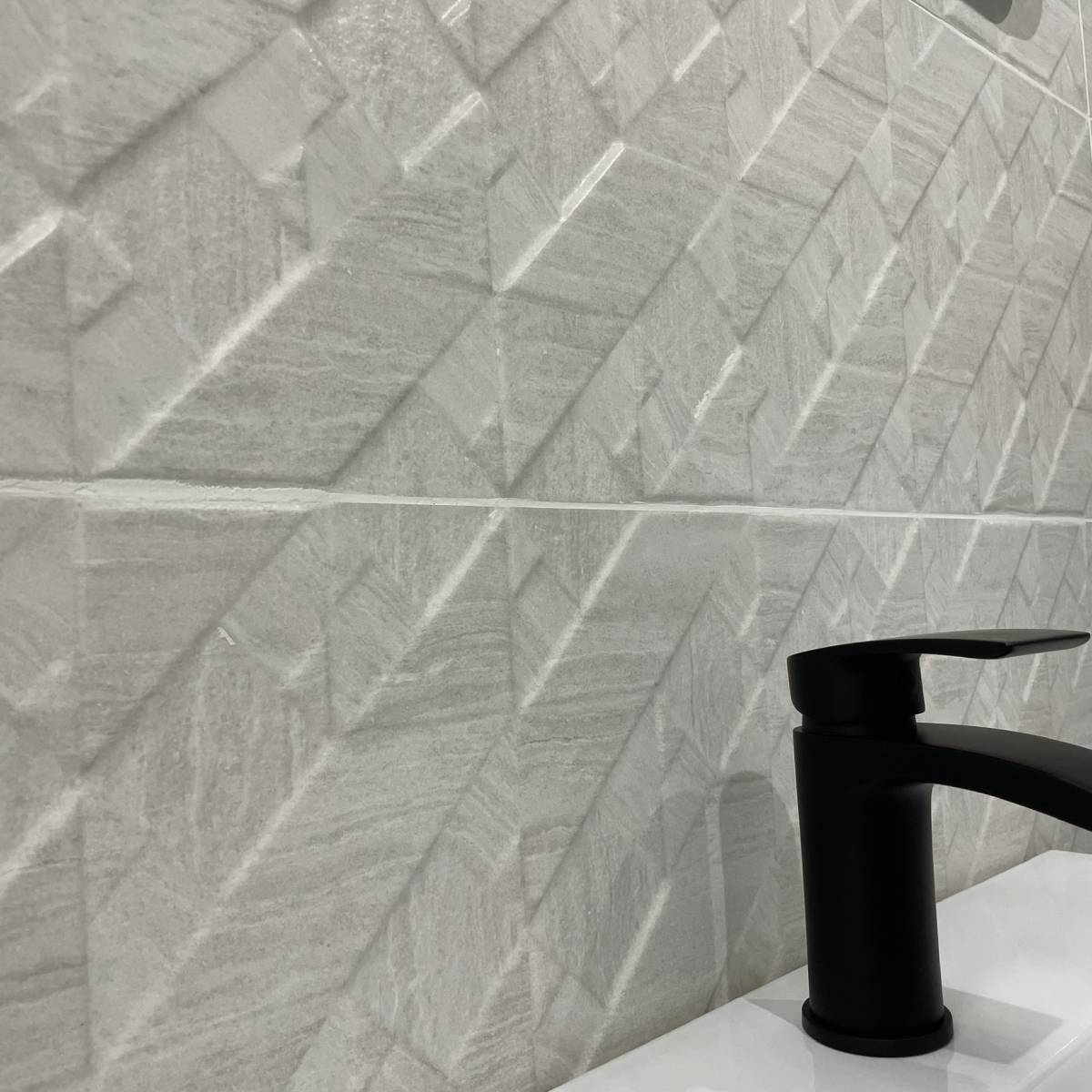 The Orsay Pearl Matt Décor Rectified White Body Tile in Grey Ceramic.
The Orsay Pearl Matt Décor Rectified White Body Tile in Grey Ceramic conjures up instant spa vibes with its soothing grey tone and modern matt finish.
This is an inspired look for autumn if you want to create a calming space which has the feel of a professional retreat.
These tiles will also add visual appeal and texture with the uneven surface of their design, the on-trend geometric pattern cut into the tiles creating depth and dimension.
The natural stone-effect look of the Orsay Pearl Matt tile is subsequently perfect for embodying that organic aesthetic and will complement a wide range of décor.
Introducing different textures and designs into your bathroom immediately creates a sense of calm and contributes to a more relaxing ambience, while also adding character. This more textured tile will therefore look great paired with a contrasting floor tile, while different materials and finishes mixed in throughout the bathroom will help to create an attractive layered look.
Wood-effect flooring is another popular way to introduce a natural aesthetic. The Nebraska Marron Wood-effect Tile in Brown Ceramic recreates the look of real wood without the risk of warping or scratches which would come with that and is also a more cost-effective option. This rich brown tile has natural grain detailing, just as you would find in timber, so the overall effect is very organic, while the deep autumnal tone creates depth and looks warm and welcoming.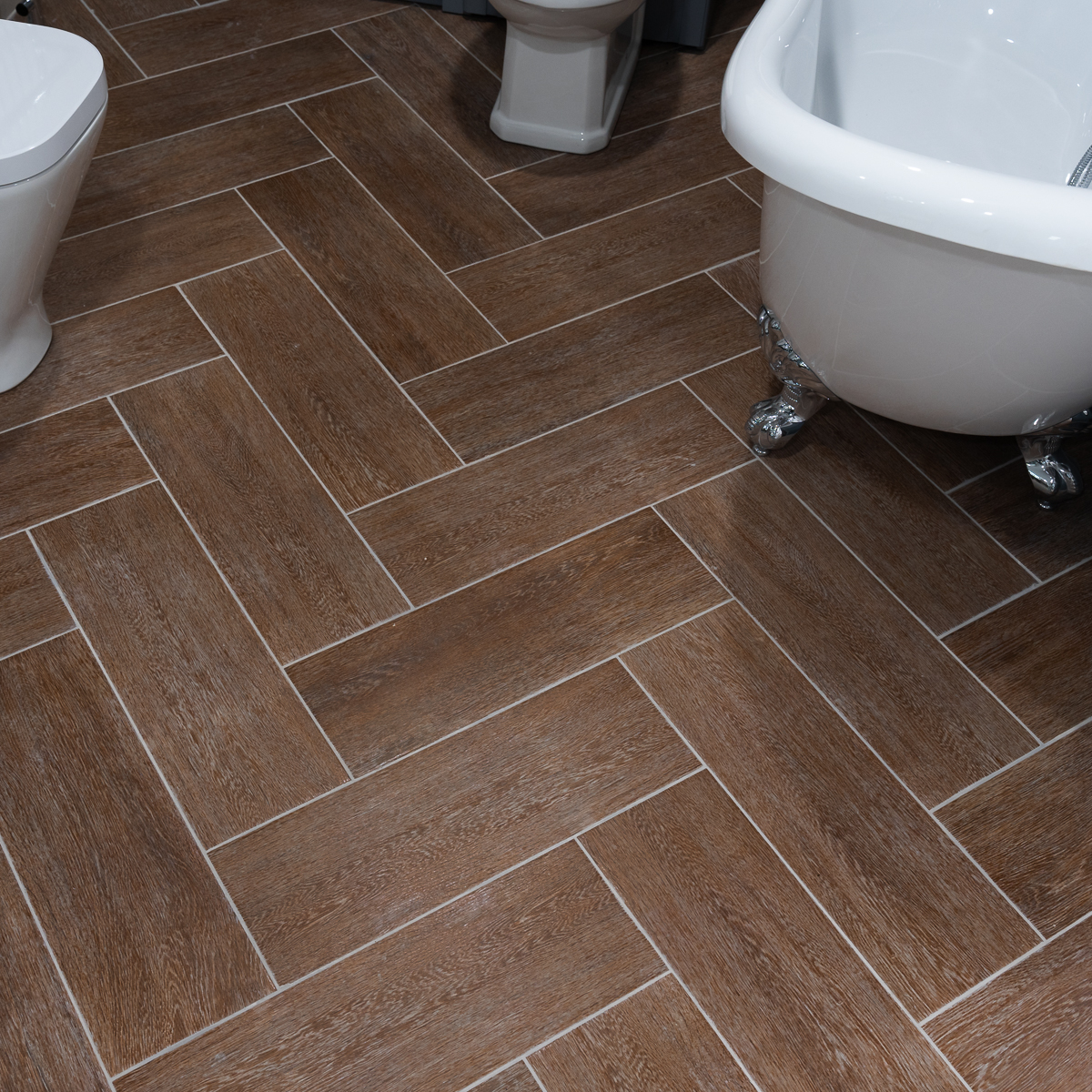 The Nebraska Marron Wood-effect Tile in Brown Ceramic.
For a more colourful look, the Atlantida Blue Polished Rectified Tile is a polished gloss tile which embodies the trend for natural rock designs, moving on from the marble-inspired look to something a little bit different.
Warming amber tones appear throughout the design against a backdrop of blue and, with swirls of white mixed in amongst it all, the design also features veining which ultimately all works together to create visual interest. This large format tile is great for using on a feature wall – or could create a dramatic look throughout the bathroom.
The Atlantida Blue Polished Rectified Tile combines warming amber tones with swirls of blue and white to create a stunning feature tile which will add style and elegance to any bathroom.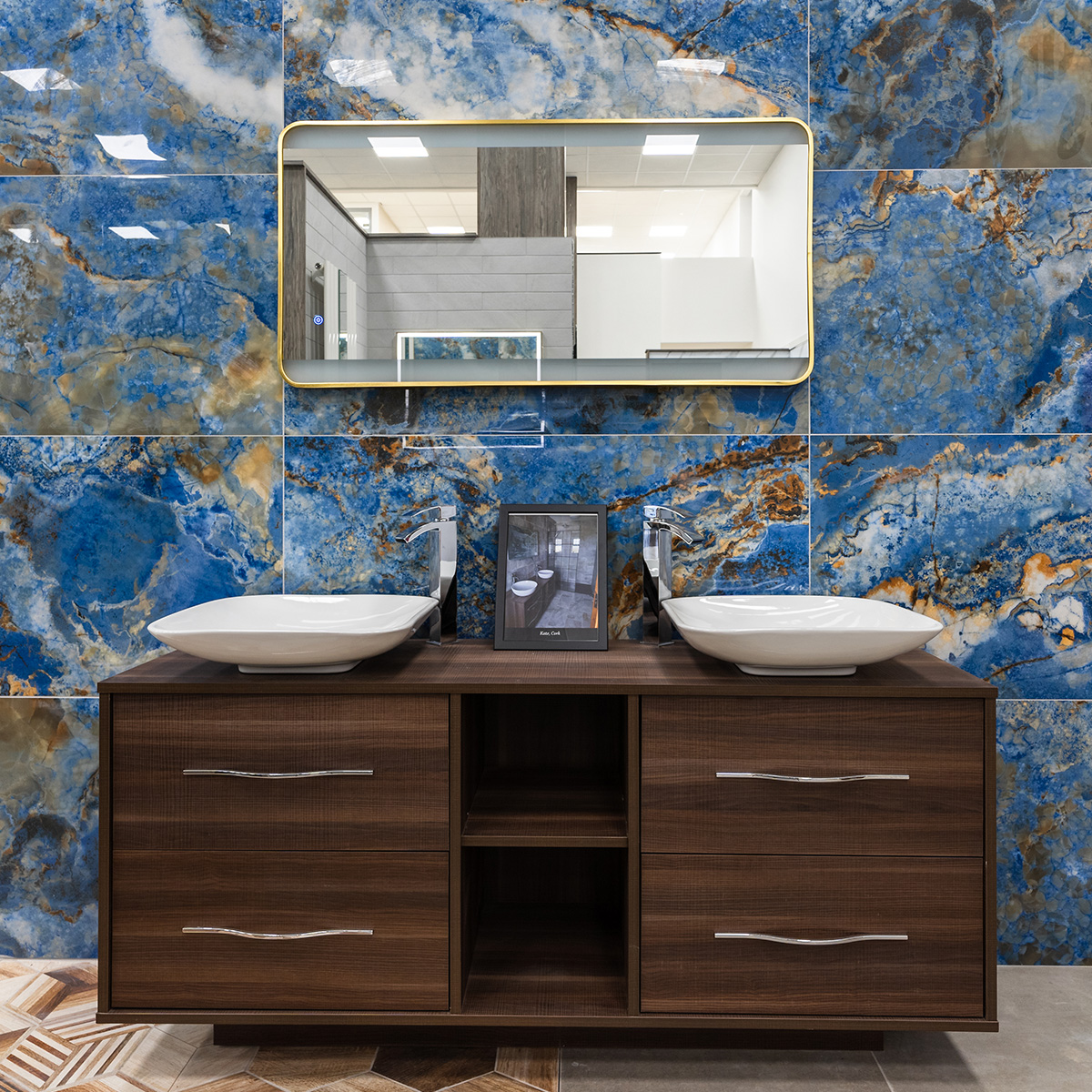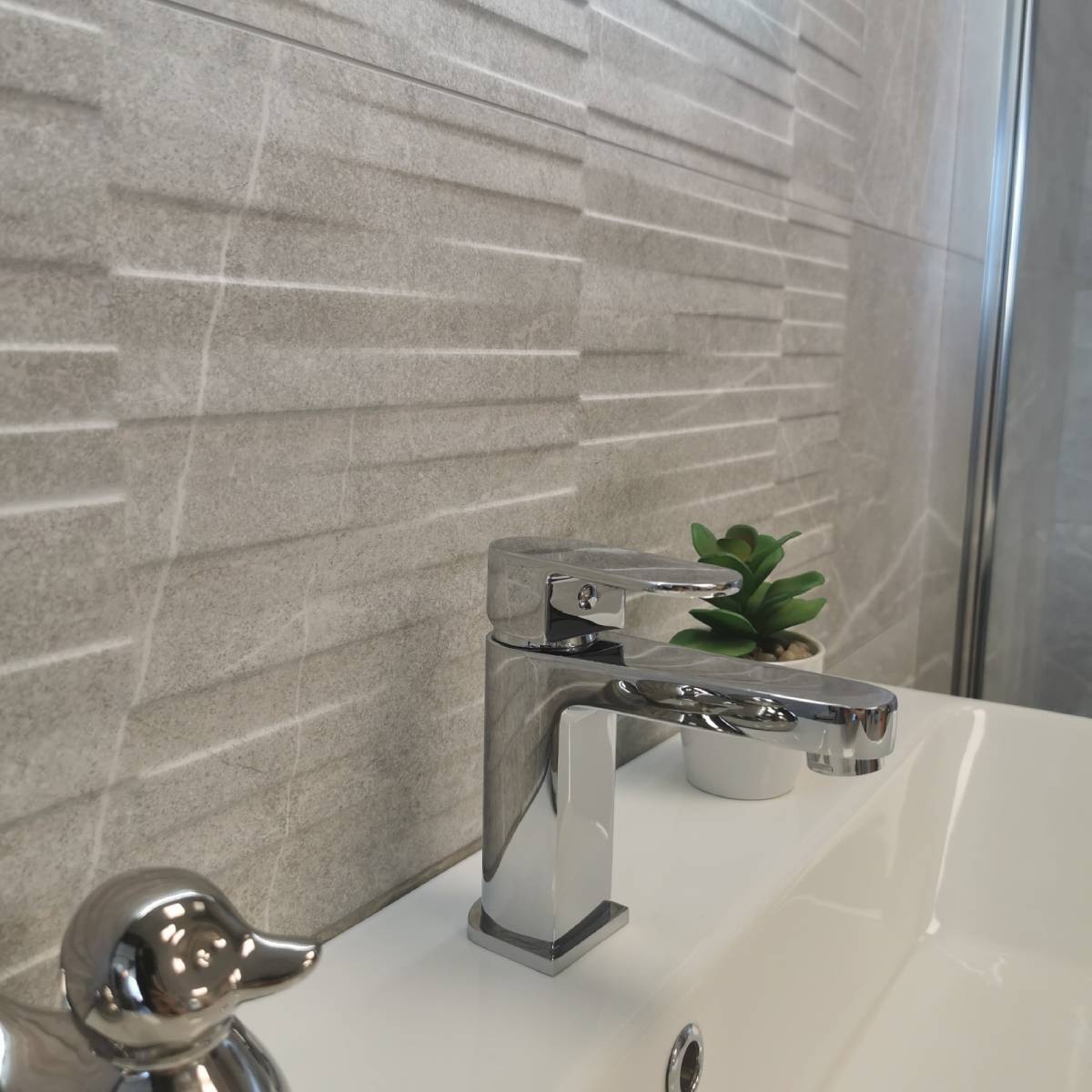 The Warha Shetland Moon Rectified Grey White Body Tile.
Textured tiles are also on trend this year, with irregular surfaces giving tiles that sought-after natural aesthetic.
For example, the Warha Shetland Moon Rectified Grey White Body Tile has a ridged design which, together with the natural stone look, gives it a rustic, textured appearance which is bang on trend.
The matt finish further adds to the overall effect, giving it a distinctly modern edge and making it a great choice for creating a calming bathroom space.
If you want to embrace the earthy tones of autumn, then something like the Penny Stoneglass Gold Mosaic Sheet with its rich golden tone and modern matt finish will add a timeless elegance to your bathroom. These will look great used on a feature wall and also work really well combined with a darker colour palette, which is another trend for 2023 – layering deeper tones to create that cosy vibe. The penny-shaped design also adds visual interest and character and is an alternative to the more traditional square or rectangular tiles.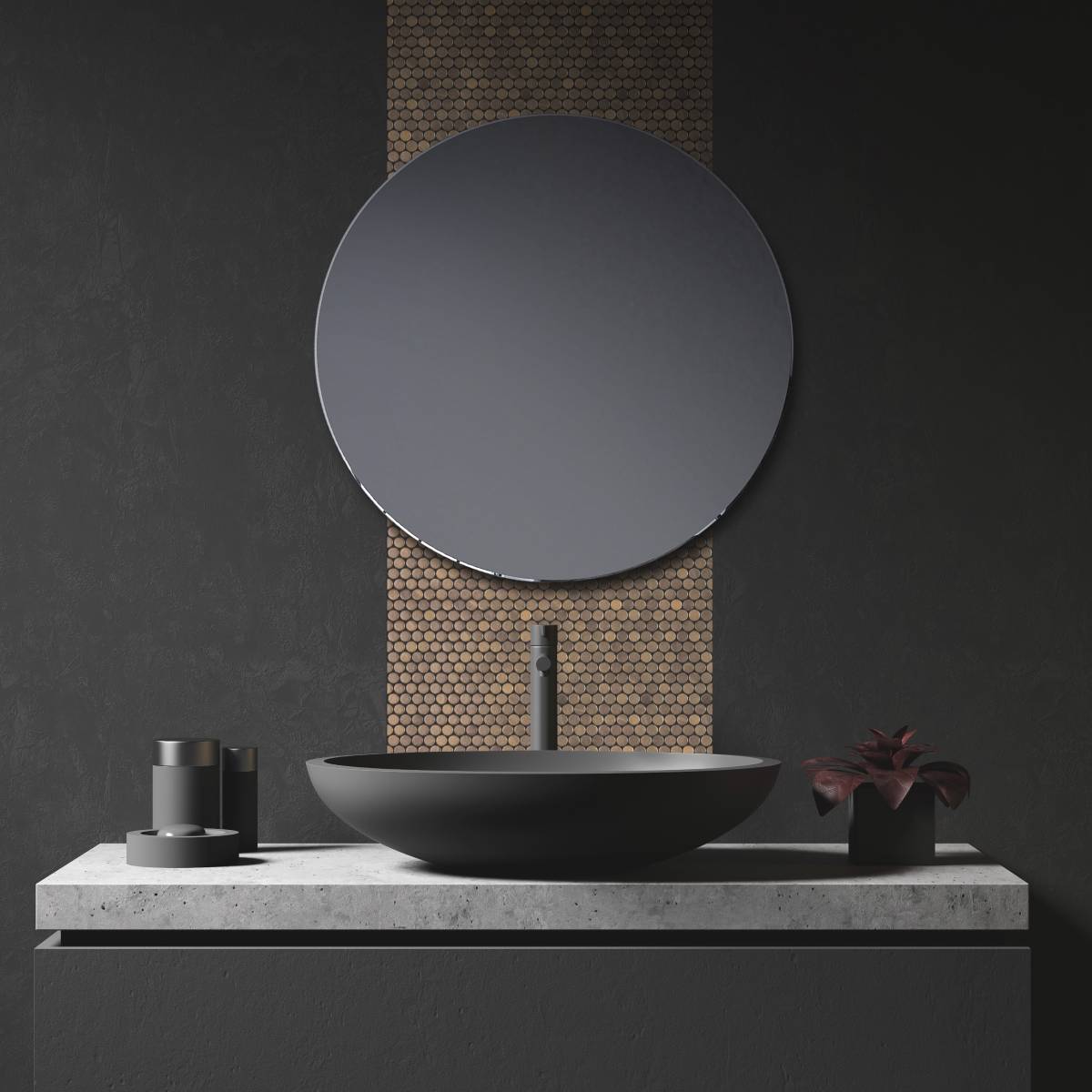 The Penny Stoneglass Gold Mosaic Sheet has warming tones and a modern matt finish.
For a marble-effect floor, meanwhile, the Carrara Gris Mate Porcelain Floor Tile is ideal and has a subtle design, with an elegant white background and delicate grey veining running across the surface. The large format size also creates a sense of space, while the reduction in grout lines makes them easier to clean and adds to that sense of enhanced space.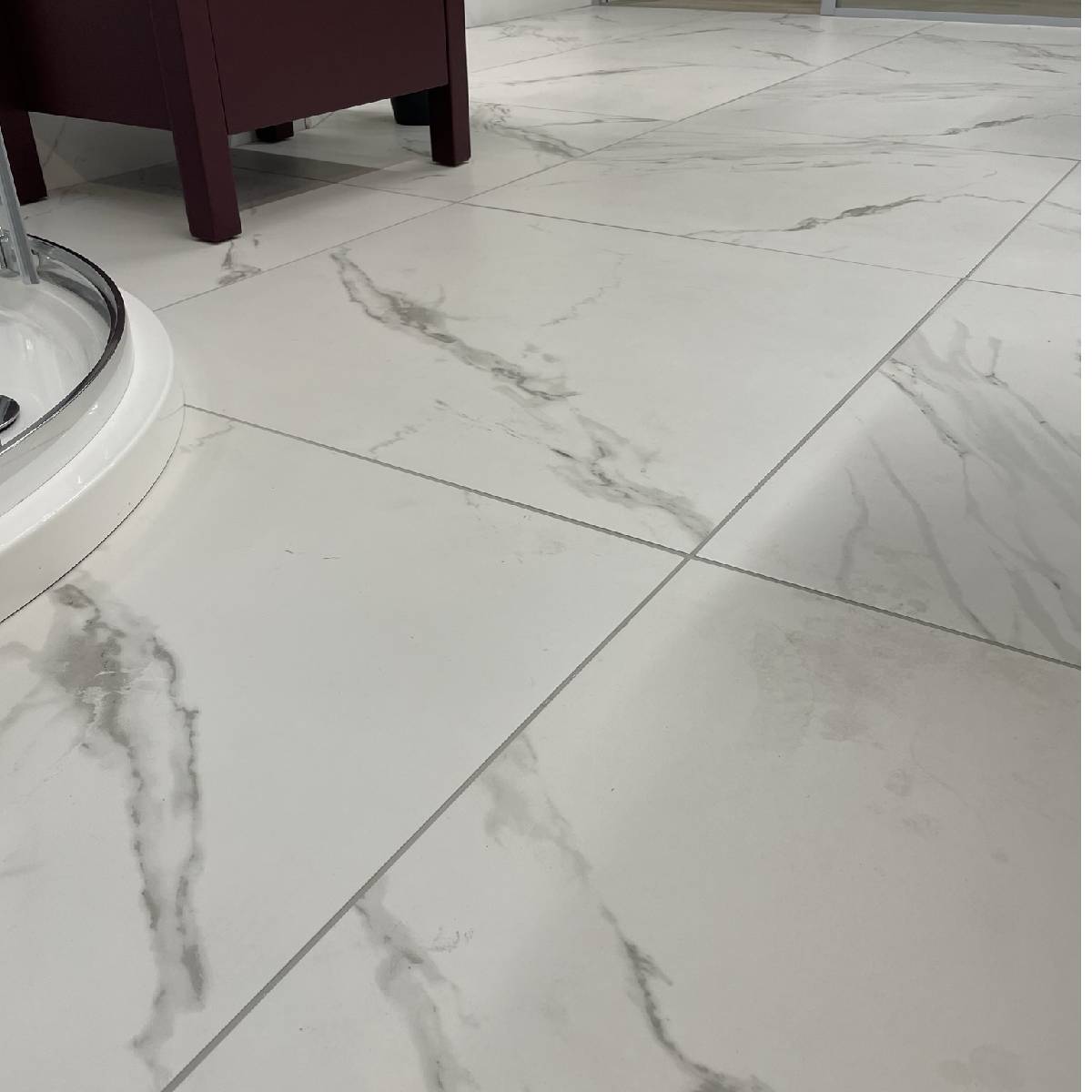 The Carrara Gris Mate Porcelain Floor Tile will make your room appear bigger.
If you're looking for calming neutrals which recreate the spa aesthetic and are inspired by nature, we have a wide range of tiles available at Bathshack, with something to suit every taste. Alternatively, if you prefer to introduce warmer tones or a darker colour palette into your home, then there's a great variety to choose from in this regard as well – and our team is always happy to advise you on what works well together.
If you'd like some help in choosing tiles for your bathroom, why not visit your local Bathshack showroom and have a chat with one of our team? Alternatively, email us at info@bathshack.com or call (028) 9077 0188.