Filter By
Shopping Options
What do you think of our filters?
Thank you for helping us improve our filters.
Black Tiles
A bold tiles for the modern home
One interior trend that's been making a huge comeback is the black tile. Black tiles may sound drab and gloomy, but that is not the case! Our black metro tiles come in a variety of finishes, allowing you the freedom create a range of looks. Choose gloss black tiles for smaller spaces or if you are daring to tile the entire room black; the gloss will reflect the light to keep the room feeling bright and spacious. If you're after a rustic look, opt for an organic textured tile such as the Norai Black Matt.
Make a statement with black metro tiles
A black kitchen backsplash will add depth and drama to your space. This is an edgy look that creates a contemporary feature piece in your kitchen. The traditional way to lay metro tiles is horizontally offset. However, there are other options. A herringbone pattern creates a very modern look. Make this pattern pop by using a lighter colored grout such as this Dove Grey. Alternatively, you could lay these tiles in your shower enclosure for a luxurious, eye-catching look.
Unbeatable tiles and customer service
All our black metro tiles are made from the finest ceramic, so you can be assured of a high-quality tile that's built to last in even the busiest home. They also have an easy clean surface, so stains, grease and grime are simply wiped away. Shop online for delivery all over Mainland UK & Northern Ireland, or call into one of our Northern Ireland showrooms. Our team will be happy to help you choose the right black metro tile for your needs.
Filter By
Shopping Options
1 - 2 Products of 2
Compare
0
| | | | | |
| --- | --- | --- | --- | --- |
| Price | £99.99 | £1234.56 | | |
| Color | Orange | Red | | |
| Size | 200mm | 500mm | | |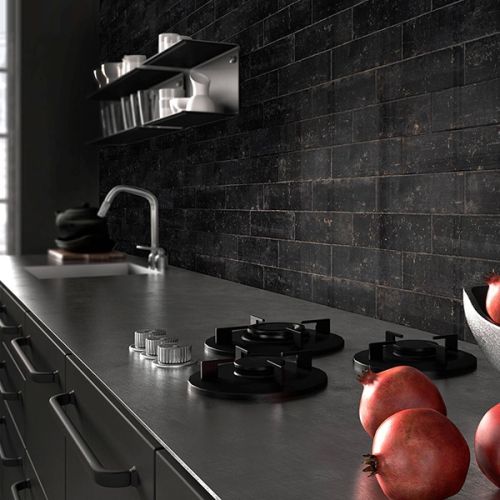 £9.98
£19.95 per M²
£16.68 per Yd²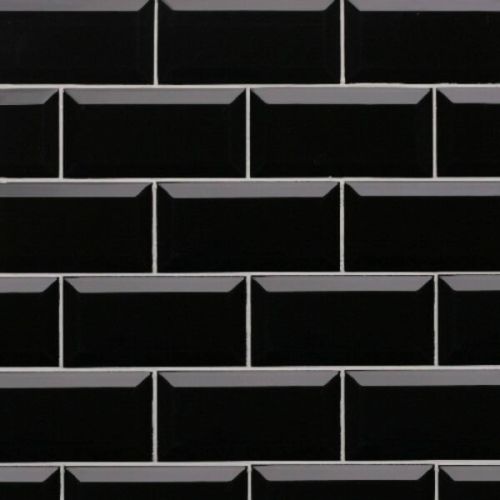 £19.95
£19.95 per M²
£16.68 per Yd²
1 - 2 Products of 2
Compare
0
| | | | | |
| --- | --- | --- | --- | --- |
| Price | £99.99 | £1234.56 | | |
| Color | Orange | Red | | |
| Size | 200mm | 500mm | | |