Whether you've got an open fire, an electric fire, a stove or just an empty hearth, a beautiful tile will draw attention to your fireplace. It sets the tone for your décor scheme, adds accent colour or texture and ties the room together.
You don't have to limit fireplace tiles to a small part of the surround; they can also be used for the entire wall around your fireplace. Choose a contrasting tile for the hearth around a stove or the foot of the fireplace for added drama, or use the same tile throughout for a cohesive look. Whichever your preference, pick a tile that reflects the style of the room.
Our guide will provide tips and inspiration on how to get that perfect 'wow-factor' fireplace with tiles!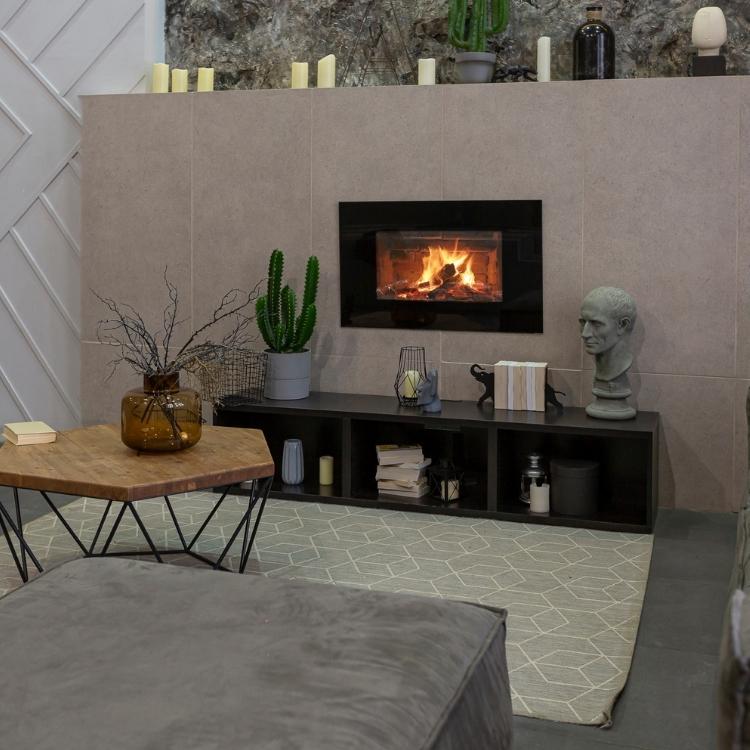 What tiles are suitable for a fireplace?
If you have an operational fireplace, it's vital to choose heat-resistant tiles so they don't crack in the heat. Most porcelain tiles are suitable for areas of high heat, although you should always check with the manufacturer. Our staff can check this for you, so don't hesitate to Contact Us when you have chosen your favourite tile. Porcelain tiles also come in a wide range of sizes and styles and can be designed to imitate the look of other materials, such as marble and wood.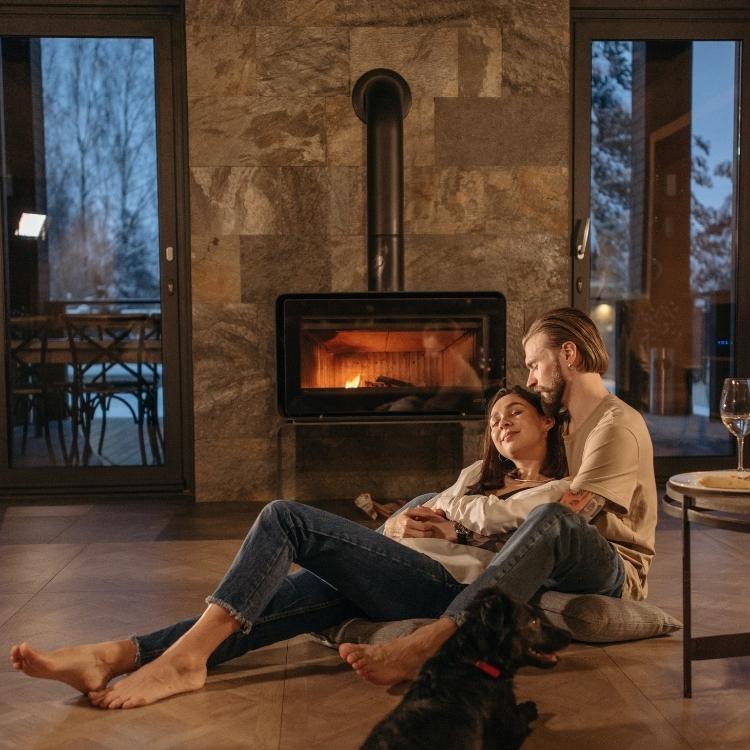 Add texture with an eye-catching layout
An effective way to draw attention to your fireplace is by laying your tiles in an interesting layout. It is also a fantastic and more affordable way to make your home look more expensive.
The Herringbone layout resembles a zig-zag pattern. It can make small rooms appear larger and will add interest and character to a space.
The Chevron layout arranges tiles in continuous Vs. Each V is identical to the one before, so when you put multiple rows together, they form a striking zig-zag pattern. This layout creates a clean look with sharp angles and straight lines. It can make a room feel bigger and ceilings higher – perfect for creating an open, airy feel in smaller spaces. Whether you want a classic or trendy look, this stunning pattern will transform any fireplace.
You will need rectangular tiles for the above layouts. For example, the Atelier Kanthia Silver Tile features an elegant pattern that works in both traditional and modern spaces. Wood effect tiles are also perfect for these layouts – read on to find out more!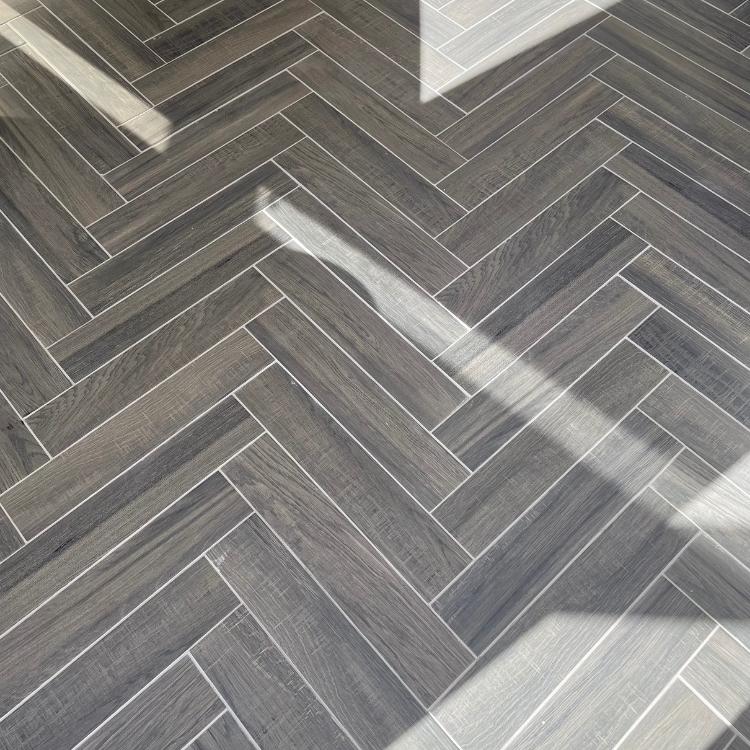 Marble for opulence
A marble effect fireplace will bring warmth, beauty, and elegance to a room. It is also perfect for making your home look more luxurious. Marble is highly adaptable as it looks great in most design and colour schemes. Use it for a period-style room or create a sleek look in a contemporary space.
Our marble tiles come in many shapes and sizes, including rectified options if you don't want visible grout lines. Use to tile the whole fireplace surround for a cohesive look and to maximize light and space in a small or dark room. Alternatively, use a darker tile for the foot or hearth to provide contrast; we recommend a dark stone effect tile or a black tile such as the hex Esagono Nero.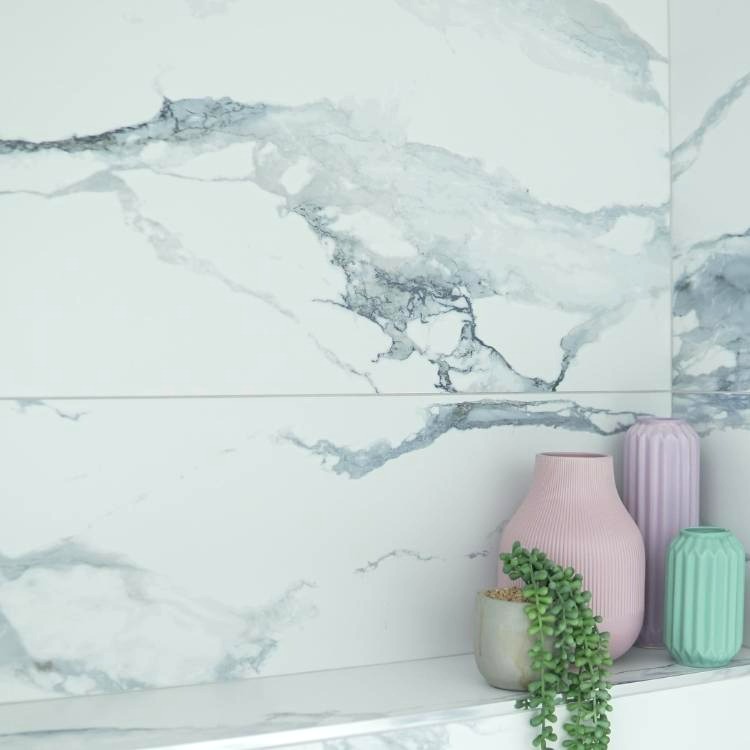 Stone effect
Stone effect tiles are highly versatile for a fireplace, as they can be used to create a range of looks. A stone effect tiled fireplace will create a farmhouse feel in a room with lots of wood tones; perhaps you have wooden floors and furniture or wooden beams in your ceiling. These tiles will also achieve vintage luxury in a period-style room or a cool contemporary look in a neutral space.
Our stone effect tiles look just like the material they are replicating, minus the cost and upkeep of the real thing. Most of these can be mixed and matched if you want to use more than one tile for different areas of your fireplace. If you're looking to create a statement in a modern space, tile the all around your fireplace with this stunning Stonehenge Rel Grey tile.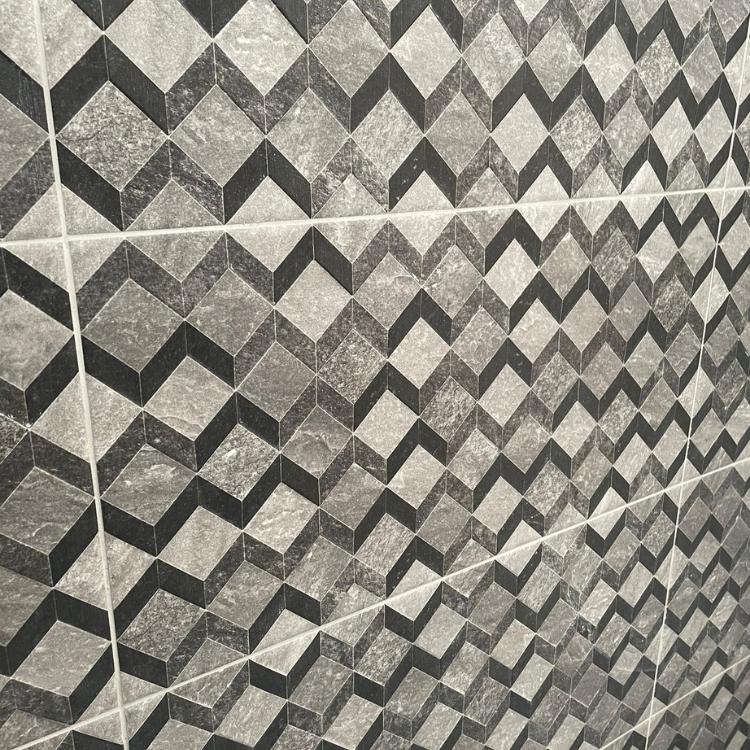 Wood effect
Want to create the feeling of a cosy log cabin at home? Or do you want to enhance a neutral colour scheme with a focal feature? Look no further than a wood effect tile. These tiles have the authentic look of natural wood, but they are more stain and scratch-resistant and will not warp from heat. For obvious reasons, they are much safer for use near a heat source than real wood.
These tiles are aesthetically pleasing and come in a huge range of colours, from browns to greys. They are perfect for layout patterns such as the Herringbone or Chevron but look just as good when arranged in the traditional way. Maintain the organic theme throughout your fireplace by coordinating with a marble or stone effect tile. For example, you could use a wood effect tile for the hearth around a stove, and marble for the surrounding wall. Alternatively, use a stone effect tile for the foot of a fireplace, and wood effect for the surrounds.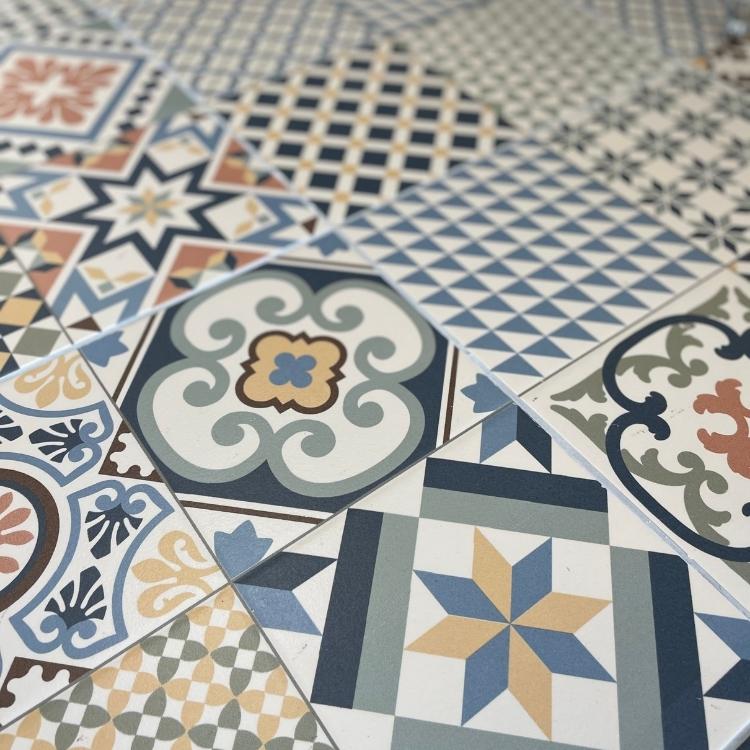 Get creative with pattern
Choose a patterned tile for your fireplace if you want to add pattern to a space without being obtrusivehttps://www.tileshack.com/pattern-tiles.html. For an even bolder look, go for a tile in an interesting shape.
The Esagono Idra is one of our bestselling patterned tiles. With an eye-catching hex shape and six different tile patterns, it will pack a punch in a modern or contemporary space. Use it to tile the wall around your fireplace and contrast it with a plain tile.
The Danubio Tile also features a mix of different patterns and will add visual interest to a room with neutral or muted tones. Use for the foot and the border around the fireplace for an eye-catching look.
Ready to transform your fireplace? Shop tiles online today for delivery all over the UK & Ireland. You can also visit one of our showrooms on the island of Ireland to view a selection of our tiles in person. Our team will be happy to advise you on design options and what tiles are suited for this part of your home.