Tiles and grout have to withstand a lot of daily wear. From foot traffic and grease to high moisture levels, they can get dirty or mouldy pretty quickly. Knowing how to clean them properly will prevent the build-up of nasties and damage caused by using the wrong cleaning materials. Our guide will show you how to correctly clean grout and tiles to keep your surfaces looking sparkling new for longer!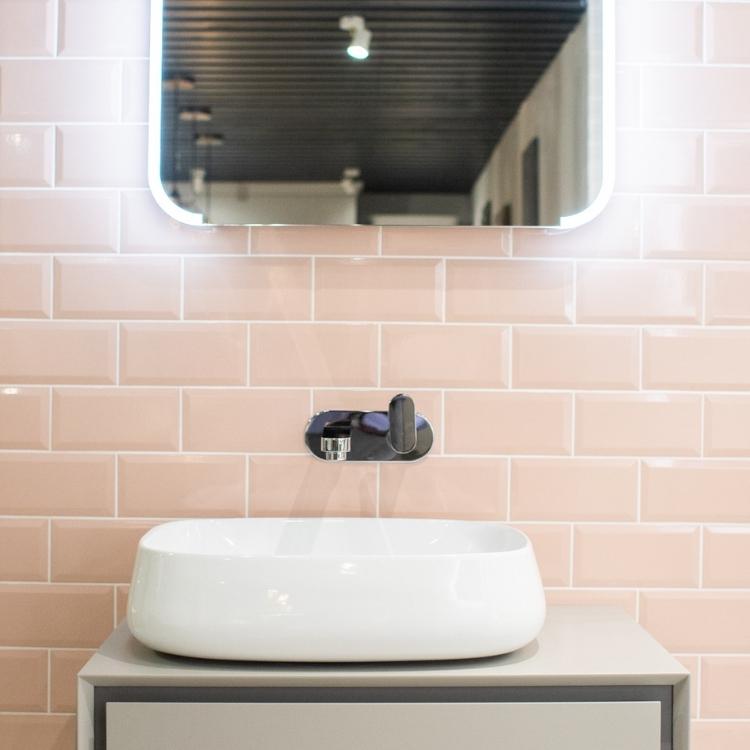 Cleaning Grout
Grout will usually be dirtier than tiles. This is because it's porous, making it a magnet for stains and dirt. For this reason, we recommend cleaning the grout first; if you start with the tiles, you will only be scrubbing the grime from the grout onto their surface.
Start by wiping the grout with a damp cloth to remove dust and surface dirt. If you're cleaning grout in the bathroom, run a hot shower or bath with the door and windows closed for a few minutes to loosen up any grime and stains.
Mix some baking soda with vinegar in a bowl to form a paste. Work this into the grout with a toothbrush, as this is the best way to get it into awkward corners. Use an old electric toothbrush if you have one, as this will be much quicker and easier on your elbows. You can also use any small, stiff bristle brush, like a nail or dish brush.
After scrubbing the grout, let the solution sit for around 30 minutes. Next, rinse off with clean water. Wipe away any residue with a microfiber cloth.
If you don't have the time or the energy for scrubbing, try using a grout eraser. This is a more expensive cleaning solution than the above method, but it can quickly remove stains and dirt when rubbed over the grout. This is especially useful for mosaic tiles, as these have more grout lines.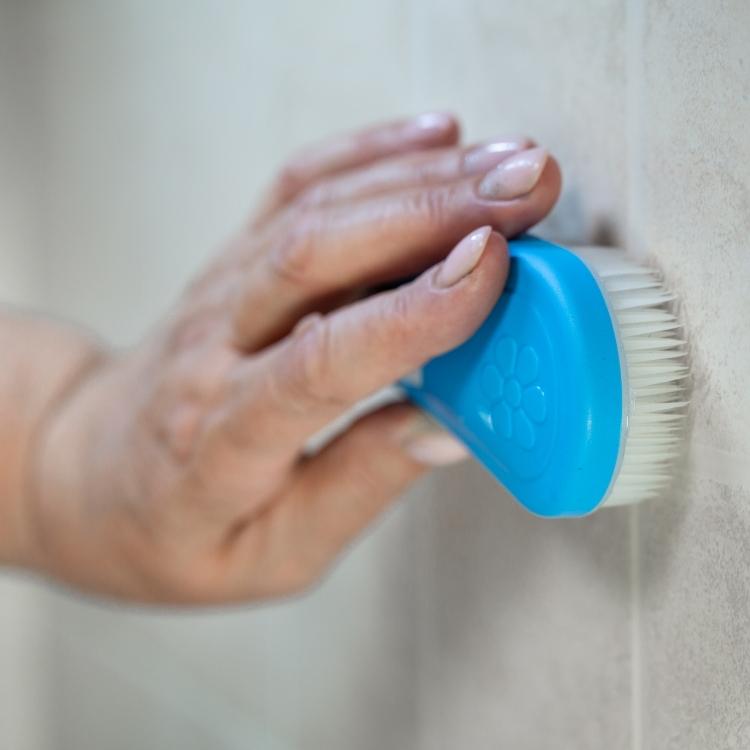 Stains
To clean very stained grout, you can use a bleach solution (around 3/4 cup bleach to 16 cups water) and scrub with the toothbrush or small brush.
Be careful not to scrub too hard to prevent damaging the grout. You should also keep the room ventilated and wear safety goggles and gloves when working with bleach and other cleaning chemicals.
We don't recommend using bleach on coloured or dark grout as it can fade the finish. For this grouting, you can buy a grout cleaner that doesn't contain bleach.
Mould
You can use the above method to remove mould from light coloured grout. You can also buy a mould remover; these cleaners are usually suitable for coloured or dark grouts (just ensure you check the label before buying). Follow the instructions on the bottle when applying mould remover to any grout.
If you have mould or stains that just won't budge, use a grout pen. These pens cover old grout with a new white layer so you can freshen up your grout quickly.
If you are cleaning your grout for the first time, we also recommend chatting to a professional tiler about cleaning tips, as they will know what cleaning method is best for your chosen grout.
Cleaning Tiles
We advise cleaning your wall tiles first; grime from the wall may be drip onto the floor tiles, so there is no point in cleaning them first.
You can use a store-bought cleaner for tiles, or the baking soda and vinegar combination used to clean the grout. You will need to consider the material and finish of your tiles when choosing a cleaning method. As with grout, we recommend consulting a professional tiler on what cleaning method is best for your type of tile if you are unsure.
You can use vinegar on ceramic or porcelain tiles, whether glazed or unglazed. Use a ph neutral cleaner on
You can use vinegar on ceramic or porcelain tiles, whether glazed or unglazed. Use a ph neutral cleaner on other materials such as granite, marble or terracotta to prevent damage.
You can use a non-metal scouring pad on porcelain tiles. For other materials and printed pattern tiles, opt for a soft sponge or microfiber cloth,
Always read the instructions on the label if using a commercial product for cleaning tiles. If you are using the vinegar and baking soda method, follow these steps:
Use a scouring pad or sponge and dip it into the paste regularly.
Clean the tiles using a gentle, constant wiping motion.
Don't scrub too hard or apply too much pressure, as this can damage the tiles.
After scrubbing, leave the solution on the tiles for a few minutes, then rinse off with fresh water. Finish by drying the surface with a towel or microfiber cloth.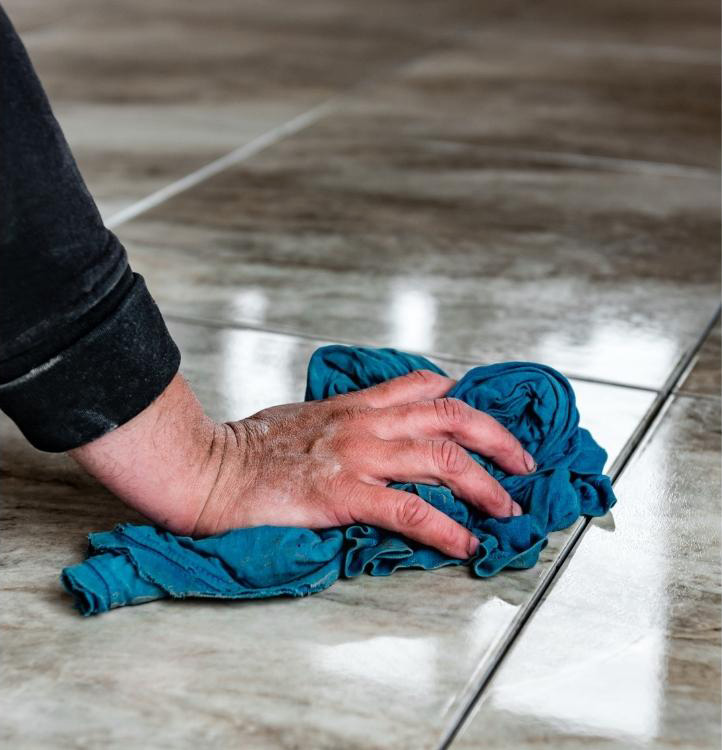 Kitchen Backsplashes
Grease can build up over time on a tiled backsplash behind a cooker, so you may need to use a degreasing agent on this surface first. Follow the manufacturer's instructions when using any degreaser.
To finish, wipe with a clean, wet cloth, then buff dry with another cloth.
Orange or lemon oil are effective degreasers if you prefer natural cleaning methods. They will also leave your kitchen smelling citrusy fresh! Add a few drops directly onto the tile, then wipe with a wet cloth or sponge to remove the grease.
What about steam cleaning?
If you have a particularly large surface area to clean like a kitchen floor, or you just don't feel like scrubbing, then we recommend using a steam cleaner. This will work through dirt while removing the need to get down on your hands and knees!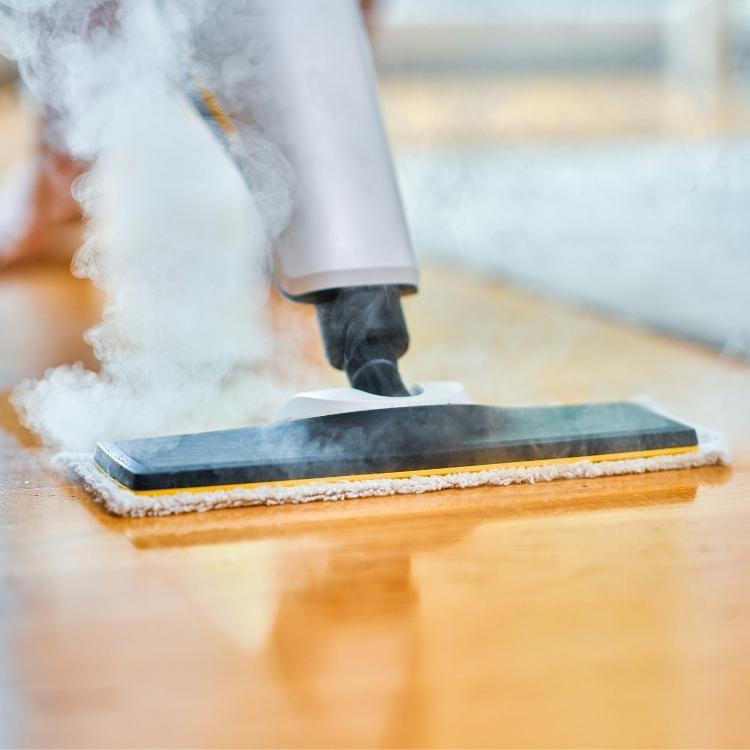 Bear in mind that you can't use a steam cleaner on some types of tile such as stone, so check it is suitable for your surface before you begin. You can use a steam cleaner on any Tileshack tiles as they are all made from porcelain, ceramic, or glass. Why not go for one of our stone effect tiles so you can enjoy the appearance of natural stone without the high maintenance of the real thing?
Give the area a quick wipe with a soft cloth before steam cleaning. This removes any large particles of dirt that can scratch the tile when dragged by the steam cleaner.
Next, carefully guide the steam cleaner over every part of the surface.
Leave the area to dry for a while, then wipe it with a cloth to finish
At Tileshack, all our tiles are easy to clean and maintain. They are also highly durable. If you want beautiful, on-trend tiles for your home that are built to last and require minimal upkeep, visit one of our showrooms or shop online for delivery all over the UK & Ireland.