Victorian interior design originated in the 1800s and was defined by bold patterns and rich, dark colours. This indicated high status, as it created a luxurious look and allowed people with wealth to express their style.
Today, Victorian-inspired design has become a hugely popular trend. However, you no longer need the wealth of a Victorian aristocrat to achieve the look! As tiles were a prominent feature of Victorian interiors, they are an easy way to create a period-inspired space. Our guide will show you how to nail the Victorian trend with tiles and update the look to give it a modern-day edge.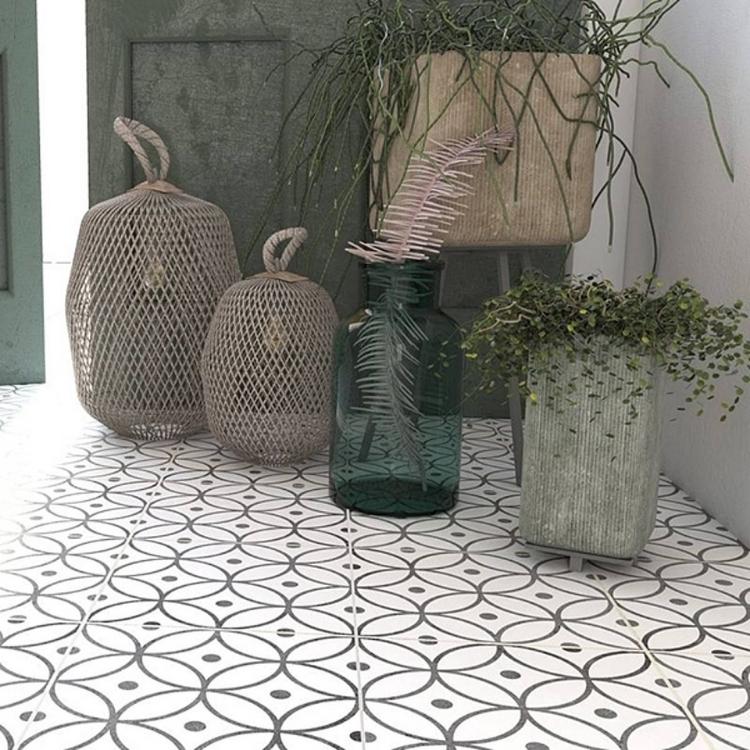 Pattern floor tiles
Victorian interiors are known for tiles with striking geometric patterns. For that reason, you can't get more Victorian than one of our pattern floor tiles! A patterned tile will also add fabulous texture to your bathroom or kitchen. Make sure you keep the walls simple to make your floor pattern stand out and to prevent overpowering the room.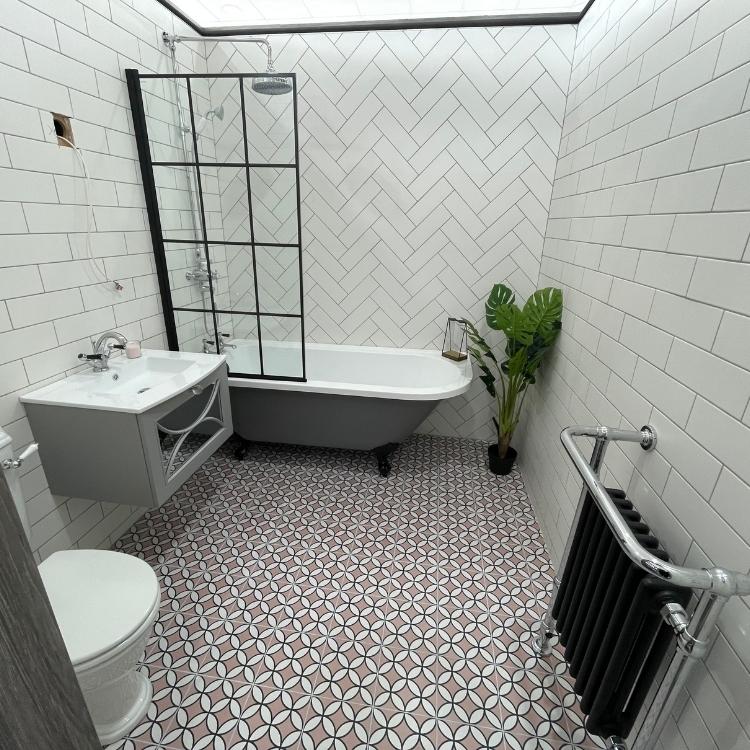 The diamond pattern of the Alhambra Tile is unmistakably Victorian. For a more contemporary twist on Victorian style, we recommend the Antic Circle Decorative Pattern Tile. With its monochrome colour palette, this tile has proven to be a customer favourite.
If you are looking for something with more colour, go for a floor tile from our Olden Range. Available in either Pink or Mustard Yellow, these tiles use colour and pattern in a way that is reminiscent of Victorian style.
If you have a small bathroom, you could continue your tile into the room's skirting to help widen the floor space. The Hydraulic Rose Tile is suitable for both walls and floors, so it's suitable for this purpose.
"Parquet" flooring
Parquet-style flooring is a fantastic addition to a hallway, bathroom, kitchen or living area. It makes any room look warmer and more luxurious, but natural wood can be costly and often unsuitable for high-traffic areas. Our Wood Effect Tiles replicate real wood and are more durable, less expensive, and easier to maintain. It means you can enjoy the look of parquet flooring for less money and upkeep!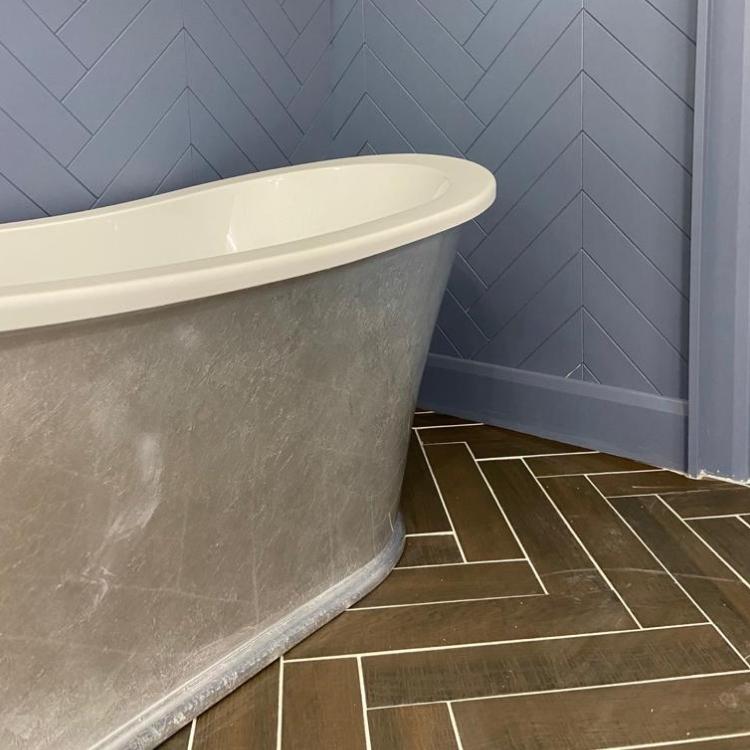 Victorians used dark-stained floorboards, but the lighter tone of the Nebraska Marron will work just as well. For the parquet effect, lay this tile in a Herringbone, Chevron or Basketweave pattern.
To make this floor stand out as the main feature, coordinate it with a cream, beige, or off-white wall colour. Add some colour with soft, regal furnishings.
Create a feature hallway
A feature porch and entryway was a big part of Victorian home design. You can also turn your entryway or hallway into a statement with the right tile.
The checkerboard floor has always been associated with Victorian style. It looks particularly chic in a long entryway, making the room look elegant and grand. However, it does have the tendency to be overused. As there are so many tile colours available today, you could swap out the traditional monochrome tiles for something else. Alternatively, you could put a modern twist on the black and white look with hex tiles instead of squares. The Esagono Nero and Esagono Bianco tiles are perfect for this look.
Go for large format tiles if you have a small porch or hallway. Small tiles create more grout lines which will make the room look busy, cluttered, and smaller.
Get the most out of your checkerboard floor by finishing the entryway with soft-toned walls and traditional furniture.
Square wall tiles
Victorians are also known for popularising wall tiles. To emulate Victorian chic on your walls, go for a square tile, then take it to the next level with a few modern touches. For example, use a black or white square tile with a contrasting grout to highlight the shape of the tile for a visually striking look.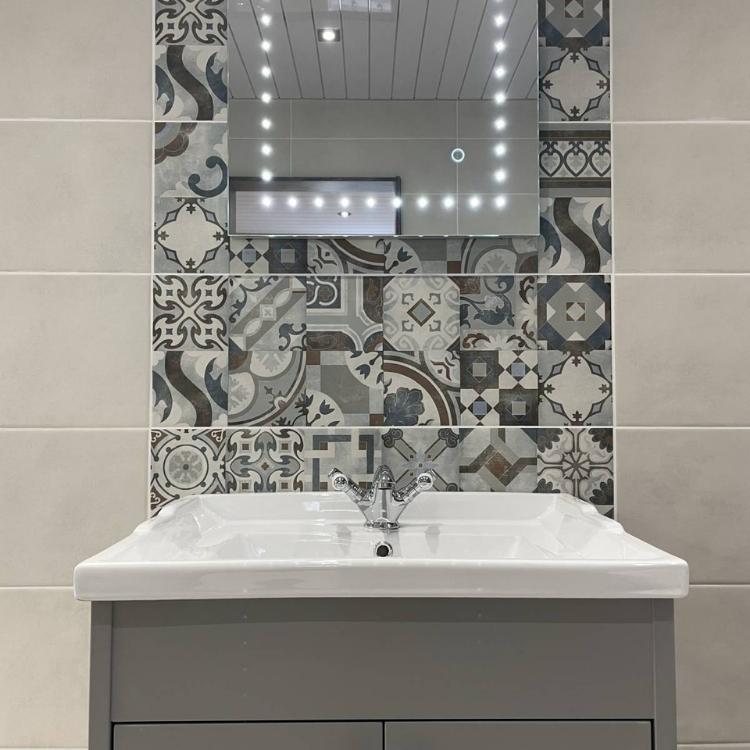 If you want a pattern on your walls, choose one of the Victorian-inspired tiles from our Nouveau Range. These tiles are perfect for a shower enclosure, a kitchen backsplash, or a feature wall in any room in the home. You can extend them onto the floor for a more modern, cohesive look.
Regal Colour
The traditional Victorian colour palette was dark and consisted of rich, deep shades such as red, green, maroon, burgundy and blue on walls, ceilings, fabrics, and furniture coverings.
We recommend using dark blue or navy to adapt Victorian colour to a modern home. As well as being a regal colour associated with Victorian times, deep blue never goes out of style. We have deep blue tiles in a wide range of styles and designs, so you can easily choose one that best suits your space. If you are tiling your bathroom, you can coordinate these tiles with furniture in other rich Victorian colours. To shop bathroom furniture, head over to our sister site, Bathshack.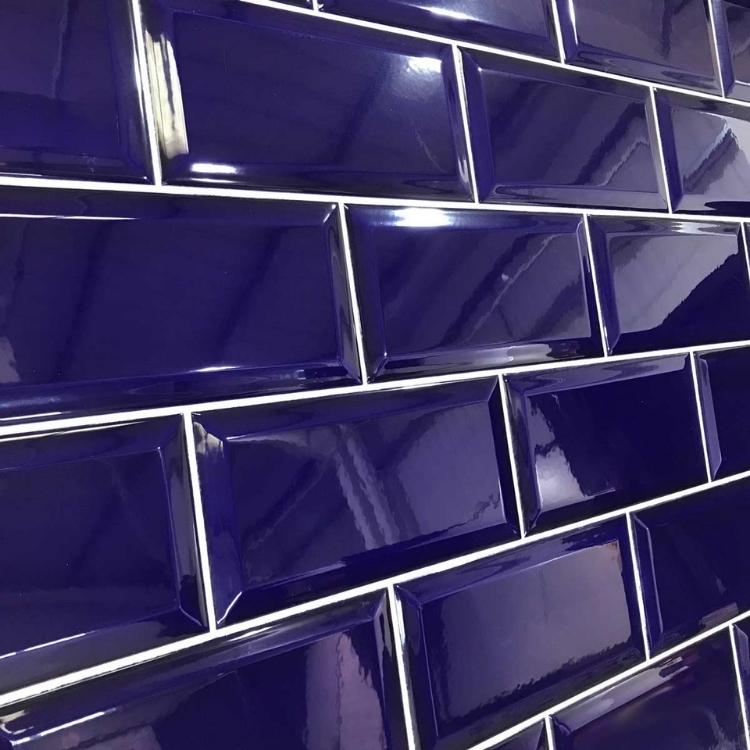 - Suitable for both walls and floors, the Star Blue Tile features a period-inspired blue pattern balanced out with white.
- Combining regal colour with a timeless design and modern elegance, the Chevron Blue Gloss Mosaic Sheet has it all! This tile is a true statement piece, so use it sparingly to make it stand out. We recommend using it as a feature wall around your bathroom vanity unit.
- Opt for the Gemstone Sapphire or Aqua Flat Navy Metro tile for a modern take on Victorian colour. Pair these tiles with traditional fixtures and fittings from Bathshack, such as period-style taps, toilets, basins, cast iron radiator, and a bath.
No matter what blue tile you go for, coordinate it with wood tones from our wood effect range for even more Victorian chic!
Inspired to enhance your traditional space with tiles? Shop the full range today to find the perfect Victorian-inspired tiles for your period kitchen, hallway, or bathroom. For further design tips, don't hesitate to Contact Us or visit one of our showrooms on the island of Ireland to view a selection of tiles up close. We will help you find your favourite tile in no time!