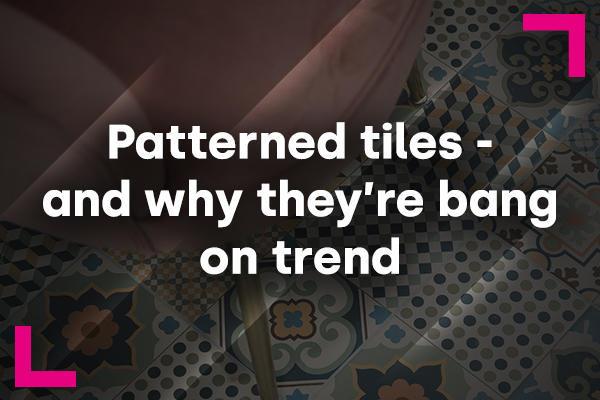 When it comes to tiling, there are often two camps – the plain and the patterned. If you're in the patterned one, then you won't need to be convinced that these tiles are a great way to add character and visual interest to your bathroom and other spaces within your home.
However, if you tend to stay away from this tile style, then we're here to share the perks of patterning and why this on-trend look has a lot more going for it than you might think …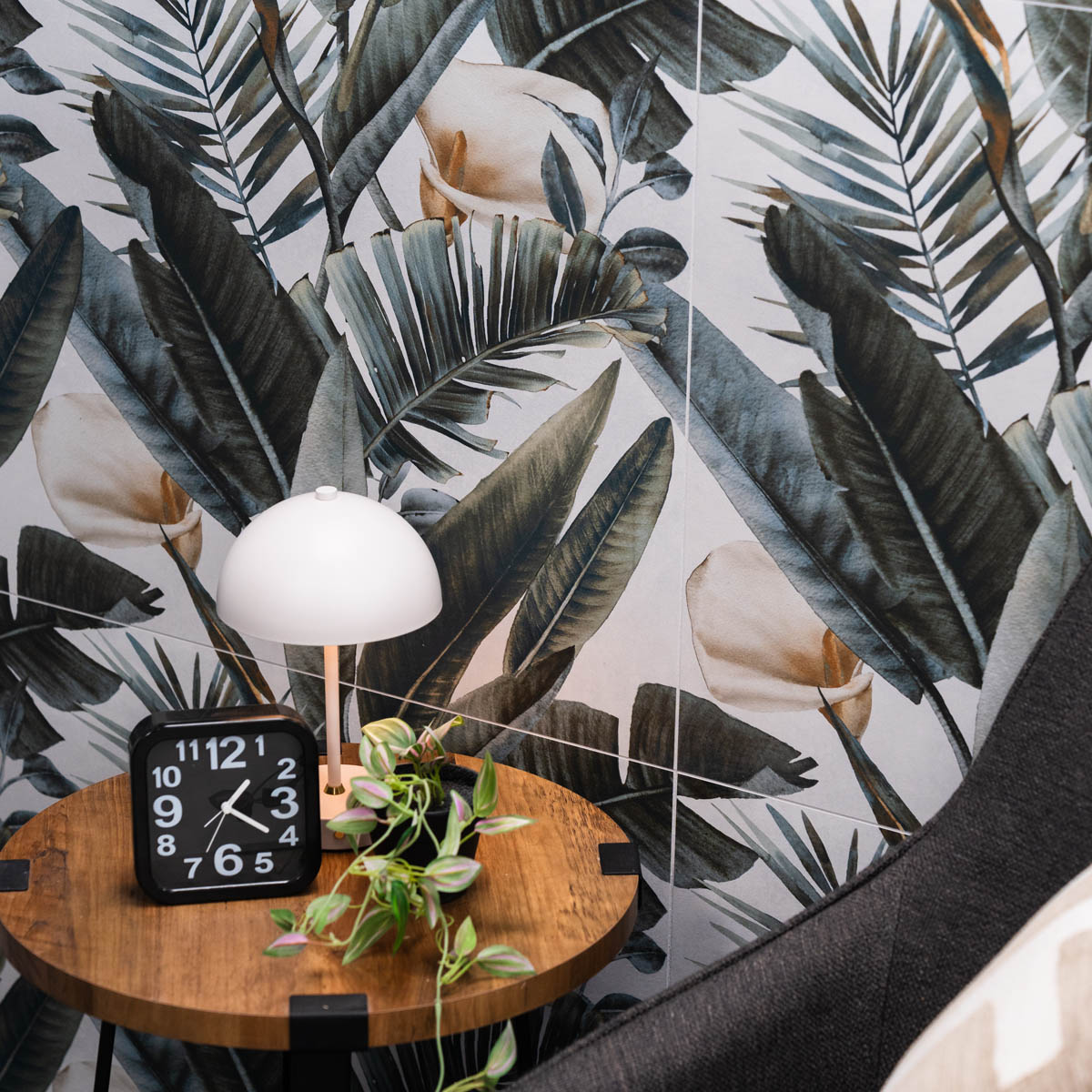 Adding patterned tiles to your home can create characterful spaces.
Picking the perfect pattern
If the thought of patterned tiles in your home gives you palpitations, then fear not – there are lots of ways in which you can incorporate patterning into your bathroom (for example) without creating a busy mess. What's more, the patterns you pick can reflect your individual personality and style in a way that plainer tiles can't quite manage, so if you really like to put your stamp on an interior, patterns might just be the answer.
The perks of patterns:
They can transform walls into feature areas and works of art.
Although there are always going to be particular trending styles, you can opt for more classic patterns which have a timeless look and won't easily date, so they'll continue to add character to your interiors for years to come.
Patterns add texture and depth, as well as visual interest to rooms.
Great for creating a cosy space with a homely appeal, patterned tiles can also be used to create a more dramatic effect if you opt for a bolder style with a more daring and artistic look.
No matter the pattern, this type of tile will always draw the eye and give a space the attention it deserves.
Patterned tile styles
As with every style of tiling, there are some key types of patterns out there, with something to suit every taste and a wide range of colours, designs and finishes available.
From floral patterns and Art Deco to geometric and more classic styles, there are lots of options to choose from, including tiles which create patterns through their shape. Marble-effect tiles can also create a pattern effect, while mosaic tiles are another great option.
Here are some examples of patterned tiles and the benefits they'll offer your interiors.
If you want something which has a more neutral look and a classic appeal, then the Antic Circle Decorative Pattern Tile has a stylish pattern which isn't too busy or over-the-top. If you're new to using patterns in your home, then this could be a good way to start, by incorporating a simpler style.
It also has the benefit of being versatile in terms of complementing other décor, so will work well alongside various other tones and interior design. The matt finish helps keeps the look modern and practical, so it's ideal for using in bathrooms.
Creating a feature area around a vanity unit, or in a bath alcove, is a great way to introduce patterns into your bathroom, as these smaller areas give you the opportunity to experiment with new styes without covering too much space. Adding instant visual interest, you can subsequently style these spaces more boldly than you might elsewhere, safe in the knowledge that it's only a small space.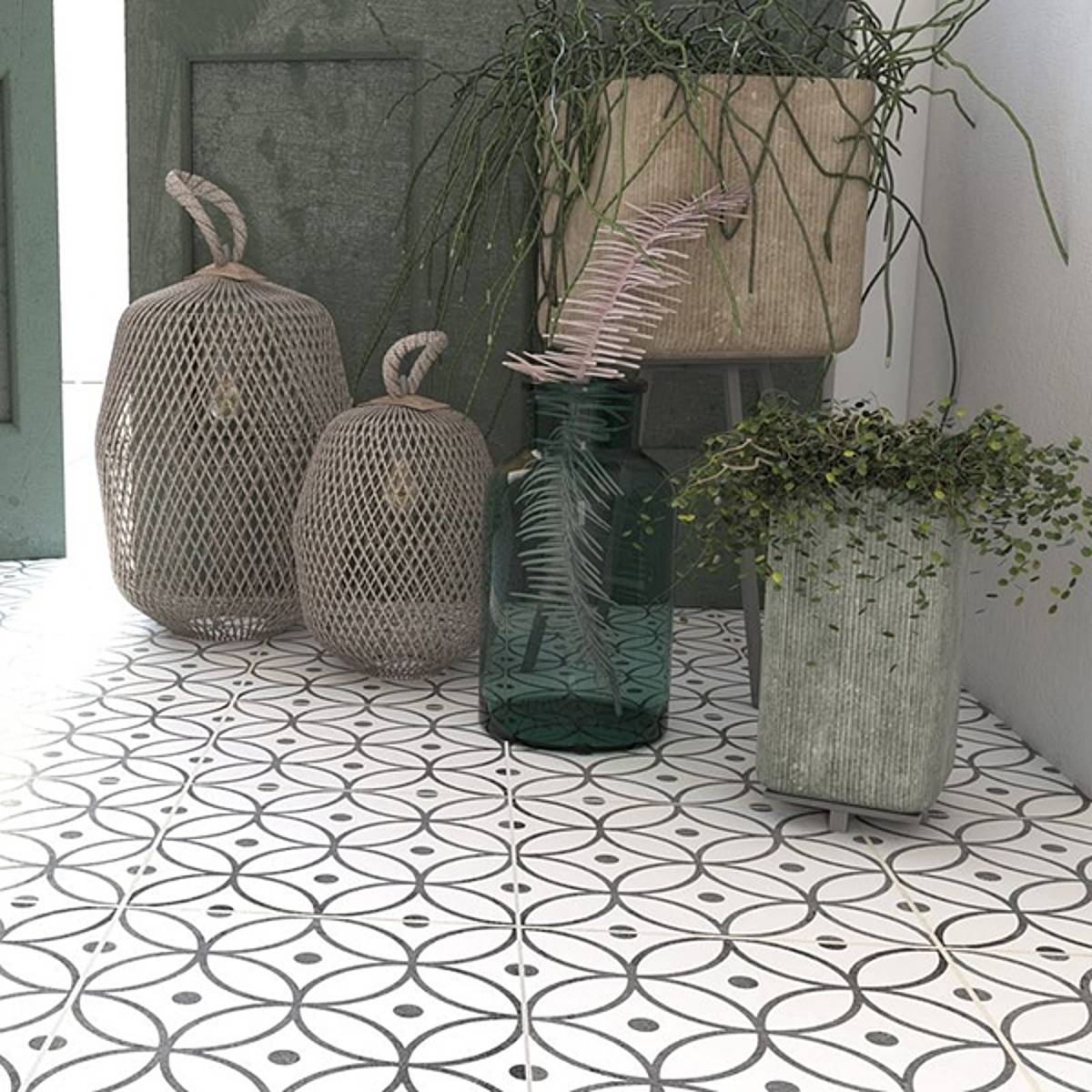 The Antic Circle Decorative Pattern Tile has a more neutral look.
Mosaic tiles are a great option in this regard, with something like the Penny Print Mosaic Sheet a glass tile which will immediately bring a warmth and depth to your bathroom. The rich colours of the tiles, combined with the glass finish, creates an interesting aesthetic which immediately draws the eye and will create a compelling feature wall around basins and vanity areas.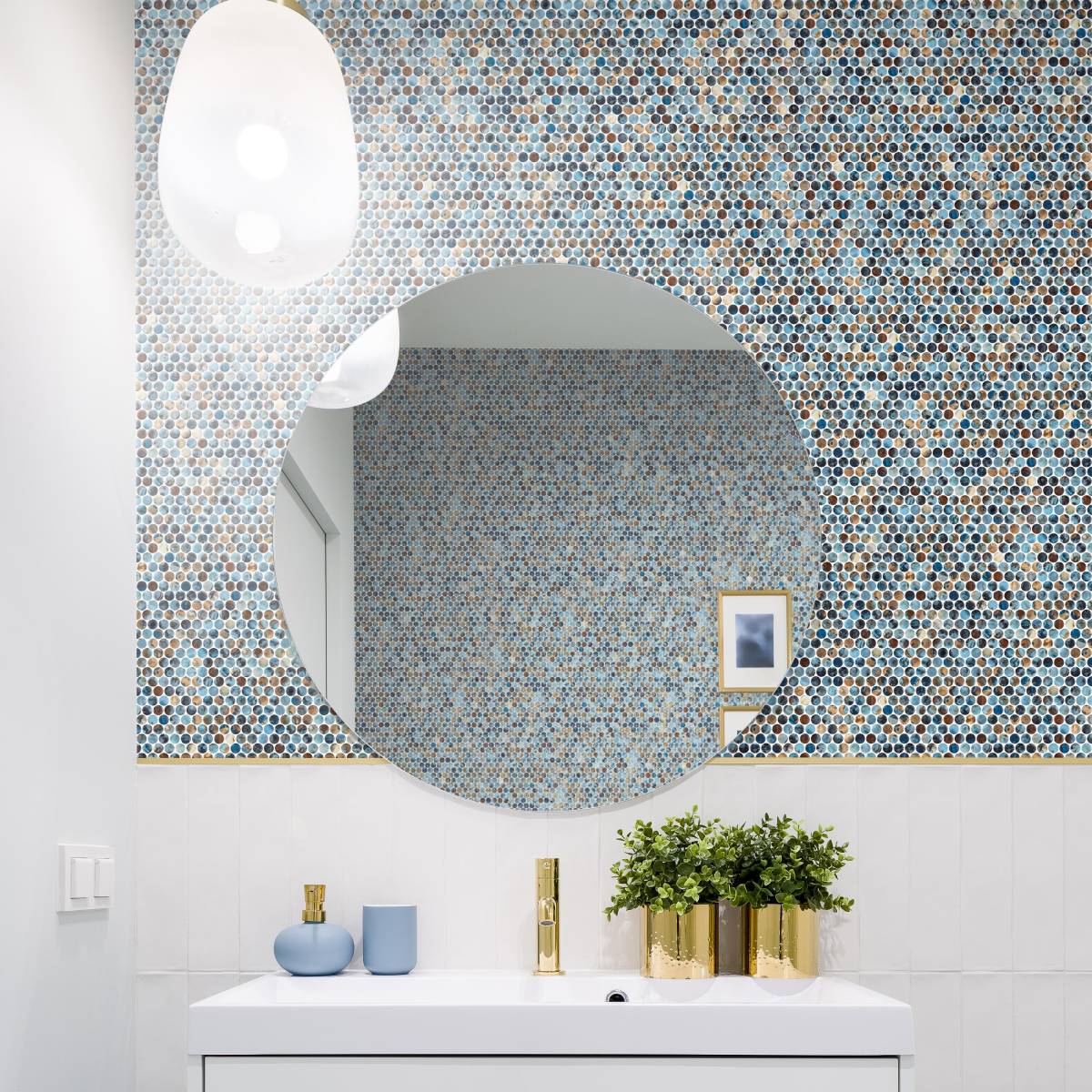 Mosaic tiles like the Peny Print Mosaic Sheet can add character around vanity areas.
If you like colours and want to try something more eclectic, then our popular Marrakech Hexagon Tile is a great option, combining a mixture of tones and patterns to create a warm, vibrant design.
Again, these have a matt finish and a more contemporary look, although the colours, while rich, aren't too bright to overpower a room, if you aren't very sure about introducing lots of colour at once. These can be used throughout your room or are another good choice for creating feature walls.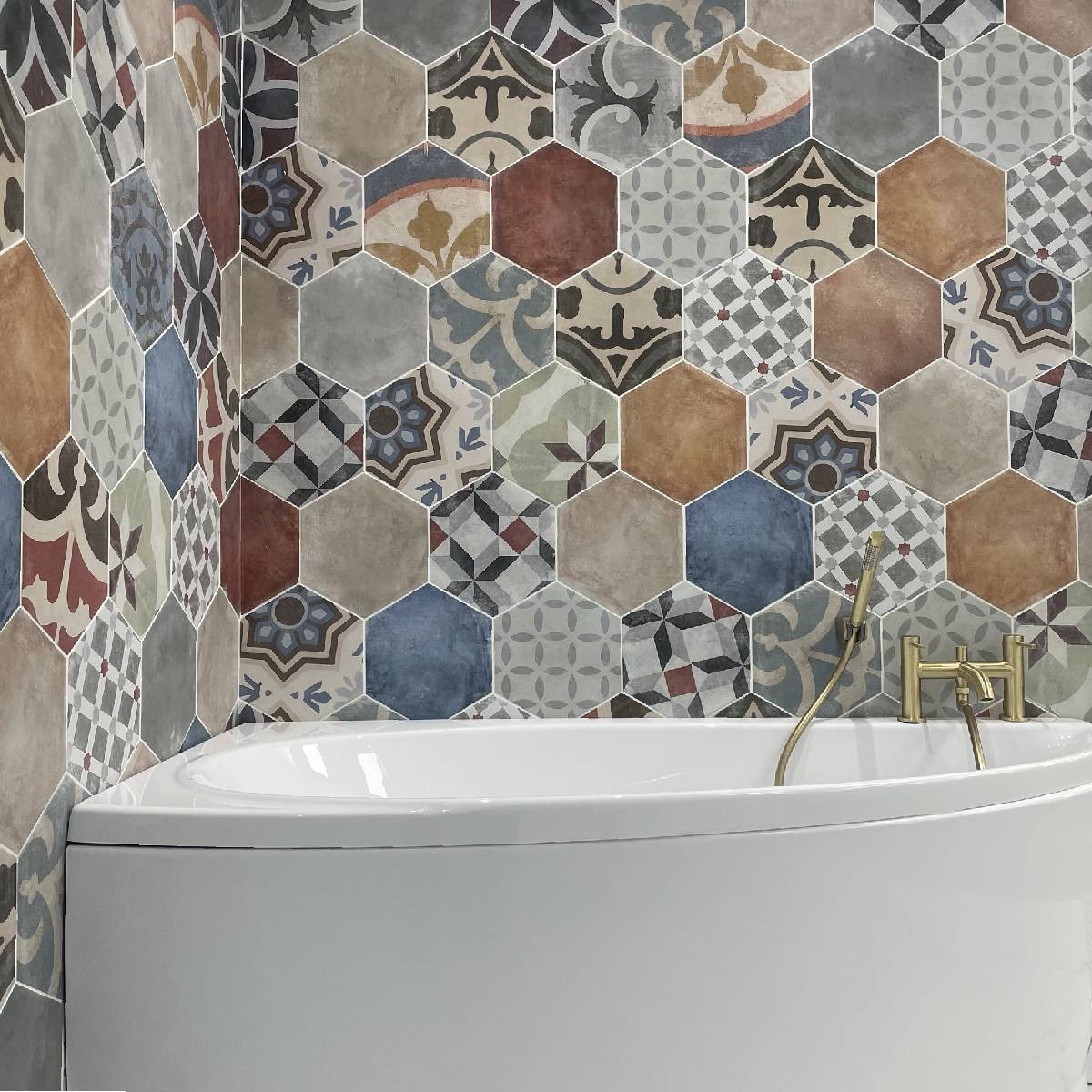 The Marrakech Hexagon tile combines an interesting tile shape with colour and pattern combinations.
Another interesting patterned tile is the Tribu Blue Shiny Hexagon Tile, which has a single colour but incorporates a subtle pattern within this, including textured black detailing running through the design. This, together with the hexagonal shape of the tiles, creates a visually appealing tile with depth which will add instant appeal to your bathroom.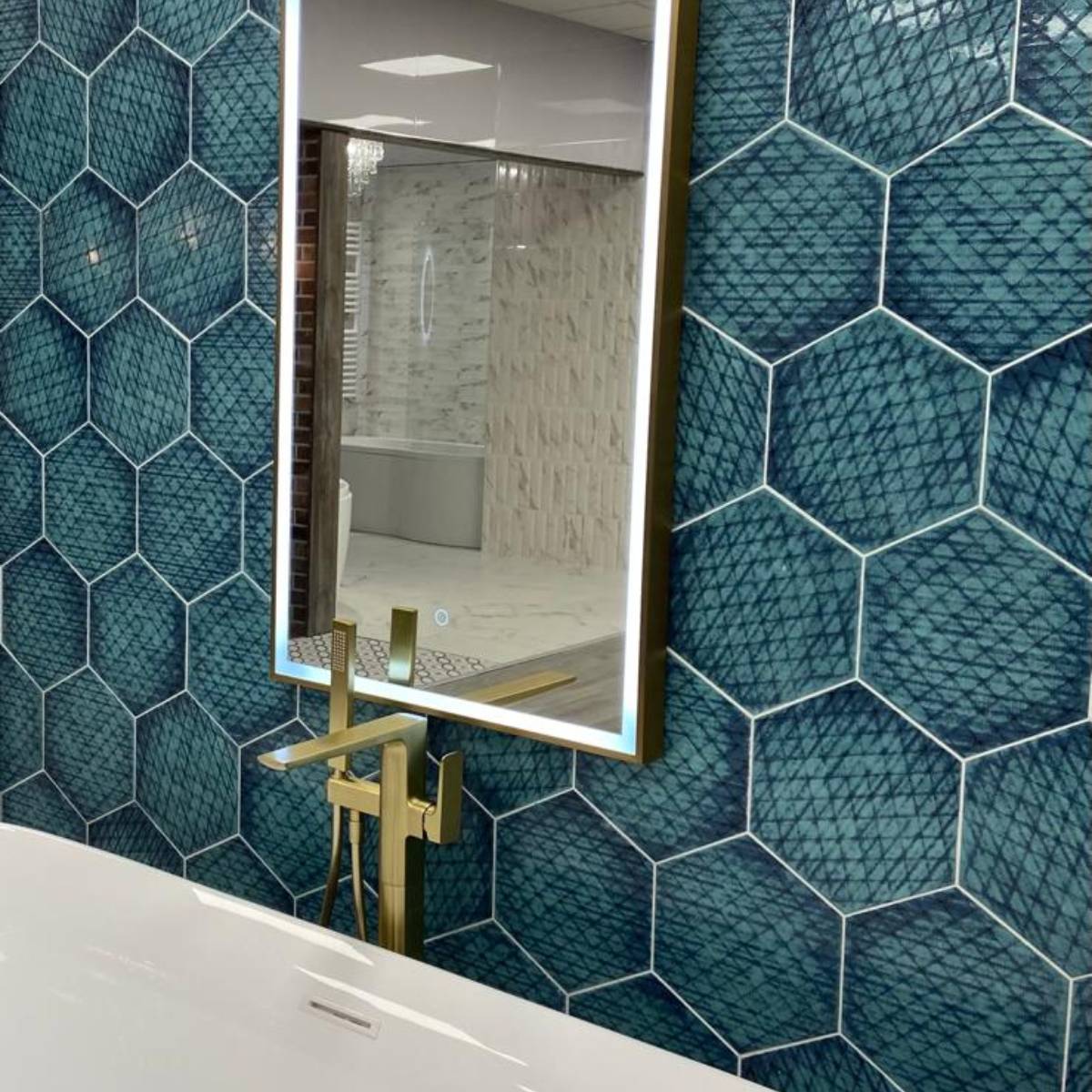 The Tribu Blue Shiny Hexagon Tile has a single base tone with black detailing.
If you want more patterned tile inspiration, then you'll find a variety of products at Tileshack, with a range of colour palettes, tile finishes and styles available. From classic styles to contemporary, there's a tile to suit all tastes so, if you're interested in trying out a fresh look for your home, why not take a look …
If you'd like some advice on choosing patterned tiles for your home, just drop into one of our showrooms and chat to our team. Alternatively, email us at info@bathshack.com or call (028) 9077 0188. We're always happy to help!