Textured tile inspiration
Adding texture to your bathroom is a great way to create a more interesting interior, with the mixture of materials and products you use all contributing to the overall effect of the space. Always front of mind for any interior designer, creating a textured look in a room relies upon adding layers through use of various textiles, making the space more visually appealing and adding depth.
Bathrooms benefit from texture just as much as any other room in your home and you can achieve this in many ways – from the type of bathroom furniture and accessories you select to the flooring and wall decoration.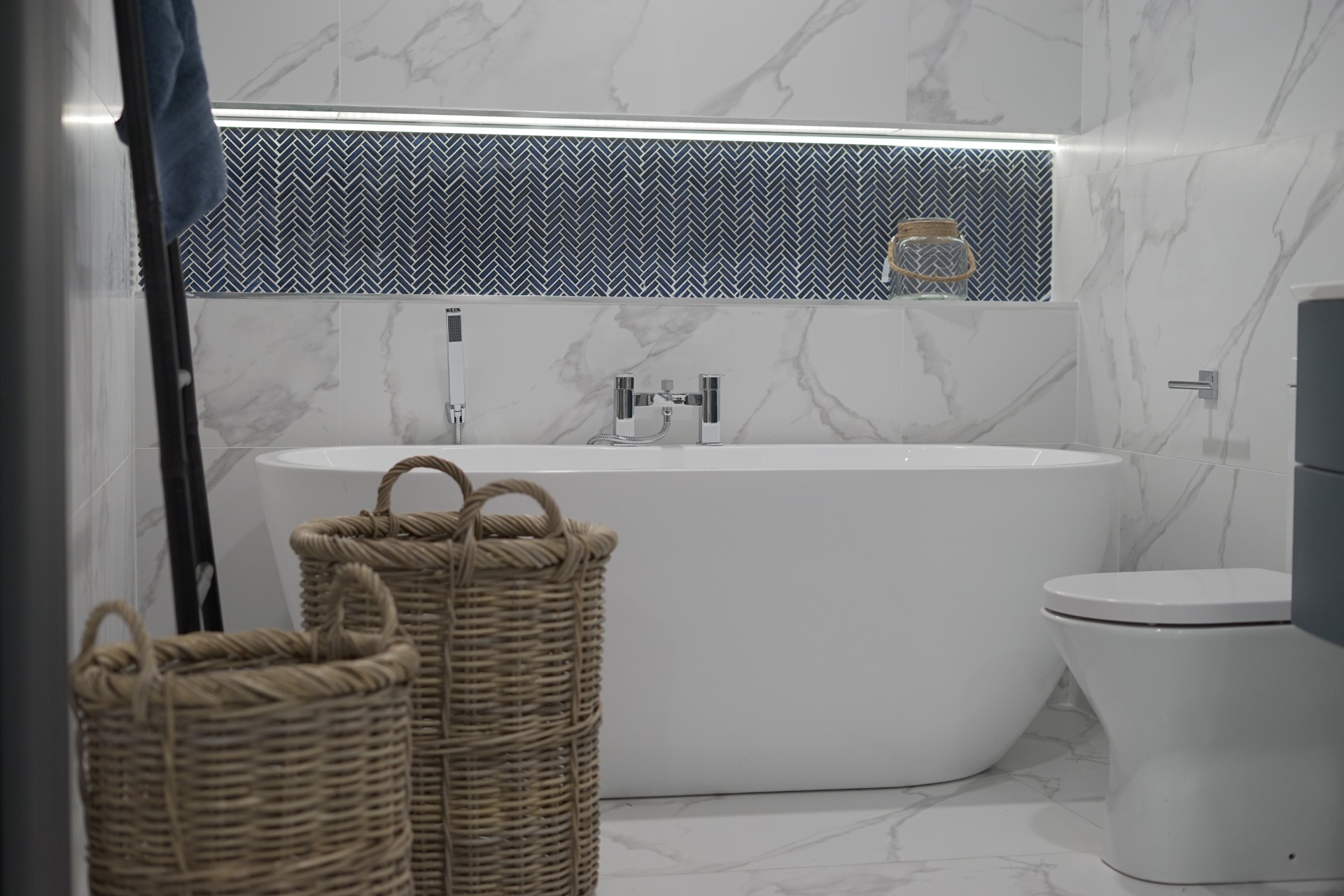 Add texture to your bathroom with a tiled feature wall.
Tiles can subsequently play a big role within this, so it's good to think creatively when it comes to choosing yours and to know the look you want to achieve overall. For example, do you want something contemporary or more traditional; minimal design or something a little bit busier?
Textured tiling also has a practical value, as it's safer for floors in areas that are more likely to get wet, so a matt finish, for example, will help to prevent slippage, while a shiny, gloss finish will suit walls much better.
At Tileshack, we have a wide range of tiles with varying finishes and patterns – and available in different materials – which will add texture to your bathroom in all sorts of ways. So, if you need some inspiration for textured bathroom tiles, our guide below will give you some food for thought when it comes to selecting the best ones to suit your style.
Natural tiles for rustic appeal
From the smooth clean lines of the rectified metro tile to the more natural aesthetic of the calibrated tile, everything from the shape to the material of your tiles – along with colour and design – can all work together to add depth and dimension to a space.
If you like the natural look then using a stone-effect tile will bring the feel of the outdoors, indoors and create a more rustic aesthetic.
The LLerena Terra Stone-effect Tile in Cream Ceramic has the look of real stone but is made from hard-wearing ceramic, so is very easy to maintain while still being highly durable. Texture is achieved here through the colour variation which runs across the tiles, along with the irregular finish, which gives them that realistic appearance. The result is a tile with an organic style which will add character and interest to your bathroom.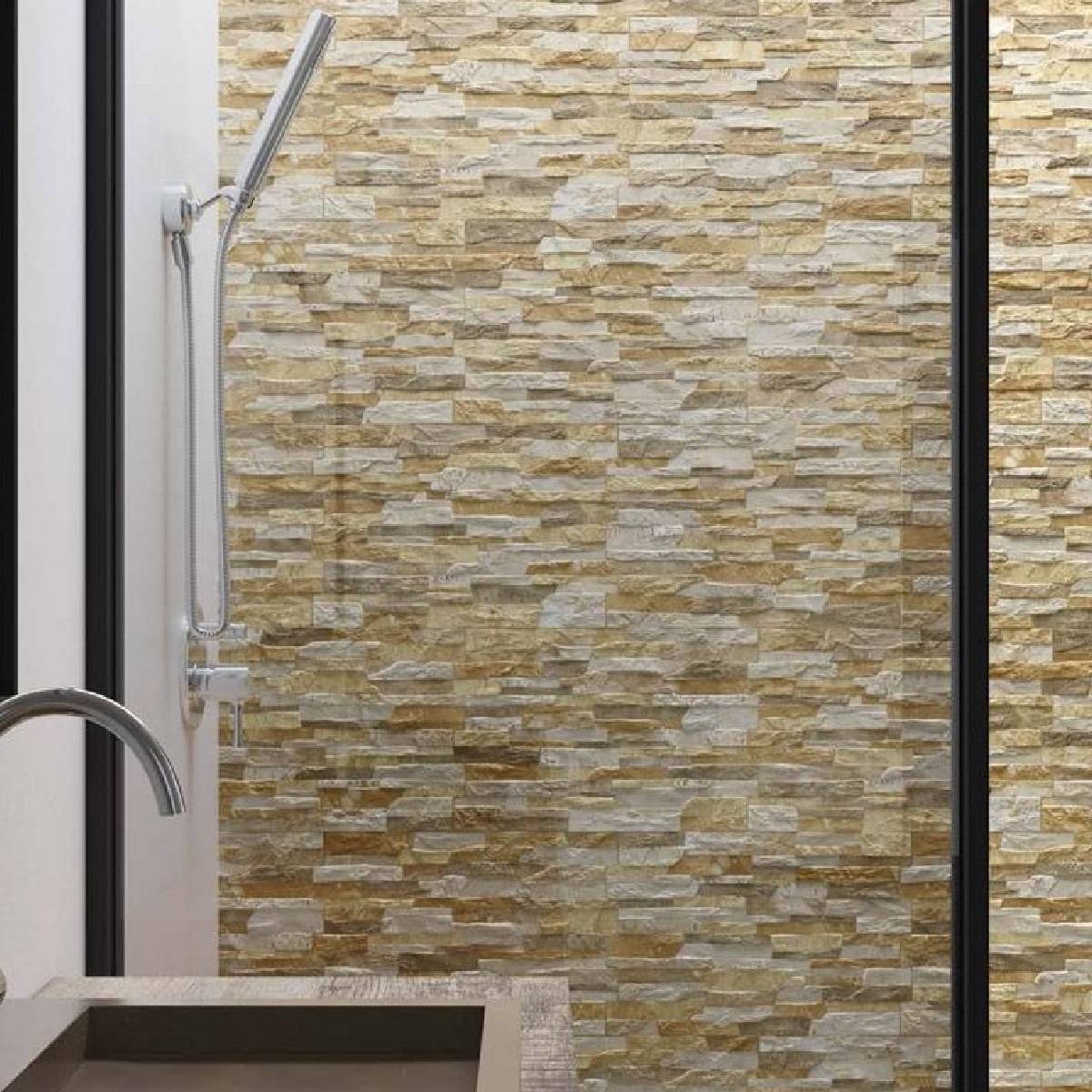 The Llerena Terra Stone-effect Tile in Cream Ceramic has a rough, uneven texture.
Complement or contrast designs to achieve a layered look
Another way to create texture with tiles is to combine different tile types – for example a feature wall or splashback using mosaic tiles alongside a contrasting design is a great idea. Alternatively, choosing a more vibrant tile for the walls and then contrasting this with something completely different on the floor – or in the shower – will have a similar effect.
The Penny Print Mosaic Sheet Pattern Glass tile combines a few features, including a circular shape, multicoloured design and gloss finish, to give a textured look. The smaller size of these tiles also contributes to the overall aesthetic, while the varying tones across the sheet adds character and depth, with each tile differing slightly from the next.
With a bold colour palette, these tiles will add a welcome pop of colour to your bathroom, creating a striking look for your interior.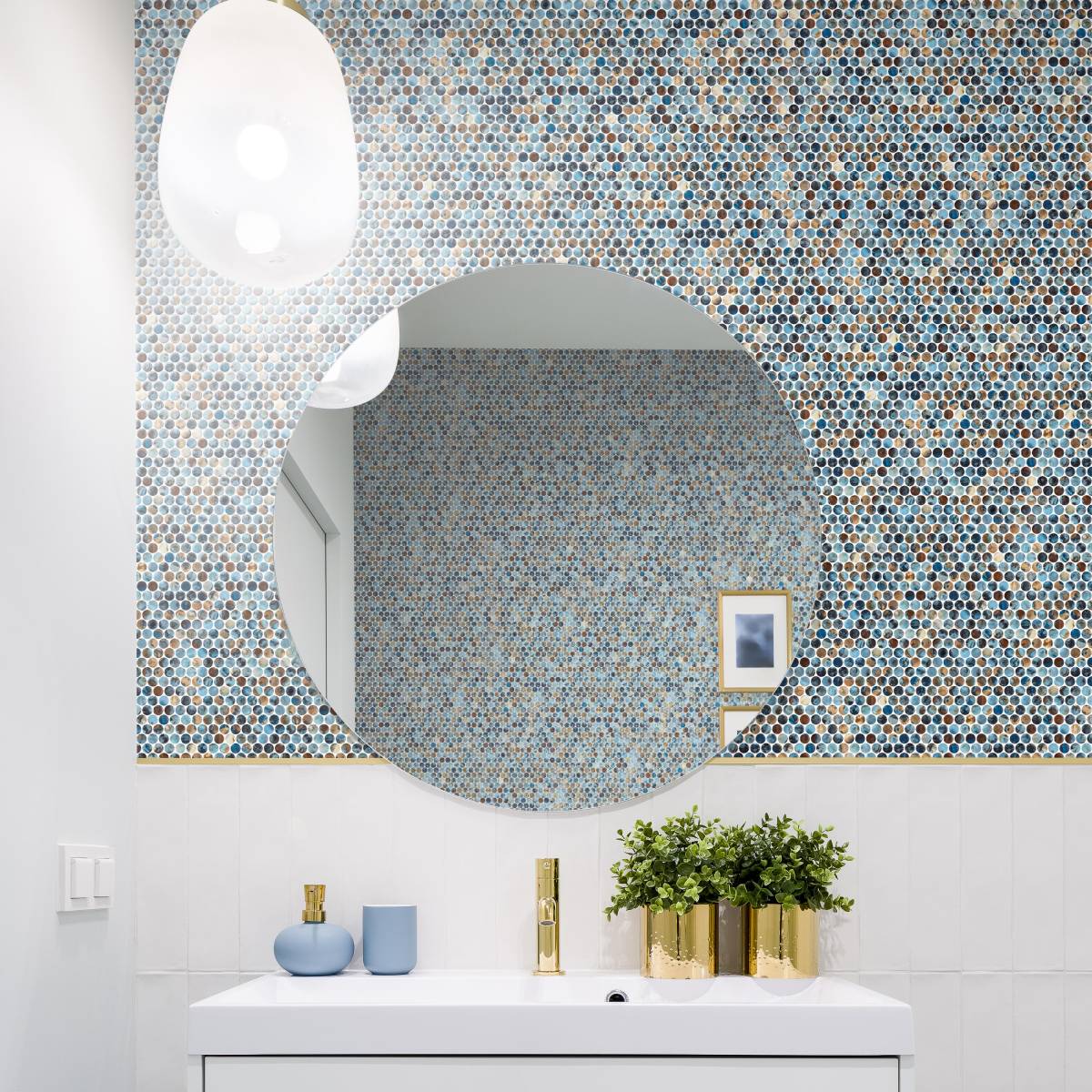 The Penny Print Mosaic Sheet Pattern Glass Tile.
Complementary tiles in different patterns or sizes can also be used to create layers and therefore that textured effect, so the tiles you choose don't always have to be very obviously different from one another.
Hexagonal and circular shapes, meanwhile, along with the varying patterns and designs, can instantly create a sense of depth and movement to a space and they can be used in different sizes.
The Ebru Shiny Hexagon Tile in Black Ceramic has a hexagonal shape along with a monochrome design which has a marble-like effect swirling across the surface. Not only does this add interest, it also creates texture through the detailed design and the variation of this across the tiles, with each one differing slightly in appearance.
The gloss finish adds another layer to this and can be paired with a contrasting matt tile on the floor to achieve further depth.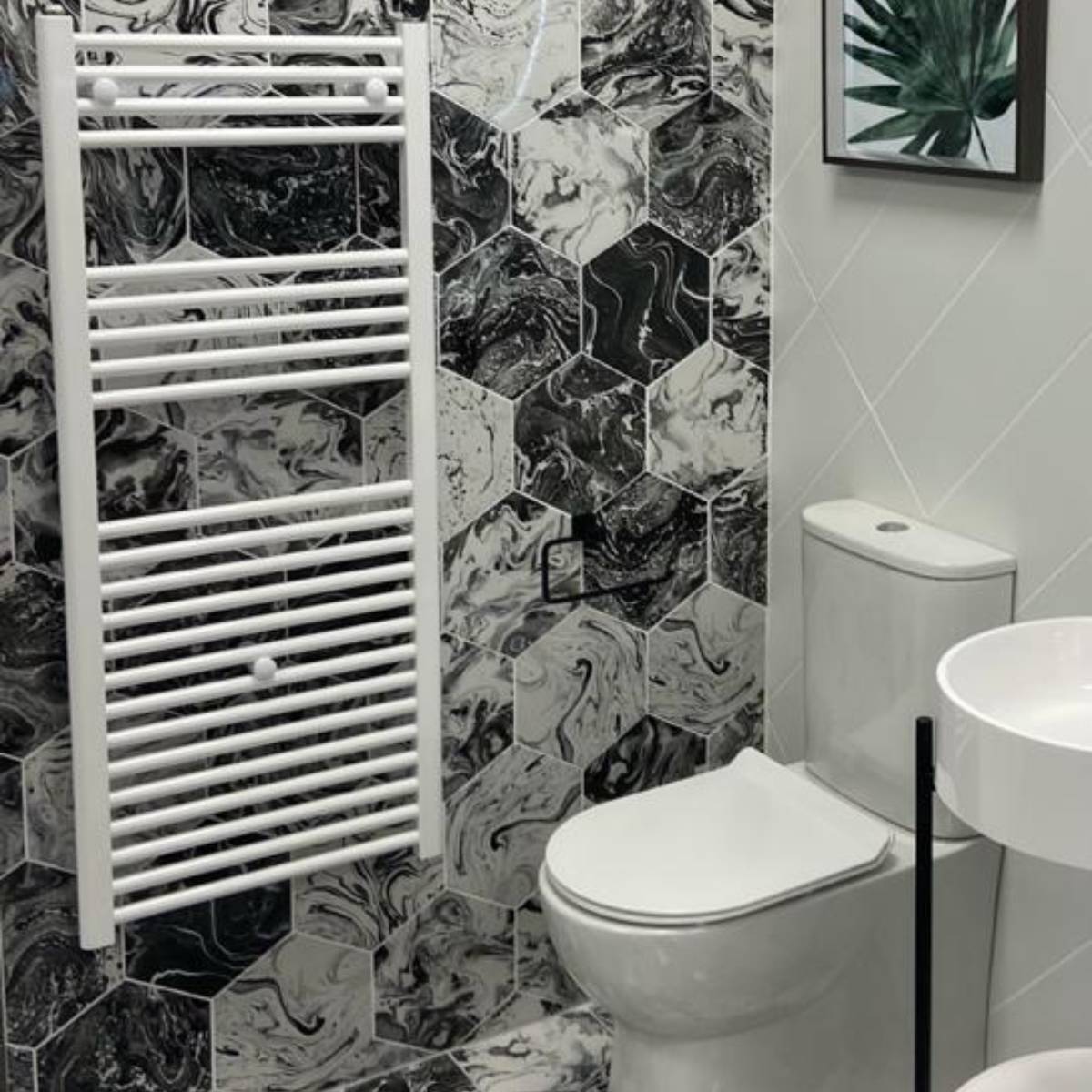 The Ebru Shiny Hexagon Tile in Black Ceramic.
Slate – ideal for wet rooms and shower trays – is another way in which you can introduce a differently textured tile into the room, contrasting it with those of the walls and floor.
Meanwhile, wood-effect tiling is also an inspired choice, as you can enjoy the look of timber with the realistic graining and detailing of these tiles, along with easier maintenance as, unlike real wood, the tiles won't warp if they get wet and are more scratch-resistant.
You can also get creative with patterned tiles, such as floral, geometric or more artistic designs, while marble-effect tiles continue to be a popular choice, their veined detail adding elegance and another dimension to the room's interior design.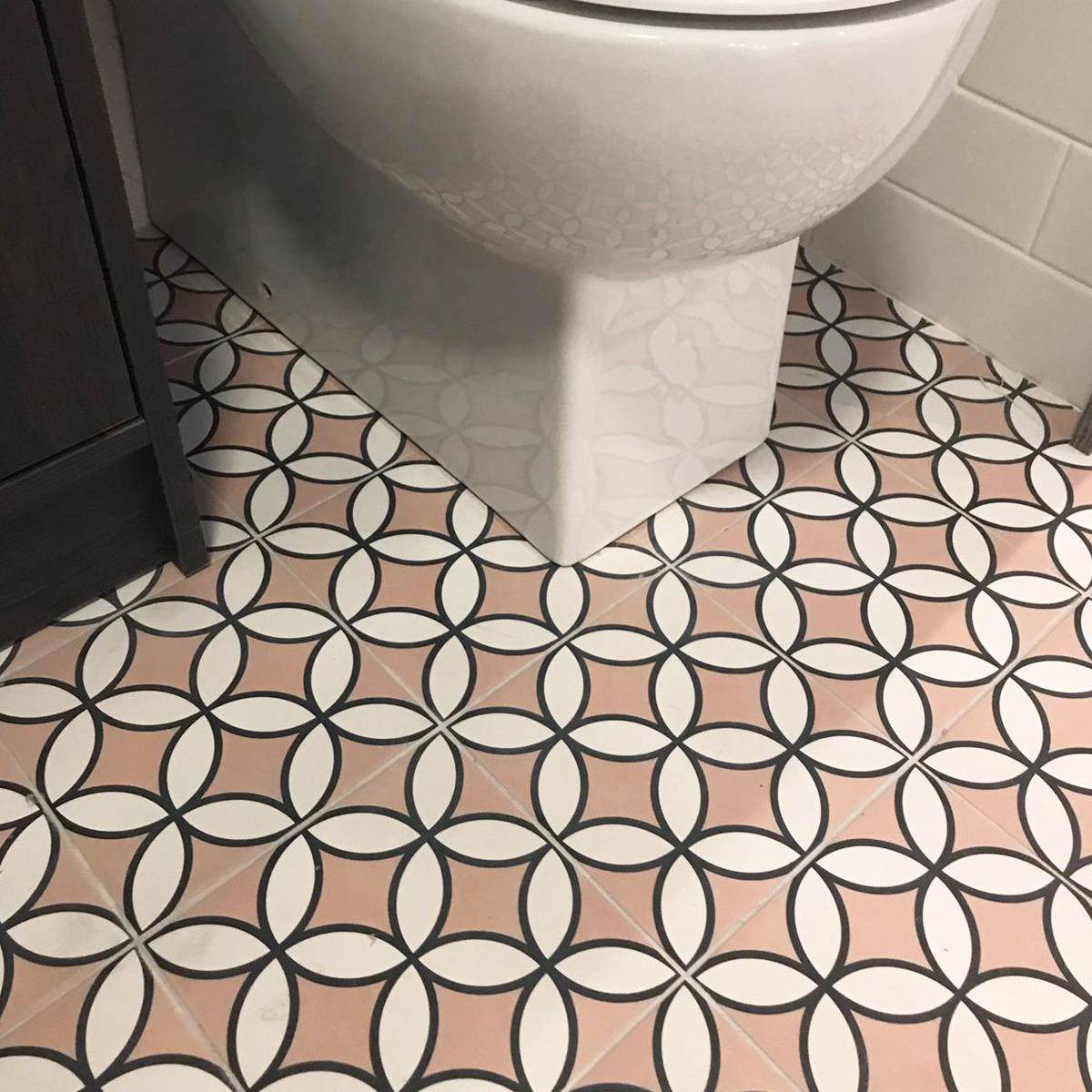 The Olden Pink Glazed Porcelain Floor Tile has an intricate design which will add texture to your room.
The Olden Pink Glazed Porcelain Floor Tile has a striking pattern which will instantly add character to your bathroom floor with its contemporary block design and attractive colour palette.
Combining black and white against a pale pink background, these tiles can be paired with a more neutral tile on the walls for contrast and are a great way to add texture to the room.
Combined with the right bathroom furniture, fixtures and fittings, tiles can work together with all of these to add layers and an interesting allure to your bathroom interior.
Whether you want a gloss finish for sleek look, or prefer a modern matt, we have a range of tiles which will help you achieve your dream interior.
To find out more about what tiles we have, why not visit Tileshack online. Alternatively, you can chat with one of our team – just email us at info@bathshack.com or call (028) 9077 0188.