Are your kitchen or bathroom tiles looking a little outdated? Don't fret! 2023 is predicted to see the emergence of a variety of trends, so you will have a range of on-trend looks to choose from when tiling your home this year. From patterned tiles to wood tones, let's take a look at the tile trends set to make a lasting impression and how to incorporate them into your home.
Pattern
Pattern tiles show no sign of going out of fashion and are the perfect solution for sprucing up a bathroom in need of a lift. Use a pattern tile to create a feature wall, statement floor, or tile a wet room. If you are on a budget, even just a few patterned tiles in select areas can make all the difference in a plain bathroom.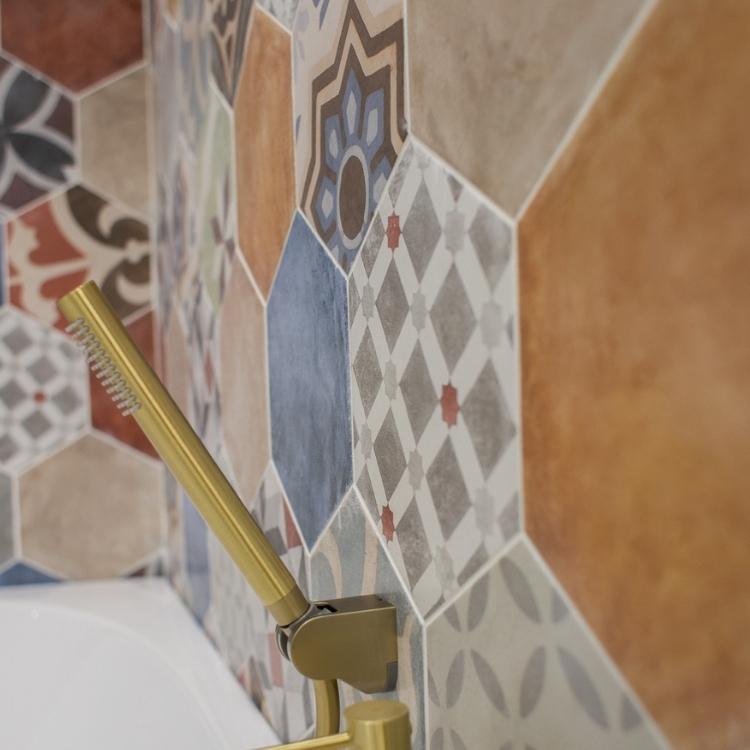 Our patterned tiles come in a variety of different shapes, sizes, colours, and designs in both traditional and modern styles. This means achieving your desired look could not be easier. Moroccan-inspired tiles like the Tapis are always a favourite, adding elegance and texture to a room. Another major interior design trend for 2023 is Mosaic Pattern Tiles. A striking design feature in any bathroom, these tiles have truly stood the test of time.
White
Commonly associated with calmness and quiet, a white colour scheme will help soothe the mind and soul. It will also make a room look bigger and airier and create a sense of uniformity.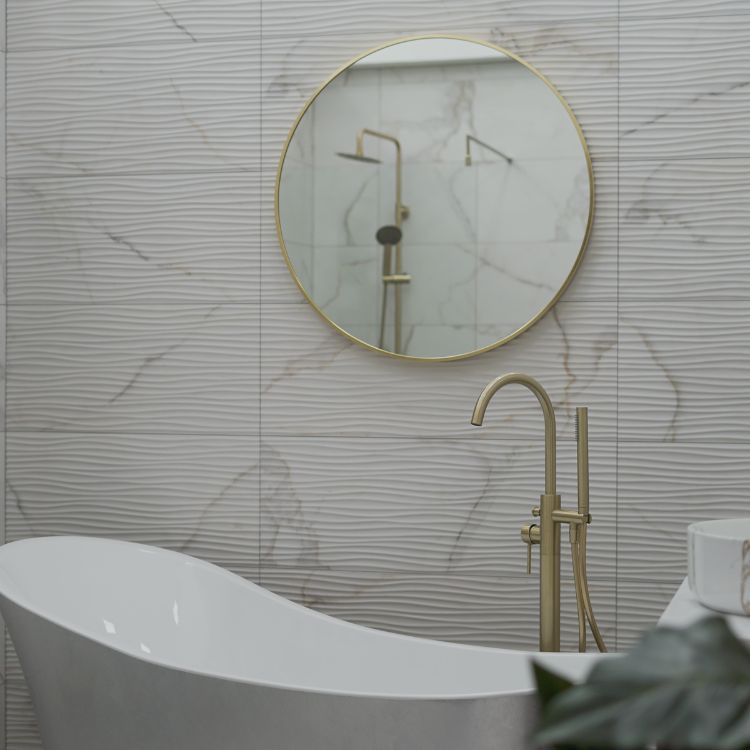 No white colour scheme will be complete without tiles. We recommend steering away from clinical whites as this will make your bathroom look one-dimensional. Instead, opt for textured whites such as a marble tile. We really love the grooved texture and gold marble veining of the Lancelot Gold Rectified Tile!
Wood Tones
Wood tones are predicted to be one of the biggest trends this year and can be incorporated into your bathroom in several ways.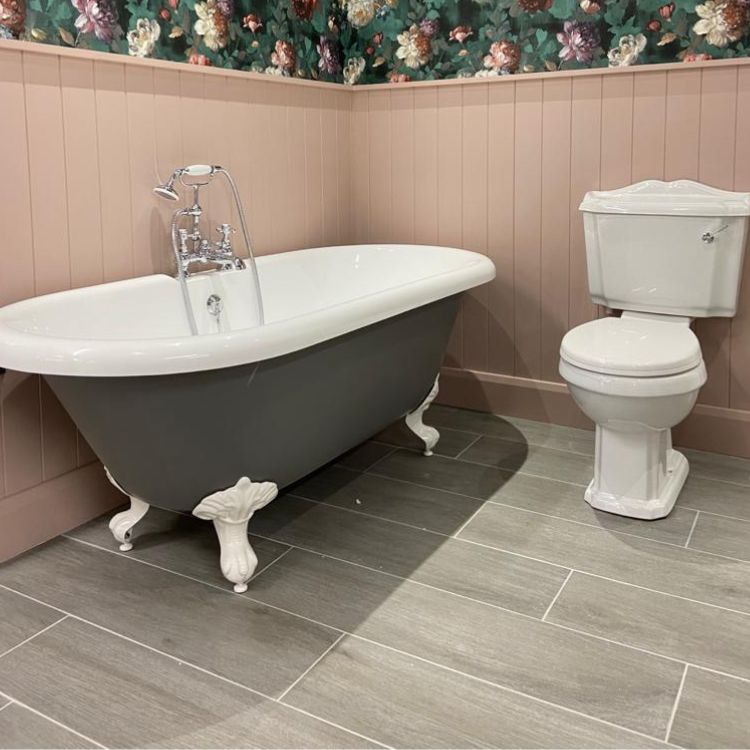 Wood effect tiles have the same visual appeal and texture as natural wood and will make your space feel warmer. They are also more cost-effective, lower maintenance and more resistant to moisture, which makes them more ideal for the bathroom or kitchen than natural wood. Use to tile your floor, or create cosy log cabin vibes by tiling your shower wall or kitchen backsplash. To shop our range of wood effect tiles, click here.
Chevron Tiles
The chevron tile pattern arranges rectangular tiles in continuous Vs. Each V is identical to the one before, so when multiple rows are put together, it forms a striking zig-zag pattern. This layout creates a clean look with sharp angles and straight lines. It can make a room feel bigger and ceilings higher – perfect for creating an open, airy feel in smaller spaces.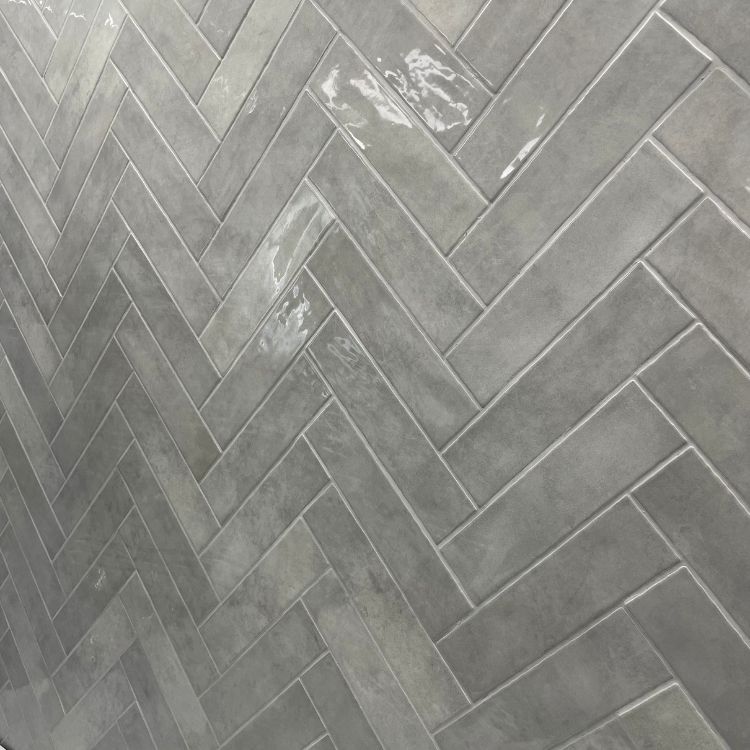 The most popular way to create this pattern is with Metro Tiles. Whether you are after a classic or contemporary look, chevron metro tiles will transform any room. Soft-coloured tiles are elegant and sophisticated, while bold colours create a more dramatic, modern look.
Want the chevron look with less effort? Chevron Mosaic Sheets are perfect for creating a feature wall. Alternatively, create the pattern on the floor with one of our Chevrons Wood Effect Tiles.
Tiled Wet Rooms
Wet Rooms are becoming increasingly popular in new builds and contemporary bathrooms. Thanks to their open design, wet rooms are more accessible and bring spa luxury to your bathroom. They also create the illusion of more space, making your bathroom feel bigger, airier, and more relaxing.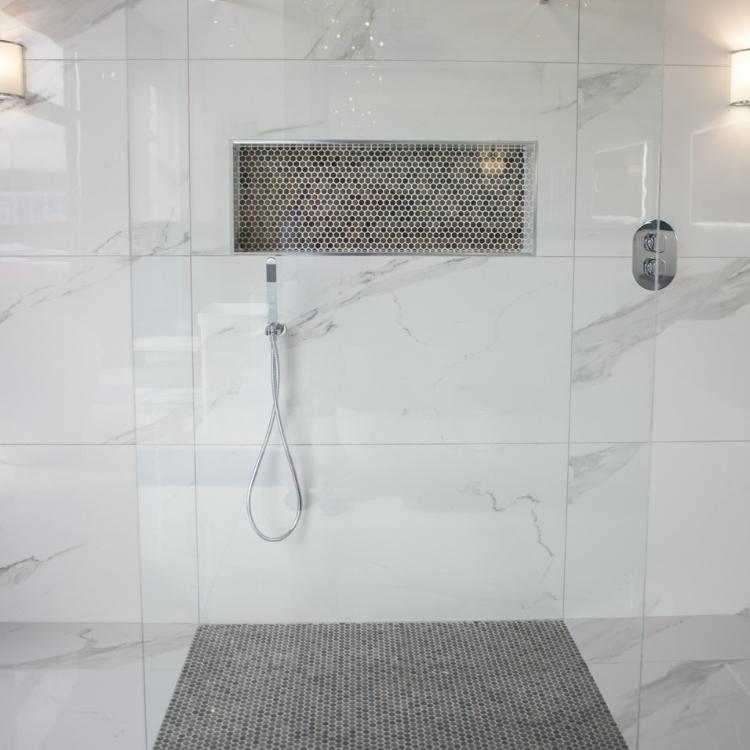 We recommend tiling a wet room with Mosaic Tiles. They are small and have prominent grout lines, so they create texture and visual appeal in a wet room. Use them to tile the floor, wall, or a shower niche if you have one (i.e., a cubbyhole built into the wall).
Our mosaic sheets are highly versatile and easy to install. Made from glass, porcelain, or ceramic, they come in a wide range of colours and patterns.
Vertical Metro Tiles
Subway metro tiles are an absolute classic that never goes out of style! In 2023, laying them vertically will be more popular than the traditional horizontal layout. Not only does this create a fresh, unique look, but it also makes the space look taller by drawing the eye upward. For example, use the vertical layout for the whole wall behind your kitchen countertops instead of just sticking to a backsplash.
Our metro tiles come in a huge range of colours from pink and blue to classic white and statement black, so choose one that best suits the style of the room. To allow your vertical tiles to stand out, we pair them with large-format floor tiles.
Geometric Shapes
Geometric-shaped tiles were a huge trend in 2022, but they're set to get more popular in 2023! Even if you stick to neutral colours, a geometric shape will add visual interest and a designer edge to the room.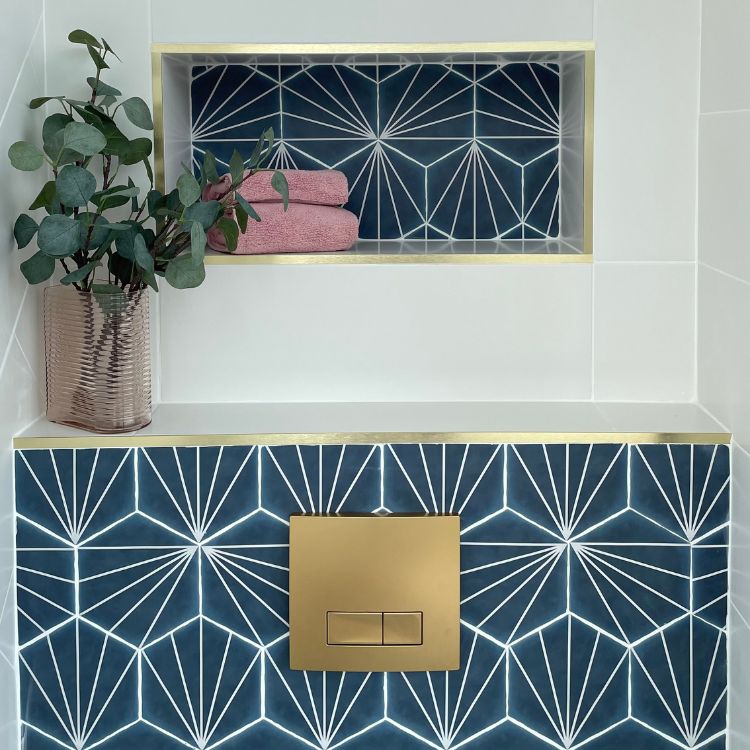 Bold, beautiful and stylish, rejuvenate your home with a stunning hex tile from the Palm Stripe Hex Range. Their geometric shape and timeless striped design mean they fit perfectly into contemporary or traditional spaces. Available in white, grey, blue, pink, and yellow, there is something to suit any décor scheme!
Metallic Accents
In the upcoming year, metallic accents are destined to take the spotlight.
If you want to add a touch of sophistication to your walls, then silver finish tiles are for you. Available in a diverse range of shapes and patterns to suit your style, our silver tiles are a modern way to add metallics into your space. The Devon Metallic Silver Tile provides a contemporary twist to the classic subway tile and looks stunning in a wet room or shower enclosure. Alternatively, use our Ena Metallic Tile for a feature wall and contrast it with the Even Metallic Tile for a high-end spa look.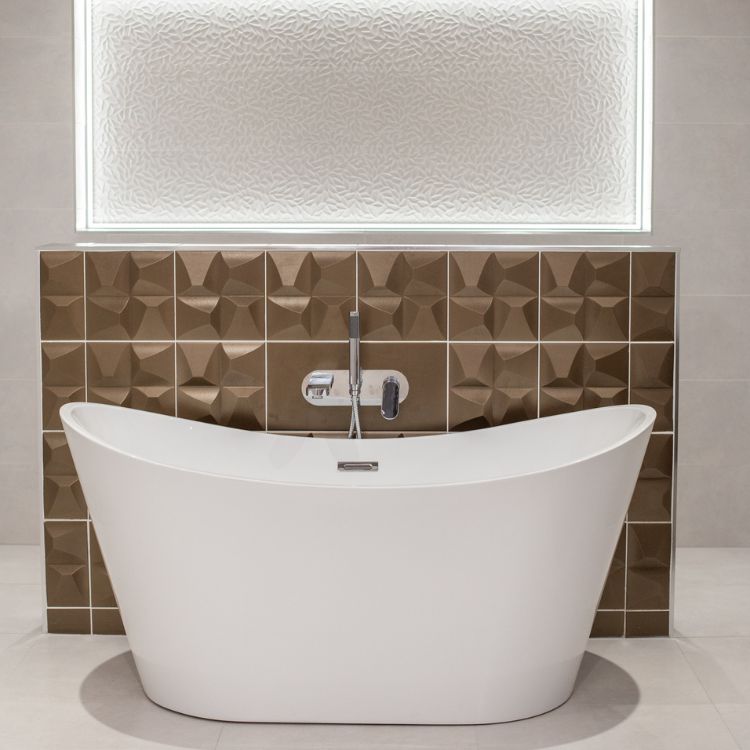 Our Devon Metallic Bronze Subway Tile is the perfect choice for a backsplash. These shimmering tiles have a dark, shadowy bronze finish. Due to their uneven surface, the light reflects off them in unique ways, so they look different from every angle. It means you will find a new detail to love every time you enter the kitchen! The irregular edges and uneven colour also give them a handcrafted appearance, creating a rustic effect.
Have you chosen your favourite trend? Transform your bathroom or kitchen this year by shopping online or visiting one of our showrooms. Our team will be happy to offer you tips and advice on the most popular tile trends for 2023! For Tileshack showroom opening hours and locations, click here.