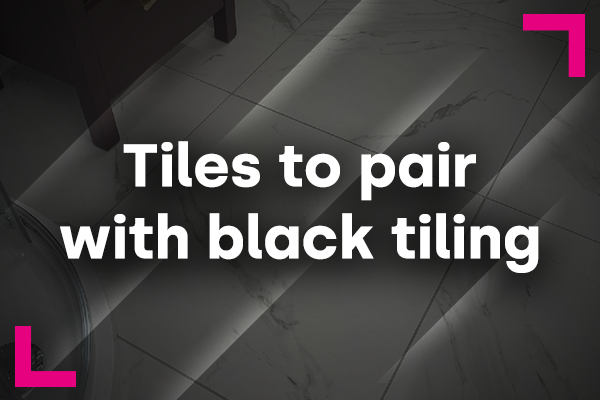 If you've opted for black tiling for your bathroom then there are lots of options when it comes to choosing the best tile to complement this darker décor. While the automatic reaction might be to simply match black with white, this might create a very dramatic and striking look but can also be quite clinical.
If you do decide to go down the monochrome route then you can soften the overall effect by incorporating a third tone to balance out the bolder black and white – unless, of course, you specifically want to achieve that starker aesthetic.
We've subsequently gathered some ideas below on various tiles from our range at Tileshack which we think work well with black, to give you some inspiration within this area.
Mix it up with marble
When it comes to pairing black and white, you can create a more relaxed vibe by going for a tile which incorporates subtle detailing such as grey or black veining. Marble-effect tiling is therefore a great choice, with the design breaking up the block white background, adding visual interest and depth to the room as well as preventing it from becoming too harsh in appearance.
For example, the metro-style Metro Carrara Biselado Brillo White Ceramic Tile has a white marble-effect finish with dark grey veining that will complement any black tiling in the same room. This will tie the overall design together as well as having that softening effect and giving your bathroom a more textured aesthetic.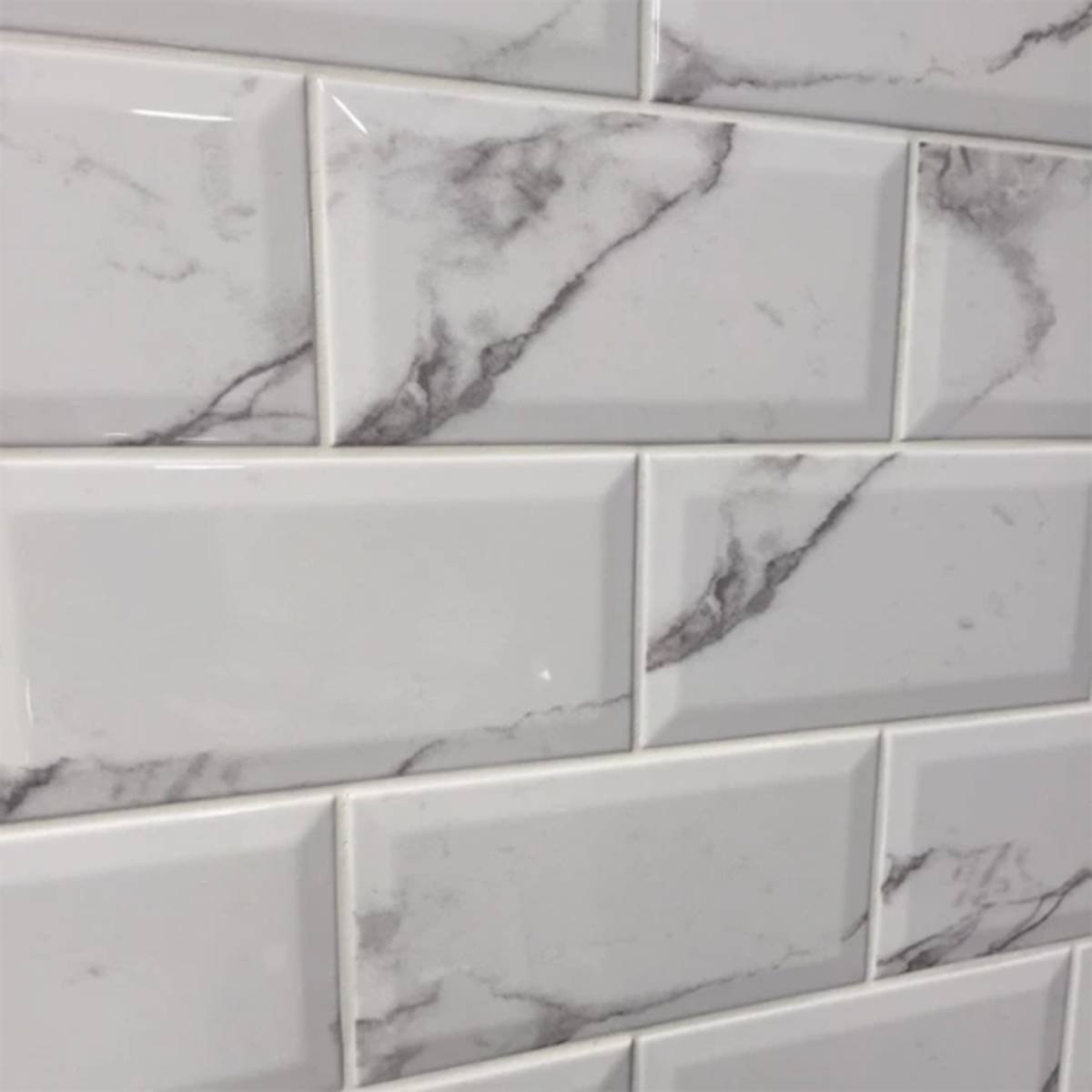 Using a tile with grey veining like the Metro Carrara Biselado Brillo Tile can soften a black-tiled bathroom.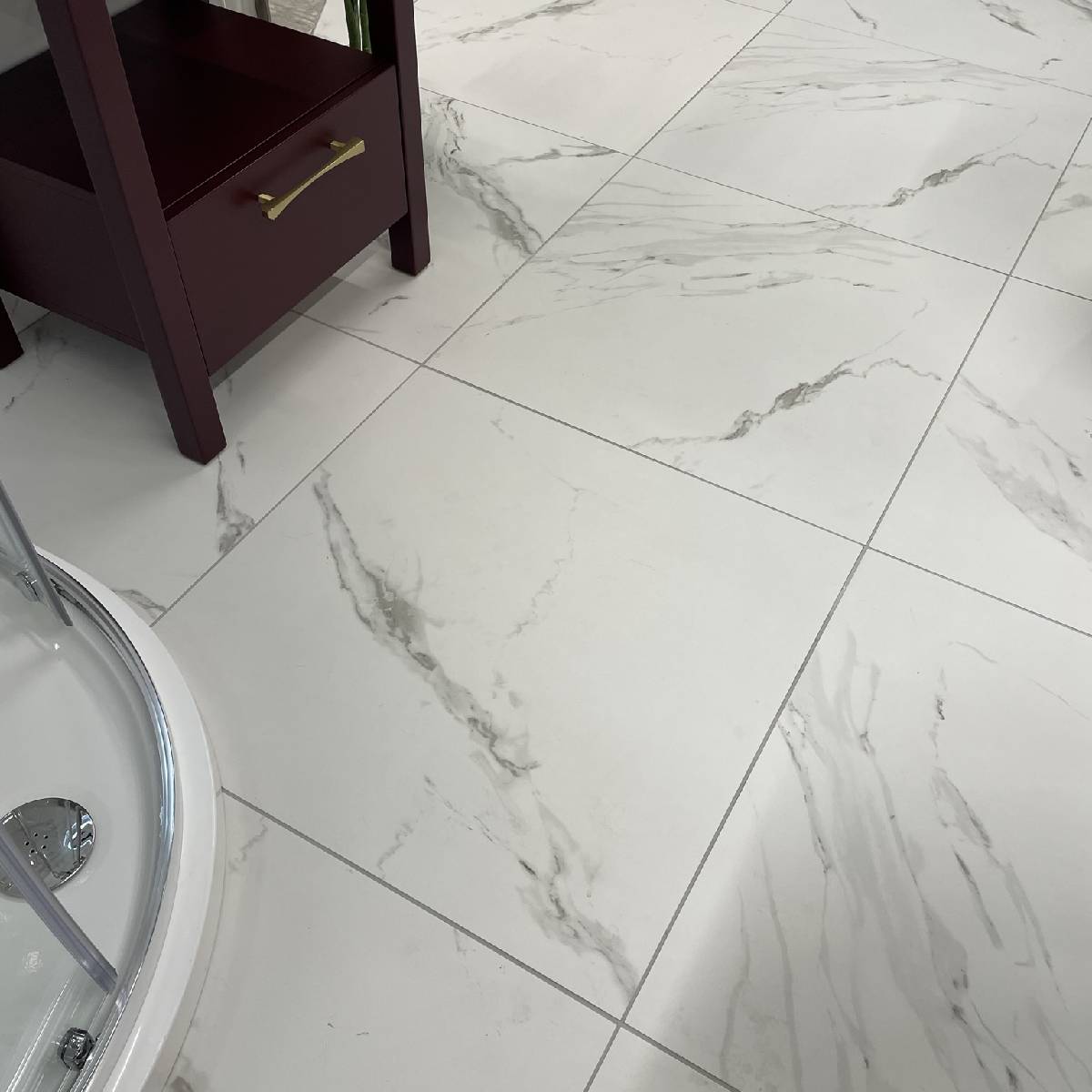 The Carrara Gris Mate White Porcelain Floor Tile is another marble-effect tile which will work well paired with black. If you have black tiling on the walls then it's good to balance this out with a lighter tone on the floor, so this design is ideal.
Meanwhile, the large-format style also creates the sense of more space and will help to prevent the room from appearing small and dark.
The Carrara Gris Mate White Porcelain Tiles.
Weave in wood-effect
If the monochrome look isn't for you, then don't worry – white is far from being the only option when it comes to finding a tile which complements black. Step forward the earthy colour palette, in particular, wood-effect tiling.
For a more calming, relaxed ambience, pairing black tiles with nature-inspired tones such as warm beiges and browns will balance out the stronger black shade and, again, soften the overall look of your interior. With the natural aesthetic continuing to be a trend in 2023 and looking set to stay around for the foreseeable, this is a great way to incorporate a more organic style to your bathroom and create a feeling of warmth.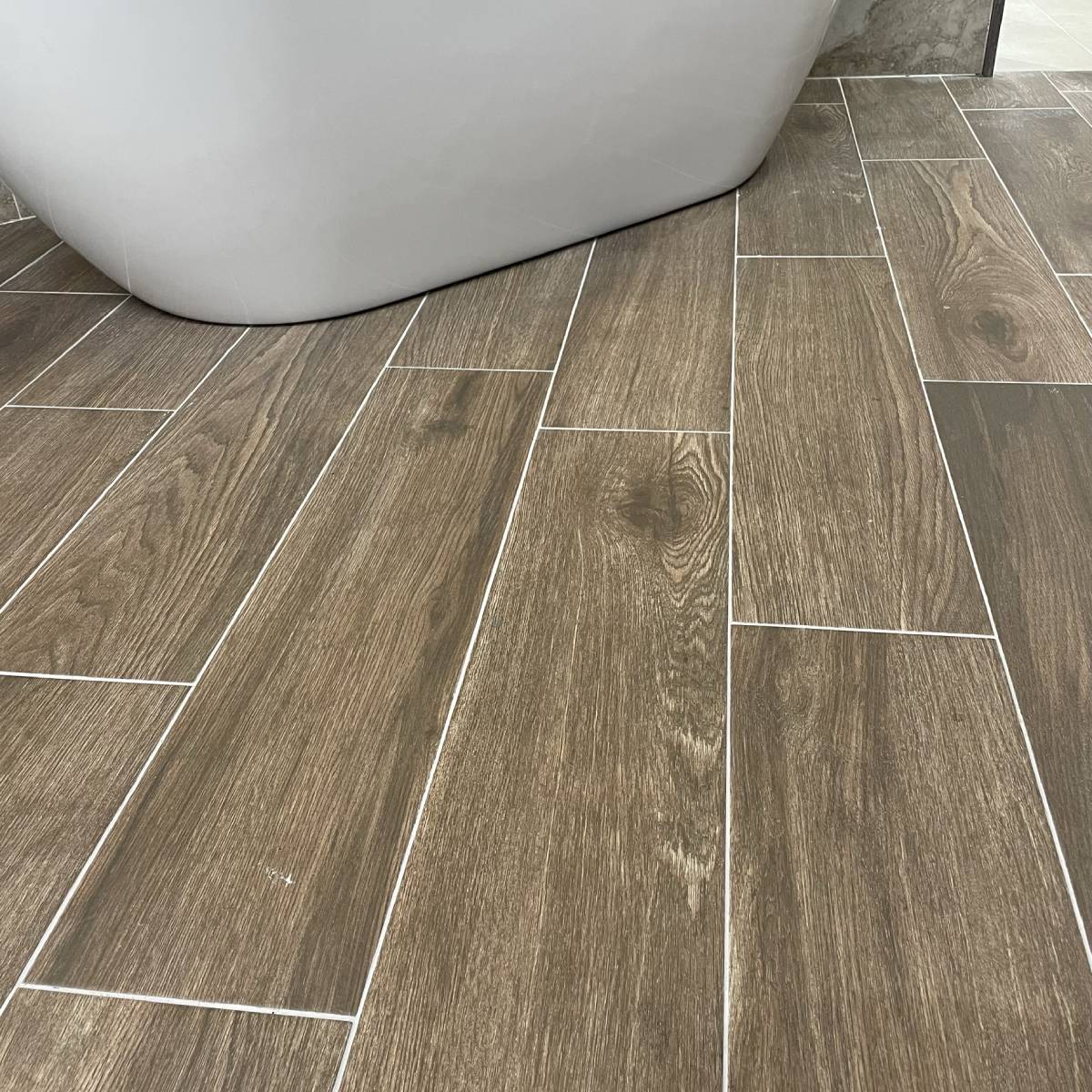 Wood-effect tiles like the Alberto Cedarwood Wood-effect Floor Tile will balance out black tiling.
The Alberto Cedarwood Wood-effect Floor Tile is a high-quality Spanish wood-effect tile which will make your room appear cosier and is a great choice if you want to balance out darker walls. The natural graining detail brings texture and depth to the space, while it also gives an authentic look.
Another warming floor tile is the Nebraska Marron Wood-effect Tile in Brown Ceramic which has a richer tone and will again balance out the darker black tiling in your room.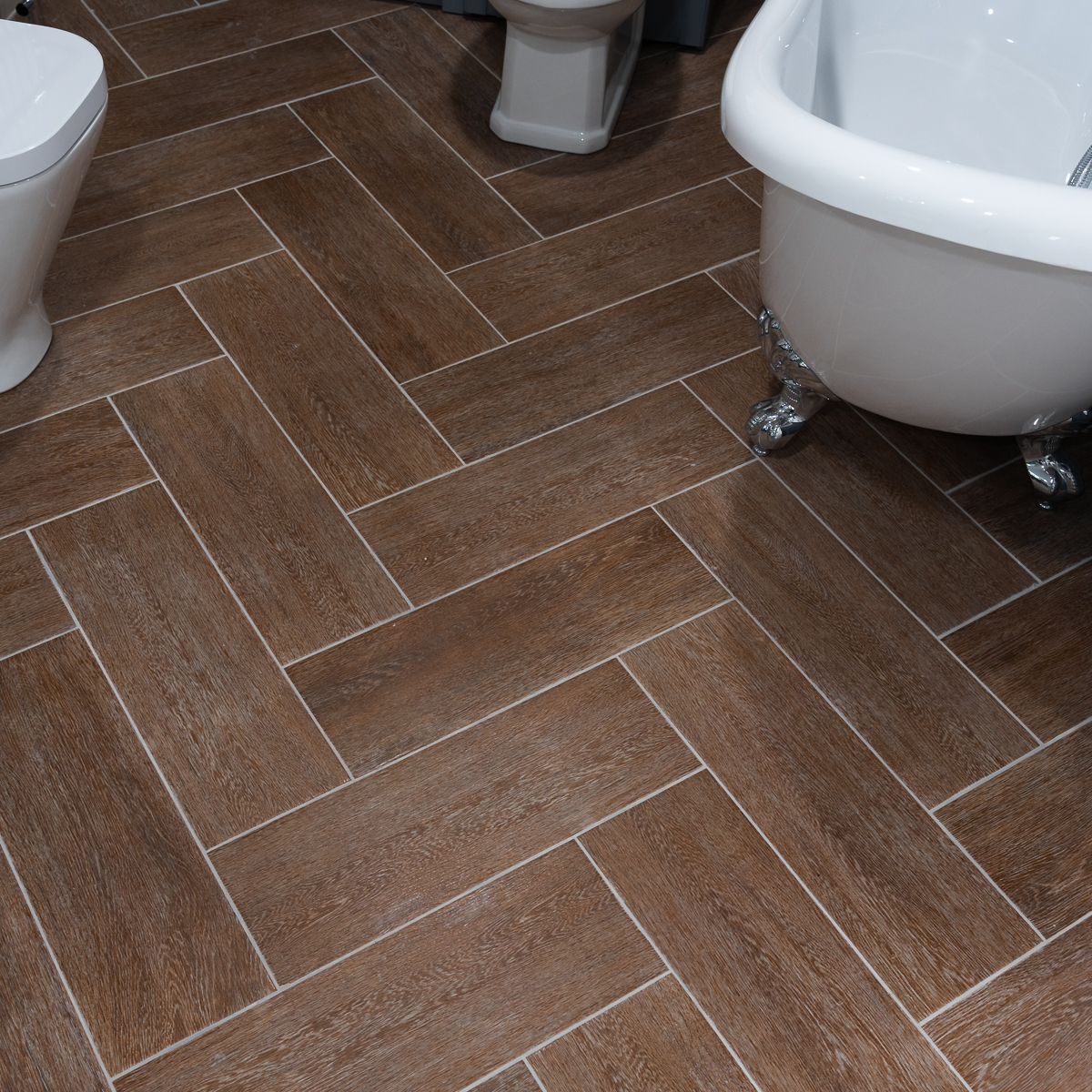 With a wide range of earthy tones available, there are lots of ways to incorporate a more rustic vibe into your black bathroom and create a cosy bathroom which is a warm and inviting space.
If you have black tiling on your floors instead of walls, then the same idea applies, as a more neutral tone on the walls will provide that balance and soften the look. It will also open out the space and give an airier feel to the room.
The Nebraska Marron Wood-effect Tile will balance out a room with black wall tiles.
Go for green
Another tile trend this year is green tiling and, perhaps surprisingly, this tone can also work well with black tiles, depending on your chosen design and the depth of colour. If you have a dominant block-colour black tile then pairing this with a similarly bold green tone can work, though you can, of course, par it back a bit with a less intense green shade.
The Mykonos Emerald Mosaic Sheet is a designer mosaic tile in a hexagonal shape with a green finish which varies in tone across the sheet, combining a mixture of dark and light green. This variation in tone will complement the darker hues of black tiling and bring the overall look together while also achieving contrast and balancing out the black so it doesn't dominant and overpower the room.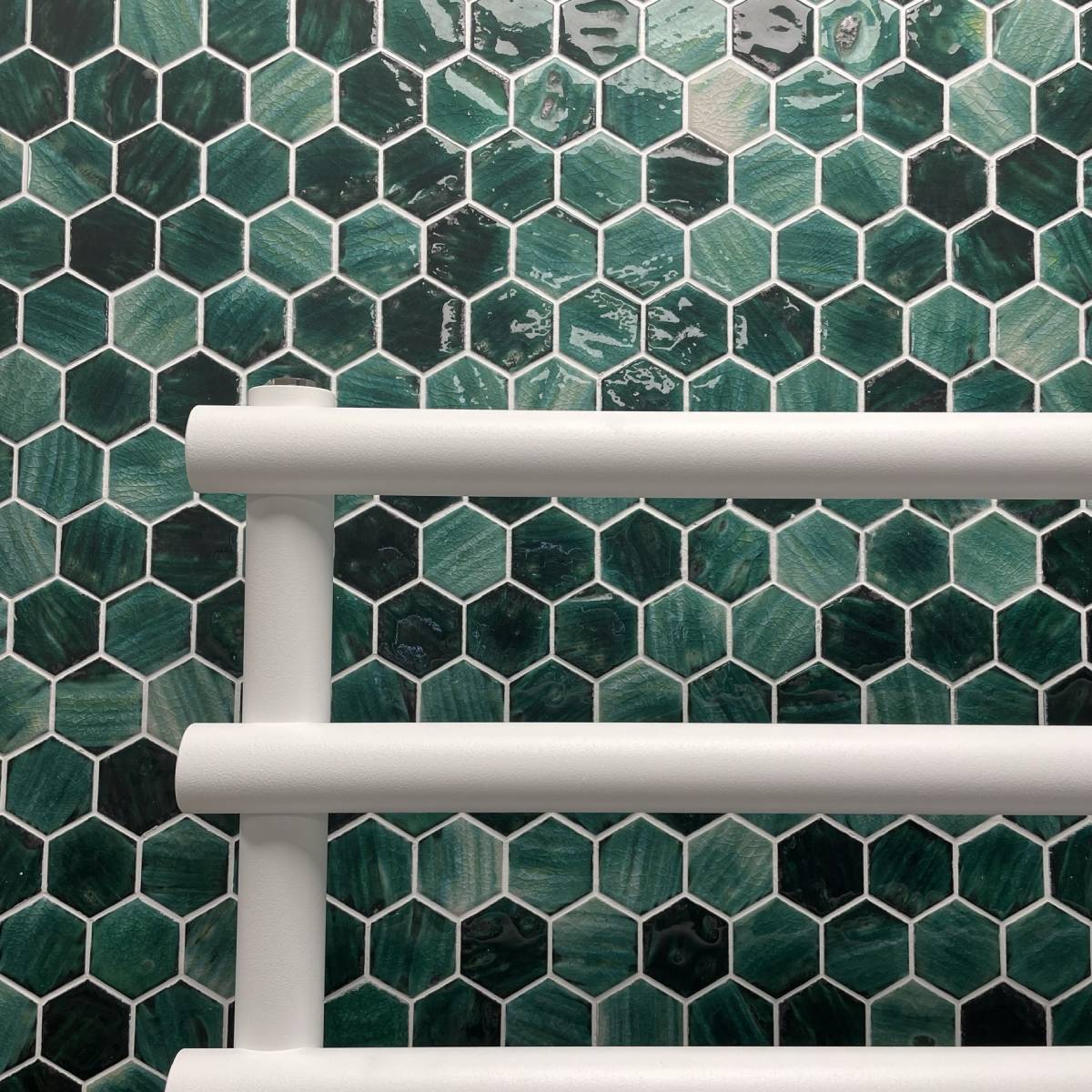 The Mykonos Emerald Mosaic Sheet has a mix of green tones which can complement black bathroom tiling.
Another green tile with a dark undertone but a consistent paler green body colour is the Pool Green Brick-effect Wall Tile. The texture created by the base gives these tiles a depth which will work in tandem with a black tile elsewhere in the room, bringing these together to create a more cohesive and complementary look. Meanwhile, the green will give an all-important contrast tone and extra visual interest as well as giving the space a calming aesthetic.
For a brighter, block green, then the Metro Verde Bottle-green Biselado Brillo Tile will add a dramatic pop of colour and contrast to a block black tile.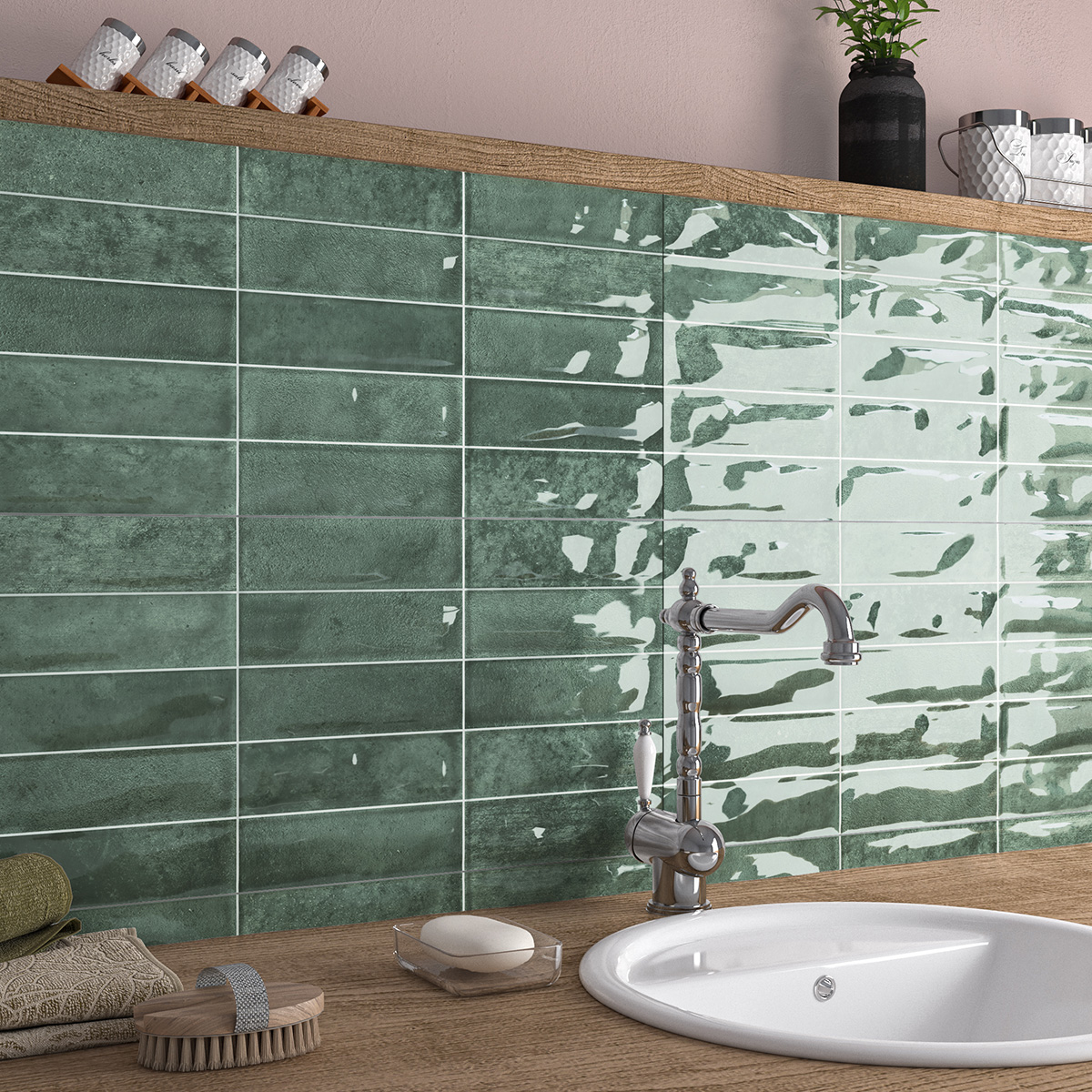 The Pool-green Brick-effect Wall Tile has a darker undertone.
There are various ways in which you can style a black bathroom so, when it comes to choosing tiles to complement those darker tones, don't feel like white is the only option.
Once you start thinking more creatively, you might just be surprised at what works well with this shade.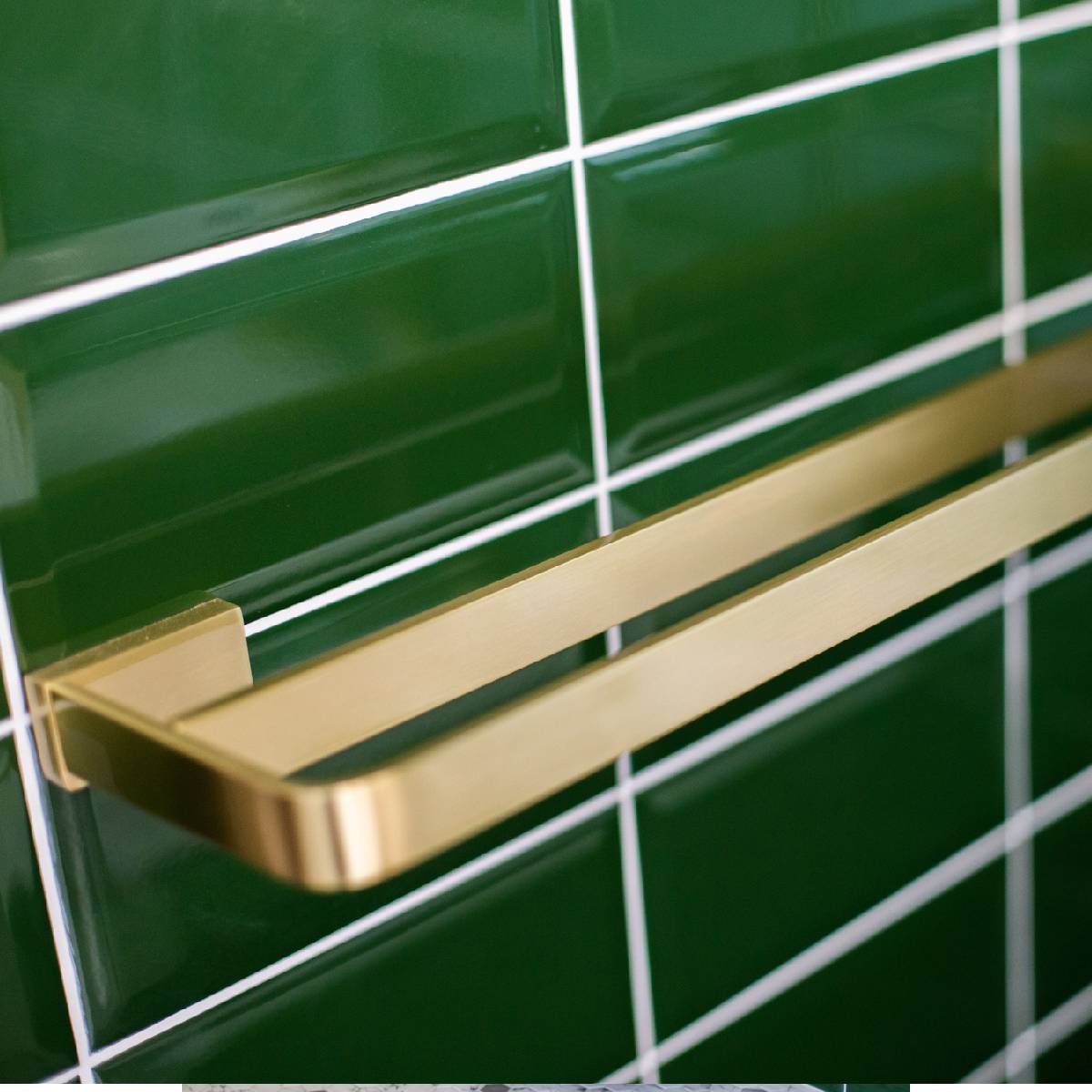 Add a bold contrast to black tiling with the Metro Verde Bottle-green Biselado Brillo Tile.
If you'd like some help with choosing tiles to complement black bathroom tiling, just email our team at info@bathshack.com or call (028) 9077 0188. Alternatively, our online chat is also available if you have any queries.