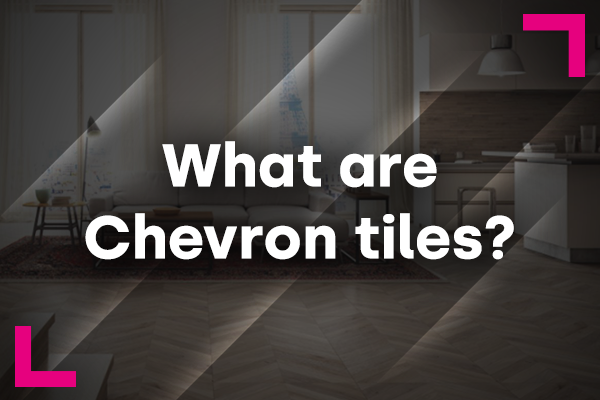 Fusing classic and contemporary style, chevron tiles continue to be a popular choice for many homeowners, but are often mixed up with their cousin, the herringbone tile. So, if you're not quite sure what the difference is between these two styles, we're here to help clear up the confusion.
The history of chevron tiles
Dating back to as early as 1800BC in Greece, the chevron design appeared on ancient pottery and textiles and although consistently used over the years, later became noticeably popular during the 18th and 19th centuries. Indeed, many people associate chevron tiles with the Haussmann era of 19th century Paris when the zig-zag floor style was popularly used during a large-scale urban redesign of the city.
They're therefore a great choice if you want to evoke the charm and glamour of this period, while also retaining a modern look with the choice of materials and effects now available.
Did you know …?
The term 'chevron' is first thought to have appeared in the English language in the 14th century. It originated from the Latin 'caprio', which translates as 'rafters' and was so-called because the V-shape design was reminiscent of roof beams.
Chevrons were also later incorporated into emblems and used as notifications of rank, for example, on military and police uniforms.
Chevron vs herringbone tiles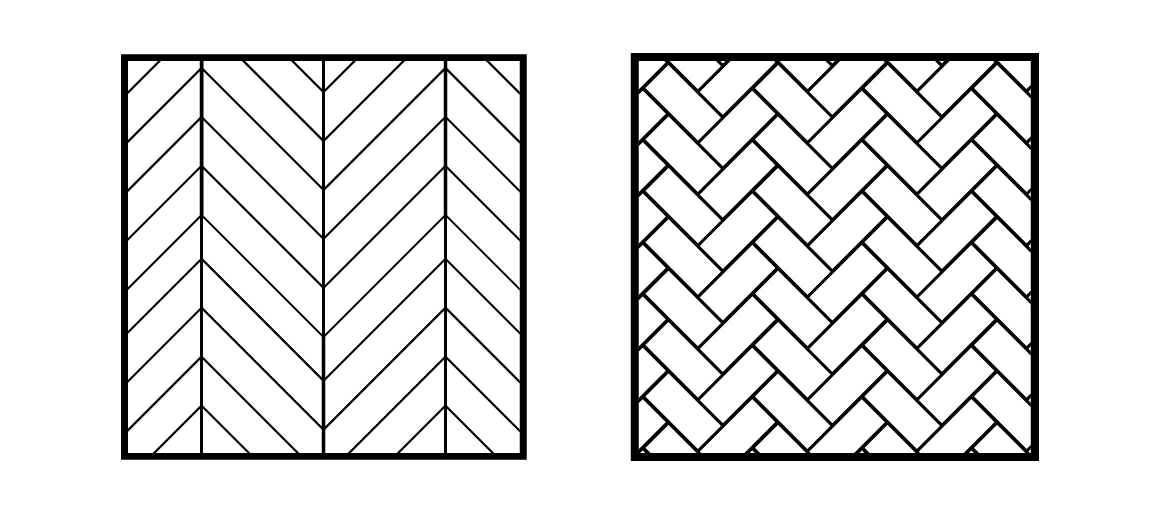 Chevron tiles (left) have a parallelogram shape and are laid in precise V-shaped points, while rectangular herringbone tiles (right) are overlapping.
There are some key differences between chevron and the similar looking herringbone tile, which are detailed below.
| Chevron tiles | Herringbone tiles |
| --- | --- |
| Cut to a bespoke shape. | Any rectangular tile can be used. |
| Use parallelograms to achieve a perfect 'V' shape when laid. | Rectangular tiles create an overlap design. |
| Each tile is positioned at an angle. | Tiles overlap at the top rather than being placed into a point. |
| Creates a continuous zig-zag pattern. | Creates a broken zig-zag pattern. |
| A slightly more modern style than herringbone. | A modern style, though perhaps a little less contemporary than chevron. |
Achieve the rustic look with a wood-effect finish
As detailed above, chevron tiles are cut to a precise shape so they can be arranged into a continuous zig-zag pattern with a distinctive point. This is great for creating the illusion of more space in a room, so chevron tiles are a good choice if you specifically want this effect.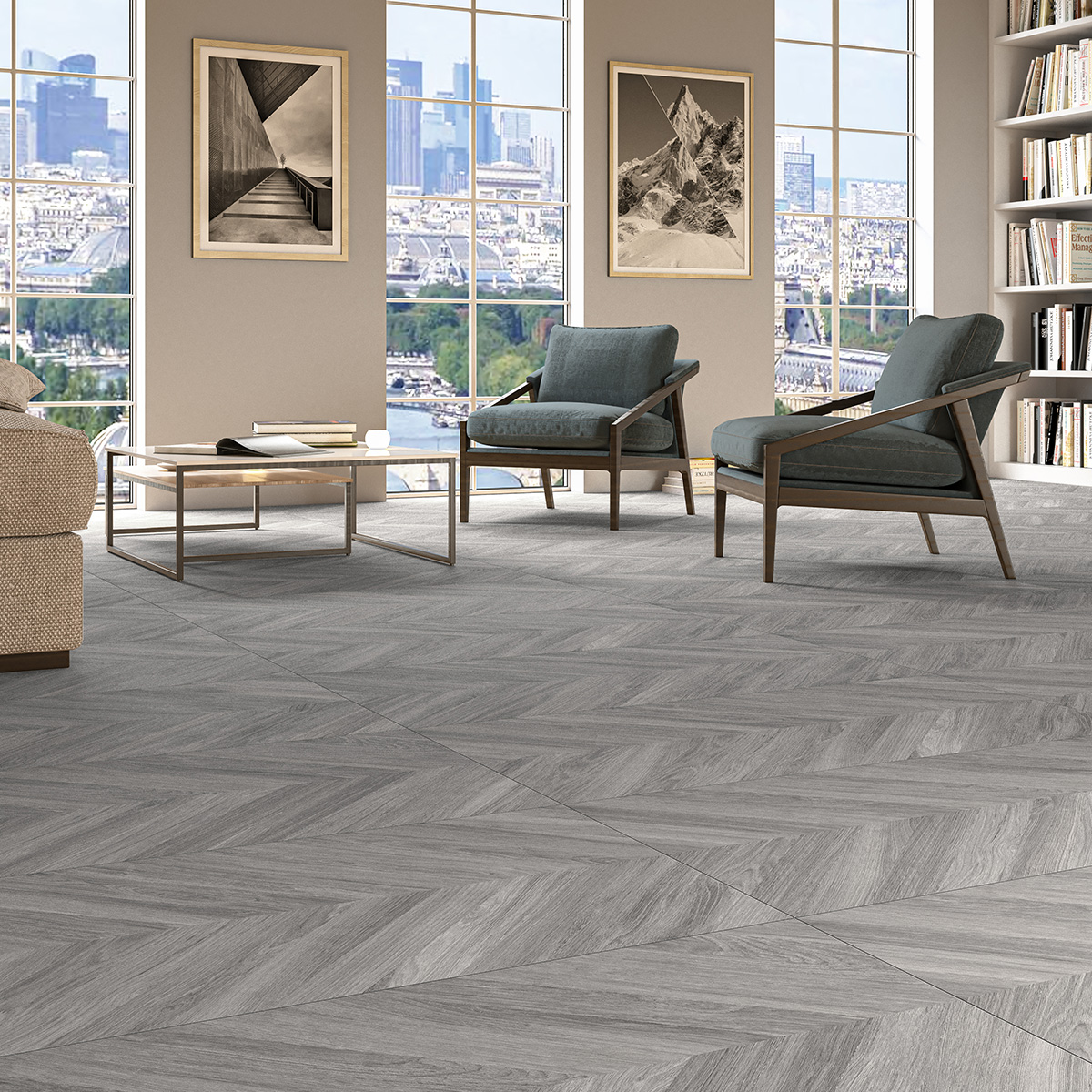 Chevron tiles can have a wood-effect finish, such as the Loire Pearl Chevron Rectified Matt Porcelain Tile pictured above.
Chevron tiles can also replicate a range of materials, so are very versatile. For example, the Loire Pearl Chevron Rectified Matt Porcelain Tile is a robust porcelain tile with a grey wood effect. More durable and easier to maintain than real wood, you can enjoy all the features of timber without worrying about warping or scores to the surface, thanks to the high-quality Spanish porcelain.
The pearl grey tone of the tiles is calming and light, while the wood grain design gives a natural, rustic appearance, complemented by the matt finish.
Another wood-effect design is the Chevrons Automne Rectified Wood-effect Tile in Brown Porcelain – again, an inspired choice if you want to introduce a more natural look to your home.
Used as either a floor or wall tile, this hard-wearing Spanish tile again recreates the look of a wooden floor while delivering all the premium qualities of porcelain. With alternating tones of light and dark brown, the overall effect is an authentic looking natural wood floor which will complement a wide range of décor.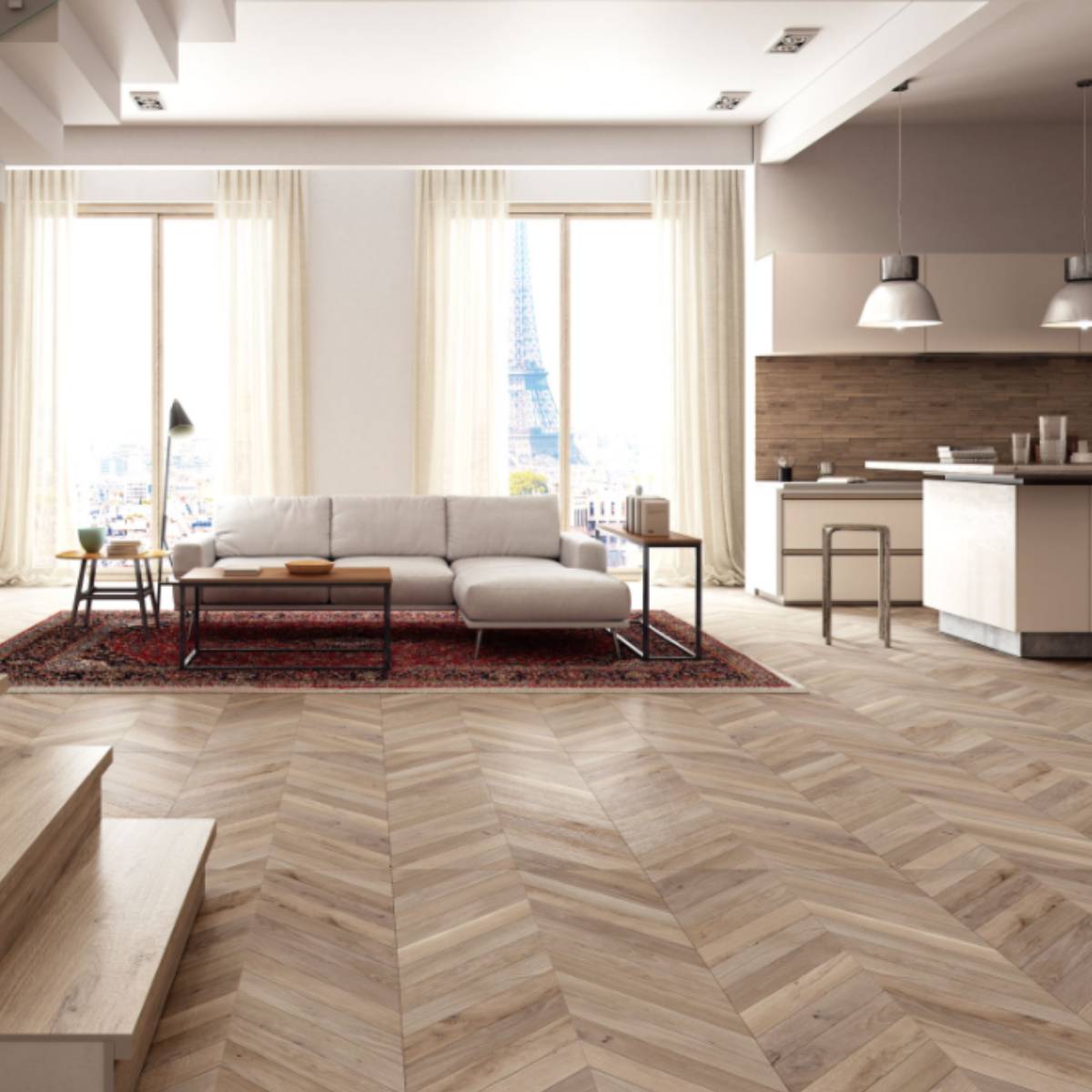 The distinctive V-shape design of chevon tiles, as seen with the Chevrons Automne Rectified Wood-effect Tile in Brown Porcelain above, which creates a rustic vibe.
Versatile and elegant
Thanks to their carefully crafted shape, chevron tiles give a very pleasing aesthetic when laid and look well in all room sizes. Their distinctive V-shaped pattern creates the illusion of space and adds elegance with clean lines and a precise layout, so there's no surprise that this style continues to be a popular choice with homeowners year on year.
A very versatile tile, there are lots of ways to incorporate the chevron style into your home, be it on the floor or wall. With multiple effects available, including matt and gloss finishes, you really can tailor the look to suit your individual preferences.
If you'd like some advice on choosing chevron tiles for your home, just drop into one of our showrooms and chat to our team. Alternatively, email us at info@bathshack.com or call (028) 9077 0188. We're always happy to help!