You may have heard the term 'mid-century modern' being used a lot in interiors magazines and social media recently. But what exactly does this mean?
Mid-century modern is an iconic trend that incorporates interior styles from the middle of the 20th century – the 1930s to the early 1960s. This includes wood floors, brick, retro colours, and geometric shapes. Whether you are updating your kitchen or bathroom, this guide will show you how to nail the trend with tiles.
Wood Floors
One of the best ways to achieve a mid-century modern look is by combining natural textures and exposed structural elements. Using wood effect tiles is the perfect solution for the floor in your kitchen, living room or bathroom.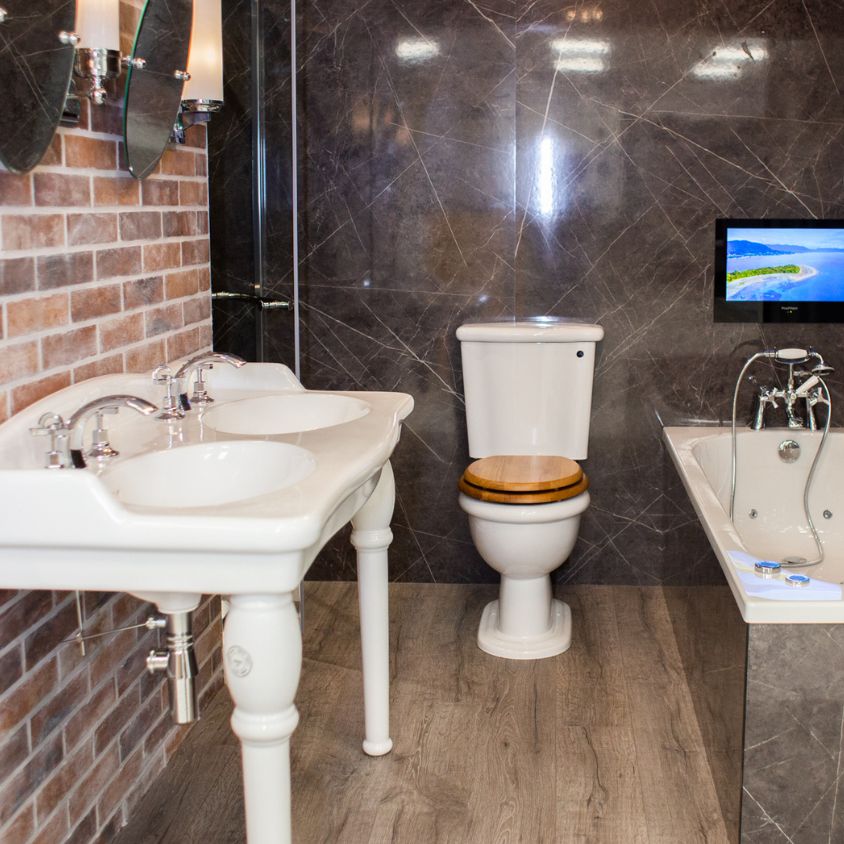 Our wood effect tiles have the same visual appeal and texture as natural wood and will make your space feel warmer. They are also more cost-effective, lower maintenance and more resistant to moisture, which makes them more ideal for the bathroom or kitchen than natural wood. To shop the full range, click here.
Exposed Brick
To complete the mid-century modern look, pair your wood effect floor with an exposed brick wall. If you don't have exposed brick in your home, you can get the same look with brick effect tiles. A brick feature wall or backsplash that goes all the way up to the ceiling will make a show-stopping centrepiece. It will also make the room feel warmer, so the room stays cosy and inviting.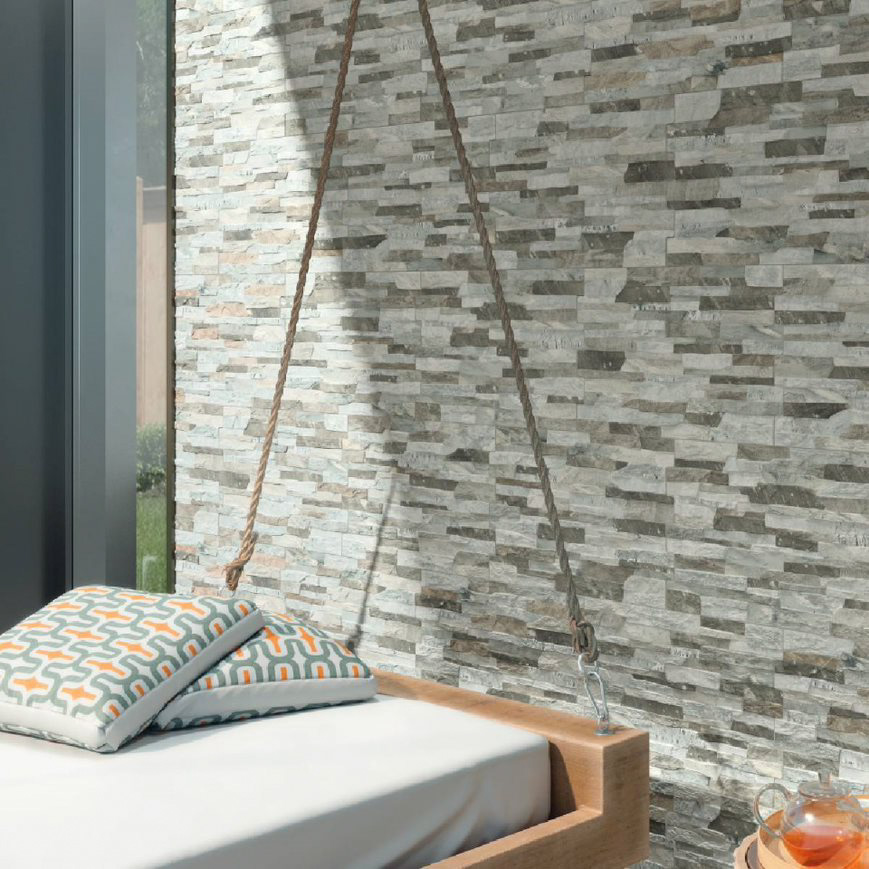 Our range of Llerena Tiles is the ideal choice for this trend. They are also great value, which is great if you are on a budget. Highly textured, they look just like exposed brickwork. Each tile has colour variations which create a raw effect and stunning depth of texture. Choose between 3 different options – Terre, Gris, and Oxido.
Retro Colour Palette
You can also channel that mid-century modern aesthetic with the right colours, from timeless grey to the retro pastels of the 1950s! Our tiles come in a huge variety of colours to help you create the look at home.
Grey
Grey is a must-have in any stylish home! For a mid-century modern look, medium-to-dark grey tiles are best. Our Asphalt Mud Tiles have a concrete effect finish, without the cost and upkeep of the real thing. These are highly versatile tiles, as they act as a blank canvas for any design scheme. They also have a warm grey colour, which ensures your space doesn't feel cold.
Green
Whether you go for a rich, pastel or teal green, green is perfect if you want to add a stronger splash of colour to a mid-century modern design scheme.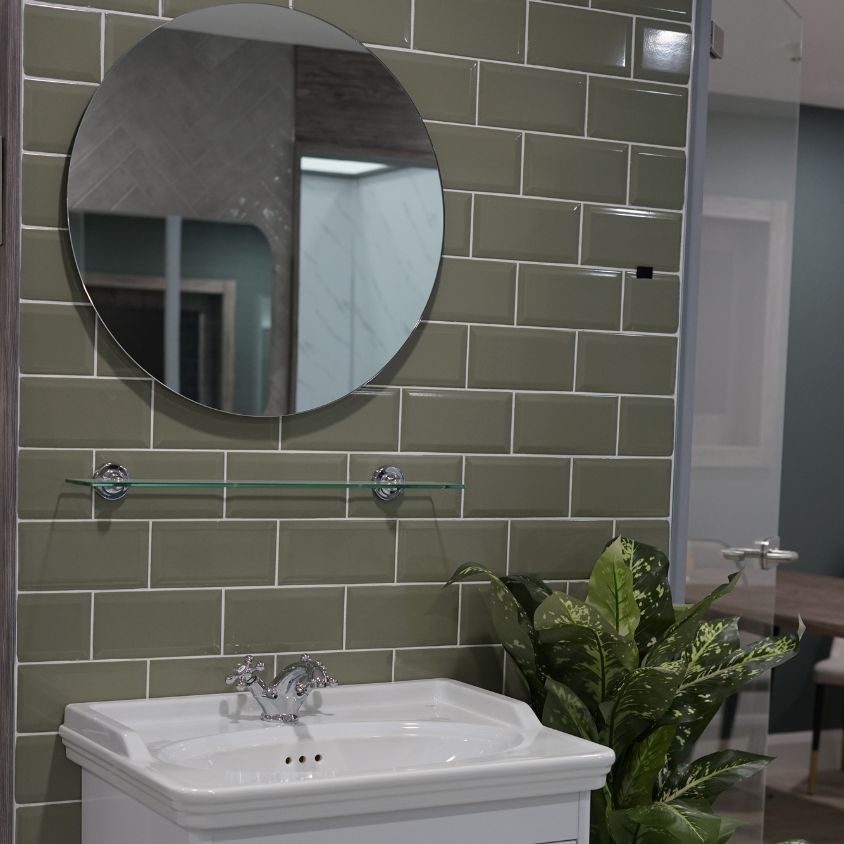 The Metro Verde Bottle Green Biselado tile adds retro glamour to your bathroom or provides a striking backsplash for your kitchen. To up the luxury factor, pair this tile with brushed brass accents such as taps or lighting. Alternatively, the Metro Sage Green Tile features a softer finish which brings a fresh feel to your home. For that classic 1950s pastel look, coordinate it with the Metro Rosa Pink Tile! This leads us to…
Pinks & Whites
Hugely popular in the 1950s, pink is enjoying a big comeback in interiors right now. It is an elegant, fun shade which will make a unique statement in any room. You could go for wall-to-wall tiles with a muted pink, or add a pop of colour to a white bathroom with a bold feature tile. In fact, pink and white is a quintessential mid-century colour palette!
The Pink Palm Striped Hex Tile is perfect for a feature wall. The baby pink background, white striped pattern, and hex shape will rejuvenate any mid-century modern bathroom. Contrast it with a plain, solid white tile to highlight its unique finish and avoid overpowering the space.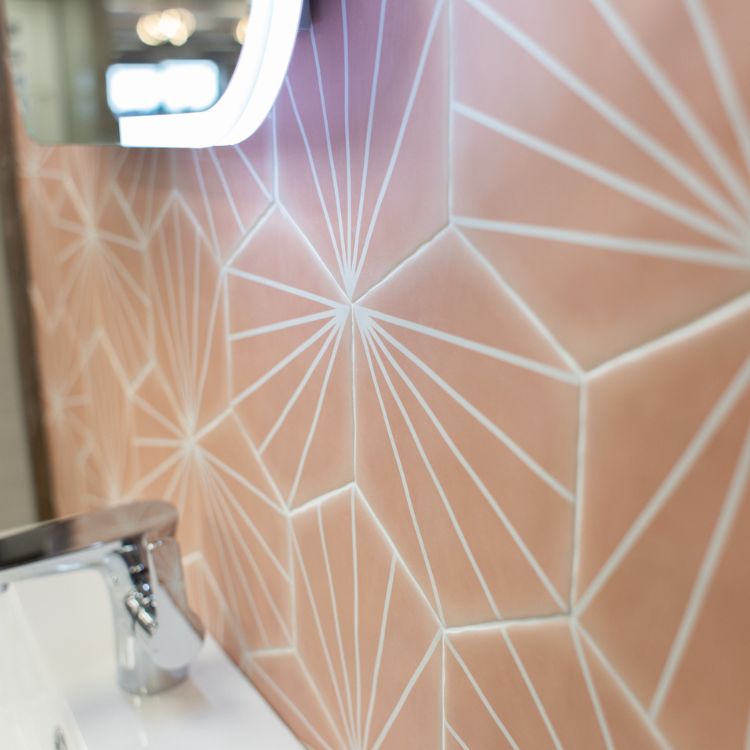 Looking to make a statement with your floor? Go for the Olden Pink Tile. The baby pink background and the black and white pattern are a bold combination of classic and contemporary styles. They also have a brightening effect which will enhance other elements in the room. This tile can be used in any room of the home, be it your bathroom, kitchen, hallway or living room floor.
Mustard Yellow
This is another retro colour that has been experiencing a huge comeback! Why not add some mustard yellow to your space with the Yellow Palm Striped Hex Tile? This cheerful tile will brighten up any room and make it feel warm and inviting. You could use it as a feature tile in your bathroom, a quirky kitchen backsplash, or dare to use it as a floor tile!
Geometric Shapes
Mid-century modern tiles are often geometric in shape and can take the form of hexagons, cubic, triangular, or pentagons. Here are some of our top recommendations available at Tileshack.
Hex-Tastic!
Hex tiles are one of the most beautiful tile patterns. They are elegant and highly versatile as they can be used on walls and floors in any room of the home, including awkwardly shaped spaces. Our Hex Tiles come in a wide range of styles and sizes, including funky mosaics. We advise that you choose one in one of the above retro colours for an authentic look.
Fish Tail
Fish scale tiles are timeless and are very high in demand. They are widely used to decorate entryways, bathrooms, kitchens, and living rooms and are perfect for that retro mid-century look. Our Atlantis Teal Mosaic Sheet looks great as a kitchen backsplash paired with wood tones or with other colours from the period such as mustard yellow. With its bold colour, glossy finish and eye-catching design, this tile has a designer edge that's sure to steal the spotlight!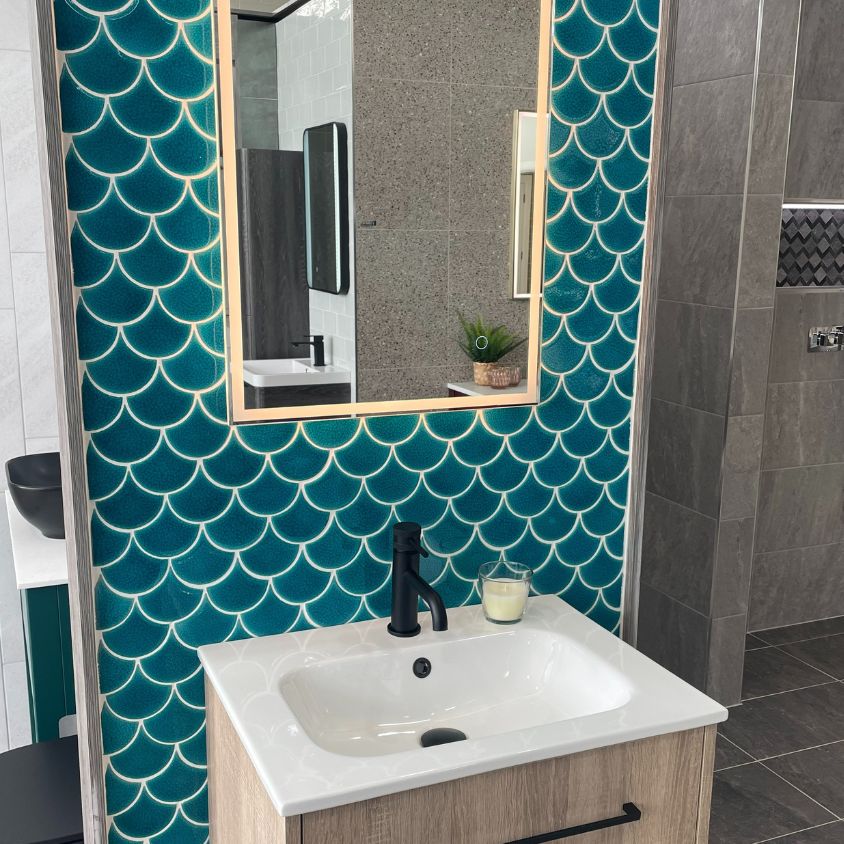 Ready to take your bathroom back to the mid-20th century? Shop your full range of tiles online for delivery or visit one of your Tileshack showrooms. Our amazing showroom staff will be happy to recommend the best wall and floor tiles for your mid-century modern home. For showroom opening times and locations, click here.